We Went To Pluckers And Tried All The Wing Flavors So You Know Exactly What To Order The Next Time You Stand In Line, Ready To Get Your Fingers All Greasy.
Pluckers Wing Bar boasts an impressive 24 different wing flavors on its menu, the most I've ever seen a wing joint offer and part of the reason why I love the Texas-based chain restaurant so much. And while I may not be polyamorous in my love life, Pluckers extensive menu has helped bring me to the realization I may very well be in my wing life.
It's a nice luxury to have 23 wing options, but it can be overwhelming by the time you outlast the wait time on a Saturday night and just want to inhale some handheld fried chicken, even moreso when you're faced with the Pluckers'-specific, non-descriptive flavors such as Hallelujah and Baker's Gold. That's why we here at Central Track have put together a comprehensive, definitive ranking of each sauce and dry rub Plucker's offers by its taste on a classic, bone-in wing, with a plain wing as the control.
So, the next time the Stars kill a power play or Dirk hits a jumper on his one good leg during a randomly specified minute of a Dallas Mavs game you're at and you stumble out of the American Airlines Center with a handful of Five Free Wing coupons, you'll know exactly what to order.
24) Fire in the Hole
Fire in the Hole is Plucker's hottest Buffalo sauce, and the star of their Hall of Fame wing challenge, but it's also the restaurant's nuttiest wing flavor. Almost nutty or wooden upfront, it quickly ushers in a sharp heat after the unpleasantly musty front end. It's a thin but pervasive burn that coats your mouth, but isn't anything to be afraid of. If the leading flavor was more pleasant, the heat would be worth it; unfortunately, neither screams for it to be ordered quite like its name implies.
23) Honey BBQ
Okay, before we get any further, let me briefly use this platform right now to say the standard, traditional, overly sweet BBQ sauce is trash. It tries to do too much and ends up overpowering anything it's put on. And it's no different with Pluckers'.
22) Manganero
I really like the consistency of the Manganero, it's sticky, it kinda hangs around, it really makes its presence known, which I respect. However, the praise stops there. Manganero sounds a lot better in theory than it turns out in Pluckers' execution. It's stronger than Fire in the Hole, with a tastier, fruity spiciness that could benefit from a bit of citrus. Nevertheless, the mango and habenero end up more at odds with each other than providing a balancing act. As a result, the sauce is very unevenly concentrated and a little off-putting.
21) Dr. Pepper
Yeah, you read that correctly. For the uninitiated, Dr. Pepper is one of Pluckers' most peculiar sauces. It tastes like your wing is flavored like one of Texas' favorite sodas. If you're into that, you'll love it, but if you aren't, you most certainly will not. This would probably work better as a drizzle on one of the fried abominations served for dessert.
20) Plain
The control, where it all begins, the vehicle we need to transport the sauces and rubs we love from table to tastebud. It may be a plain ol' wing, but Pluckers does it well, with a crispy exterior and a juicy interior. Every flavor that falls behind it tarnishes it and every flavor that ranks ahead elevates it.
19) Spicy Lemon Pepper
The lemon pepper flavoring is so good on it's own that it's tough to justify adding anything to it in an effort to improve upon its taste. When the rub is combined with Pluckers' Buffalo Medium sauce, the hot sauce overpowers the lemon pepper flavoring and dilutes its impact. Spicy lemon pepper an enticing concept, but the wet lemon pepper-only flavoring is so much better. For now you're better off ordering the two flavors separately.
18) Cajun
Pluckers' dry rubs are a real mixed bag, and their Cajun mix, the first dry rub to appear on this list, is fairly emblematic of the rub conundrum, or better yet, the "conundrub." Because dry rubs have less stick than sauces, there's an inconsistency to their wing coverage. They also have a tougher time penetrating and flavoring the meat of the wing, therefore, they really have to be powerfully flavorful to start off with. In the case of the Cajun, it just doesn't bring enough of the tastes associated with that label to ever succeed. It's a glorified Old Bay that, when not combined with a bit of grease to adhere to the skin, begs for some heat to round it out. Maybe try asking for the Cajun spice blend mixed with one of their Buffalo sauces.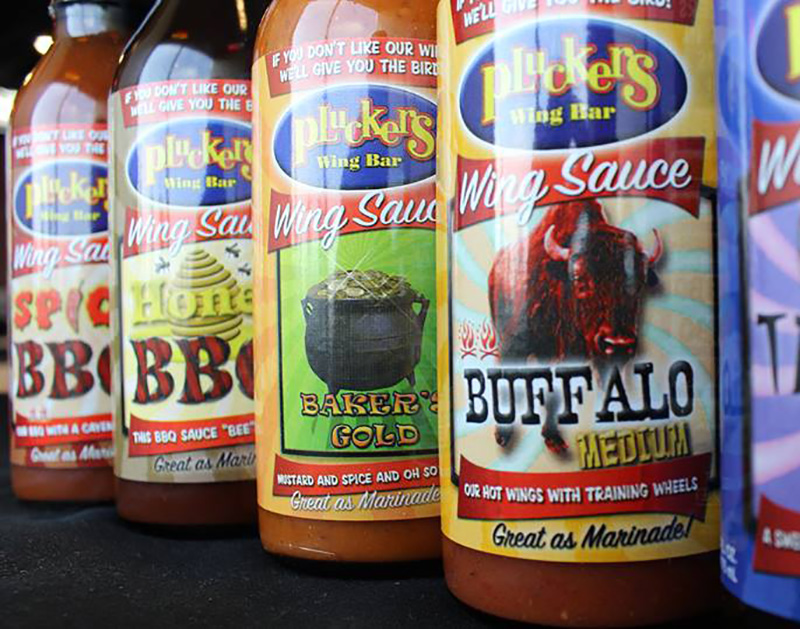 17) Goldrush
By far the prettiest option on the menu, Goldrush is shimmering, gorgeous and thick as hell. If this were a beauty contest it would definitely win. But this is a taste contest and here, the sweet and tangy honey mustard-based sauce comes up short. A little too heavy and mustardy on the back end, Goldrush meets a specific niche taste but lacks repeated desirability.
16) Spicy Mandarin
Although Spicy Mandarin carries some sneaky heat, the first appearance from Pluckers' Asian-inspired selections doesn't stand out with too much other flavor. Rather, the spiciness is just pure spiciness. It's a good idea, but the subtlety of the mandarin taste just holds itself back too much to work as well as it could.
15) Garlic Parmesan
Pluckers' Garlic Parmesan seasoning's a tasty mix that makes you reach for another, but possibly because you're wishing for a little more flavor from the first. If you get a bite with a nice big clump of garlic and parmesan, along with the rest of the herbs and spices in the dry rub, it's great. But, without full wing coverage, on its own Garlic Parmesan leaves a little more to be desired.
14) Ranch
Like Garlic Parmesan and Cajun before it, the Ranch dry rub — don't worry Pluckers' isn't serving a wing just doused in Ranch dressing — is held at the whim of it's tossing. One of the most subtle and disappointingly underwhelming dry rubs, think of it like Cool Ranch Dorito powder's awkward younger sibling who hasn't quite yet hit puberty.
13) Sesame
A rather unconventional option, the Sesame sauce's existence makes most sense as a way to round out the Asian-inspired section of the flavor menu. It's fairly one note, inspired by a very singular ingredient, but it's a light, surprisingly pleasant flavor that shouldn't be knocked before trying.
12) Hallelujah
The Hallelujah is Pluckers' foray into fancier barbecue options. A Jack Daniel's-based sauce, further flavored with some serrano peppers, Hallelujah is a worthy alternative with a decent kick to the lazier Honey BBQ. Unlike the original BBQ, it's smoky and rich, without being too heavy or sweet, like a real BBQ sauce should be.
11) Spicy Ranch
Spicy Ranch is so close to being a top-tier Pluckers flavor. When you get a wing that's still a little wet with grease and the rub is really coated onto it, it's a slightly more assertive, fantastically flavored Ranch rub with notes of tang and a tingling rush of cool and heat. However, when the wing is already dry and just barely dusted, it remains a rather dull ordeal. Still, it is the flavor that leaves me licking my lips the most, searching for just a little bit more, for whatever that may be worth.
10) Teriyaki
The Teriyaki sauce is at a real turning point in the rankings. From here on out, the flavors get more complex, more satisfying, more Pluckers. The Japanese cuisine-inspired sauce mines a lot of depth, first coming through with the saltiness of its soy sauce base, then transforming into a touch of sweetness before ending with a mouth-coating umami you wouldn't mind leaving the restaurant with still on your tongue.
9) Buffalo Medium
The base sauce for a lot of Pluckers' more inventive flavors, Buffalo Medium on its own doesn't quite stand apart from its Buffalo obstinacy. It progresses the spice level of the Mild, leaving a slight stinging reminder in the back of your mouth, but that alone doesn't do enough on its own to give up the great butteriness of the Mild before it.
8) Spicy BBQ
The Spicy BBQ is a much better option amongst the BBQ choice. It's thinned out more than the others, and the overbearing sweetness of the Honey BBQ is dampened by an immediate vinegary heat. Still, the combination of flavors ends up being a bit more of a competition than a collaboration, which puts the Spicy BBQ just behind some other spicy options.
7) Buffalo Hot
This is where things start to get serious with Pluckers' Buffalo sauces. When you bite into a Buffalo Hot wing, you start to feel the forehead sweet a little and, if that hot sensory rush is what you're looking for in a Buffalo sauce, then call this sauce X 'cause it's gon' give it to ya. The feeling lingers past a sip of your drink or a celery stick dipped in your preferred cooling dressing and helps season anything else you might eat for the rest of the day, making it a real economical choice as well.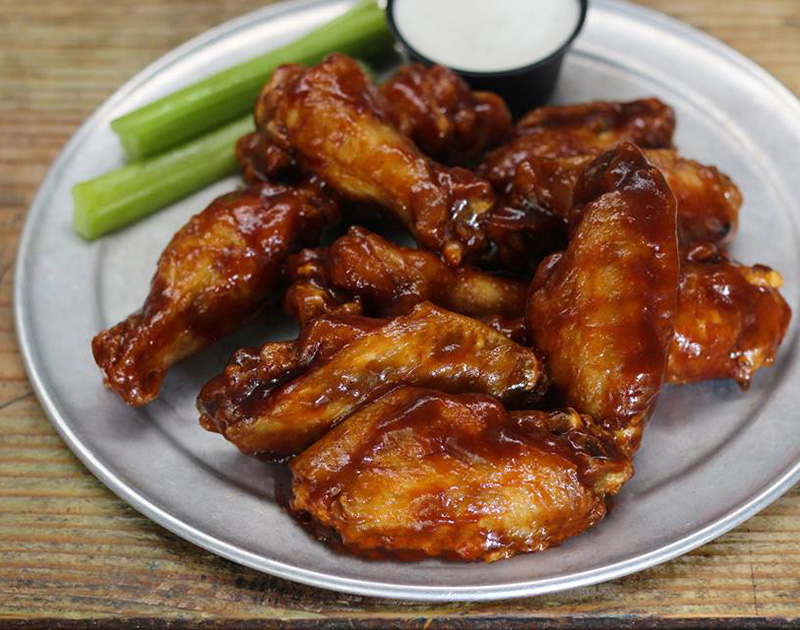 6) Gochujang
Pluckers' version of Gochujang packs a punch, both in terms of flavor and heat. The full body, almost fermented taste of this authentically Korean-seeming sauce is what I wish the Spicy Mandarin also brought to the table. Gochujang? More like, Good-chew, dang!
5) Spicy Garlic Parmesan
Ah yes, Spicy Garlic Parmesan. Before I tried this for the first time, I'll admit it was one of those flavors on the menu that threw me for a loop. Dr. Pepper, it's weird for sure, but people love the possibly-cherry(?)-inspired soda. A spicy-garlic and parmesan combination, though, that had no root in any prior culinary excavations for me. Nevertheless, it's a match made in heaven. Both the garlic and parmesan tastes and effects are perfect compliments to the base Buffalo Medium sauce, offering a burst of added seasoning and a creamy, cooling foil to the heat.
4) Ginger Peach Sriracha
These three very distinct flavors go amazingly well together. Not as hot as you might expect from a sauce touting the "Sriracha" name, the gentle sweetness of the peach and lively spice of the ginger blend perfectly. Instead, the heat is just a welcome accent to round out a real hidden gem on the menu.
3) Buffalo Mild
Despite the possibly diminutive connotations inferred from a "Mild" sauce, Pluckers' least heated Buffalo sauce is also its most delightfully flavorful. Classic, creamy and buttery, Buffalo Mild favors taste over heat, but doesn't totally sacrifice the latter to achieve the former. This is another thing I really like about Pluckers: its four-tiered Buffalo sauces. It allows them to offer a great tasting sauce like this and leave the challenge-worthy heat to the upper echelons.
2) Lemon Pepper
A longtime Atlanta staple and very recently quickly taking the rest of the United States by storm–thanks in equal parts to Rick Ross WingStop shoutouts and Donald Glover's hit FX show named after his hometown — Pluckers" Lemon Pepper mix is completely addictive. And because it's brighter and more refreshing than heavy, it's also probably the flavor I'd want to eat the most of if I could only choose one flavor across a big order, also known as my sneak choice for "Desert Island Pluckers Flavor."
1) Baker's Gold
This is why I come to Pluckers. Baker's Gold is their holy grail of flavors. A combination of the individually just-okay Goldrush and Buffalo Medium sauces, Baker's Gold captures the creative spirit of the chain and perfects it. It's a little sweet, a little tangy, a little savory, a little spicy and all delicious. When I tried it for the first time I became a devoted fan, and it's why I now don't go to Buffalo Wild Wings, and why when I'm eating WingStop I find myself thinking about Pluckers the entire time.
Images via Pluckers Wing Bar Facebook Page.