30 Years of Memorable Moments Aboard Dallas Area Rapid Transit.
Yes, it's true: Dallas Area Rapid Transit turns 30 this year. And, sure, the agency certainly has its flaws, but, God bless 'em, they sure do try. In honor of that effort, we've compiled a complete history of DART's most memorable moments over the course of the past 30 years.
Here's to the next 30!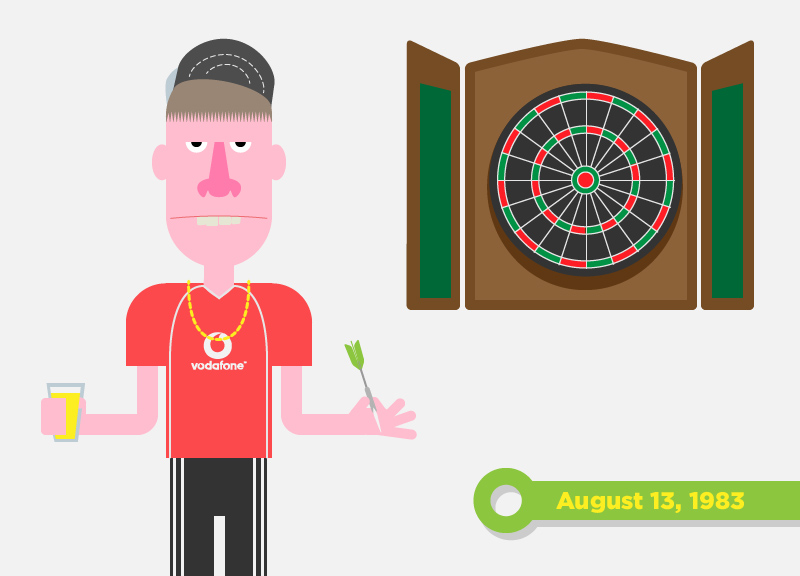 • August 13, 1983. Citizens of member cities mistakenly approve DART sales tax, believing that it will bring new dart boards to every restaurant and bar in their cities. Arlington opts out because dart boards attract an undesirable European clientele.
• January 2, 1984. The day after the one-percent sales tax increase and DART's full service goes into effect, the University of Texas' Craig Curry muffs a punt against Georgia while wondering why the Big Mac he bought the night before cost $1.63 instead of $1.62, and costs the Longhorns the Cotton Bowl, an undefeated season and the national championship.
• January 4, 1984. Harold Johnson becomes the first DART passenger to sheepishly get off at the end of the line after getting on a bus headed the wrong way, rather than simply acknowledging his mistake and riding it full circle.
• March 12, 1984. Driver Janie Jones is the first DART operator to inform passengers that "That shit might fly on other buses, but not on mine."
• January 1, 1985. The agency celebrates its first year of full service with free hot cocoa and coffee for all passengers. Parkland's burn unit treats last rider at 3:37 a.m. on the 2nd.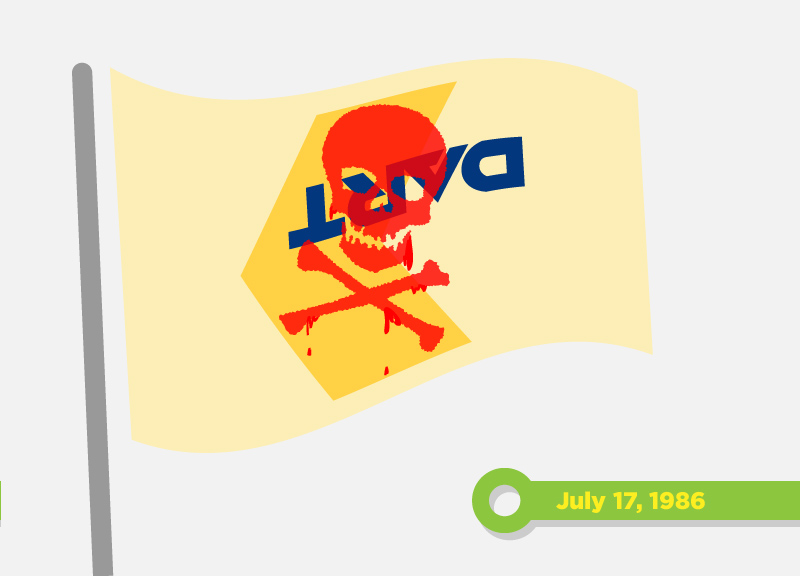 • July 17, 1986. A passenger revolt on a commuter bus with failed AC leads to DART officials informing drivers that, when they are in distress, they should follow maritime law and fly their flag upside down. When drivers complain that their buses don't come equipped with flags, brass tells them that they should just wear their hats "rally-cap style" and pray for the best.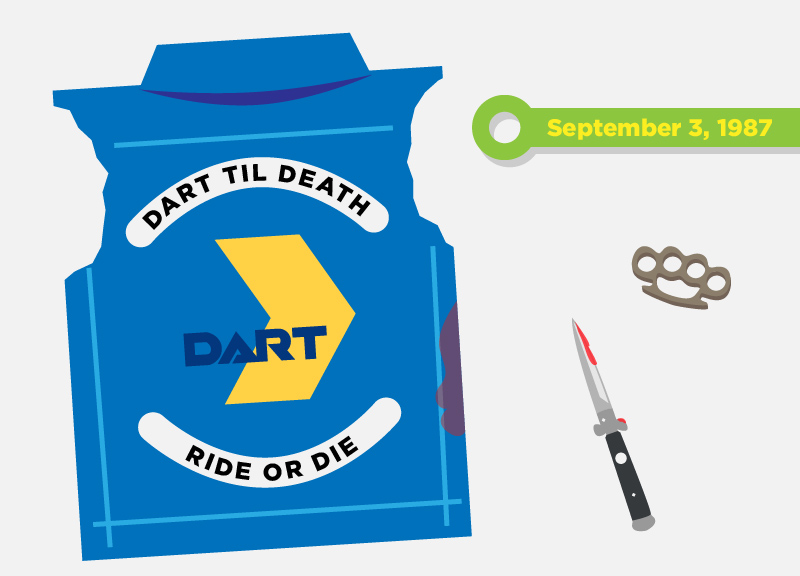 • September 3, 1987. Six passengers and 12 employees die as DART engages with the Fort Worth's the T in the first of many skirmishes over turf. The Mid-Cities remain as inhospitable as ever to the transit-oriented.
• February 29, 1988. 117 riders riot after drivers, ignorant of the fact that 1988 is a leap year, refuse to accept their February monthly passes. Damages are estimated at $1.2 million.
• April 22, 1989. More than five years after becoming a regular on the buses, rider Michael Calloway realizes that pulling the "stop requested" cord, not getting off, and watching the confused looks on his fellow passenger's faces and rising anger of the driver has not gotten old at all. In fact, he concludes, it's more hilarious than ever. Calloway continues to pull the cord at least twice a trip to this day.
• October 19, 1991. Union stagehand Turner Van Blarcum is still pissed off that the driver didn't have change for a$20 bill as he gets off the bus to go to work in Deep Ellum.
• July 3, 1992. After hitting a speed bump, Andrew Stevens' Discman skips. "Under the Bridge" abruptly resumes 14 months later.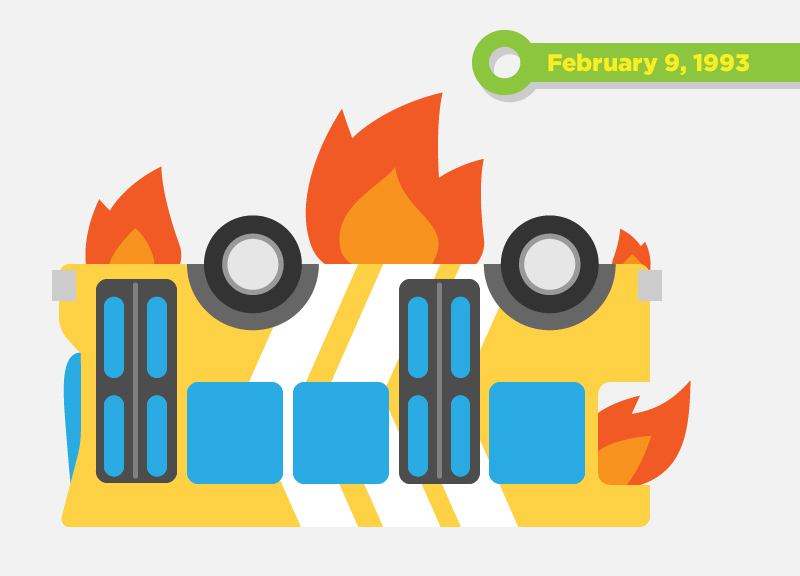 • February 9, 1993. During the disastrous Cowboys Super Bowl parade, a mob attempts to tip a DART bus. Passengers report that the ride was "only a little rougher than normal."
• September 16, 1994. Spurred by the success of Sack 'N Save self-service groceries, DART implements a "customers drive" day on Wednesdays. The program is discontinued after the drivers' union protests the pressure that the on-time performance of the novice drivers puts on its members.
• June 8, 1996. Opening day passengers on the new Red and Blue Lines excitedly pile on trains downtown only to disembark in a panic when they figure out the train is headed to Oak Cliff.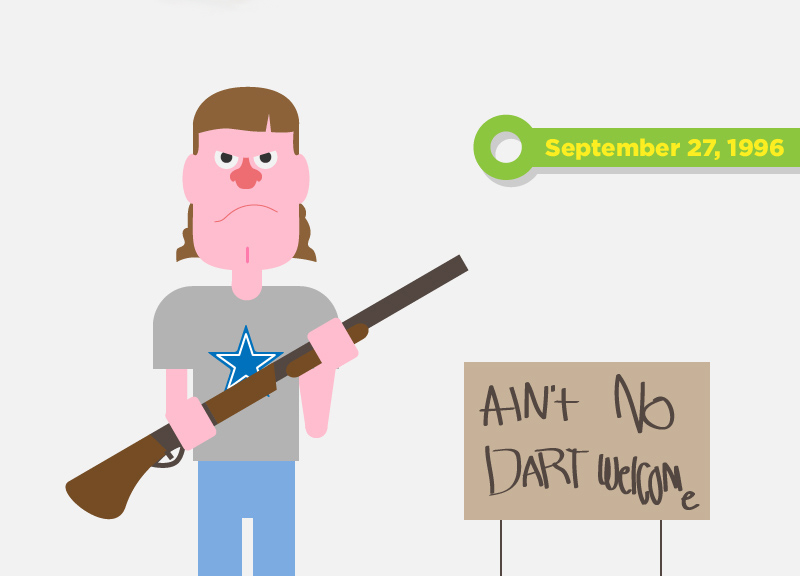 • September 27, 1996. DART officials prepare to deploy a plan for safe travel to the celebrations for the Rangers' first-ever division championship. Plans are scrapped at the last minute when the board remembers that Arlington has a "shoot first, ask questions later" policy when it comes to public transportation vehicles entering its city limits.
• September 25, 1997 through May 15, 1998. Eric Widger misses the fourth season of ER in its entirety when the bus he rides home from his job as "the shoe guy at Bronco Bowl" arrives eight and a half months late.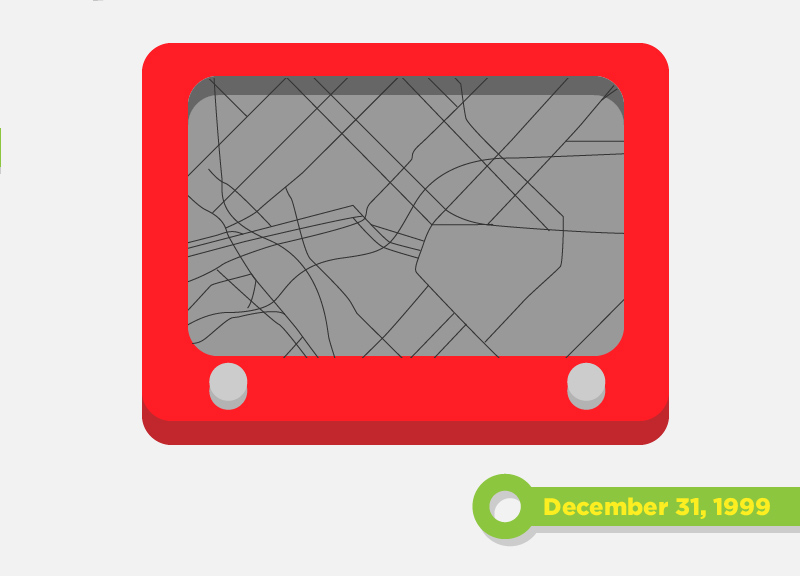 • December 31, 1999. DART's fears of Y2K failures on its vehicles are allayed when everyone remembers that the agency's on-board "computers" are, in fact, nothing more that skeuomorphic Etch-a-Sketches.
• December 14, 2000. Taking a cue from Tom Hicks, DART signs train operator Barry Jones from Oakland's BART system to a $252 million free agent deal. Citing the need for salary relief and to rebuild the farm system, Jones is traded to New York's MTA before the 2004 fiscal year for transit cops Andrew Atkinson and Vincent Bell, plus a fare enforcement officer to be named later. Jones is still booed vociferously at transit conventions held in the area and has since been accused of using No-Doz to artificially extend his shifts.
• April 24, 2002. After hearing a certain Vanessa Carlton song emanating from passengers' headphones one too many times, driver Lance Jackson proclaims "It may not be a thousand miles, but all of you adult contemporary-listening assholes are going to have to do some walking!" before kicking all 23 passengers off his bus. At a disciplinary hearing, his actions are found to be "absolutely justified."
• October 14, 2004. In the aftermath of Hurricane Jeanne, displaced Haitians complain that DART's service wouldn't even be tolerated in "the worst areas of Port-au-Prince."
• February 17, 2005. After Gary Bettman cancels the NHL season, DART ridership doesn't change at all because people with enough money to go to hockey games wouldn't ride a train with those "train people" even if train staff offered free deep-tissue massages and truffles.
• October 24, 2006. DART approves its "2030" long-term service plan. Arlington again refuses to take part, stating that "Public transportation is for losers!" and "Rangers fans driving drunk on the highway after games just makes the roads more exciting for everyone."
• July 11, 2008. The DART board celebrates June, its highest month of train traffic ever, with "free fare day" because "only 8 percent of riders pay to ride the train anyway, so the goodwill is worth the not-at-all-substantial drop in revenue."
• March 14, 2010. In Austin for South by Southwest, Mitch Blakely becomes disoriented on 6th Street at approximately 3:12 a.m.. The confusion isn't alcohol-related as you might expect; Blakely is simply in town from Dallas, and is completely freaked out by the sight of public transportation operating after midnight.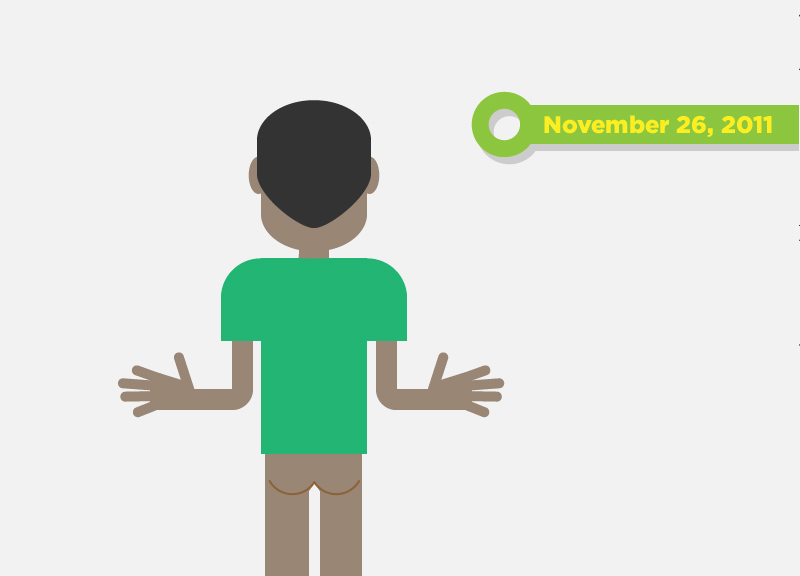 • November 26, 2011. Jim Moreland, who tells fare inspectors he left his annual pass in his other pants, becomes the first person for which this excuse is actually true in DART's 28-year history.
• August 12, 2013. DART sends out a press release lauding its 30th anniversary. A solid 95 percent of Dallasites' immediate response is "Huh? What's a DART?"