Smoky Rose May Be The New Kid On The Block, But Its Chef-Driven Approach Is Already Helping Put It On The Map.
Welcome to Cued Up! In this feature, we'll bust out the wet naps and get elbows deep in sauce in order to find what makes the region's best barbecue spots tick. We don't just want to know what makes their 'cue so damn delicious, though; we've got to cut down to the bone of these pitmasters to learn what makes each one of them so special — and why they've dedicated their lives to one of the most fundamentally Texas cuisines.
This week, we chowed down on Smoky Rose.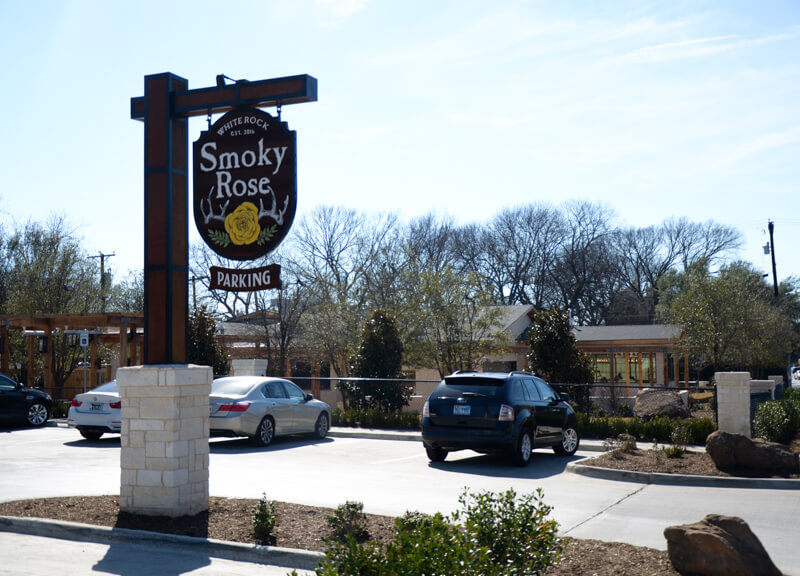 Fast Facts on Smoky Rose.
Where: 8602 Garland Road, Dallas.
When: Monday through Thursday from  11 a.m. to 10 p.m., Friday and Saturday from 11 a.m. to midnight, and Sunday from  11 a.m. to 9 p.m.
Wait Time: Around ten minutes if it's busy.
Woods Used: Oak.
Overview.
Smoky Rose stands on Garland Road just across the street from the Dallas Arboretum. This is not your average barbecue house. Smoky Rose is a full service sit down restaurant with a chef-driven, modern take on classic Texas barbecue. The team behind this modern Texas barbecue joint is doing things a little bit different. Smoky Rose provides a blend of barbecue and culinary styles in an upscale yet relaxed rustic smokehouse setting.
"We are trying to elevate what basic barbecue is and just put it on a nicer plate," says executive chef David "Spoon" Gauthier.
One of the many things that sets Smoky Rose apart is the chef-driven menu. Executive chef David Gauthier and pitmasters Mike Sharp and Tyler Hutt all work in collaboration to build menus that blend multiple regional styles while remaining true to Texas barbecue.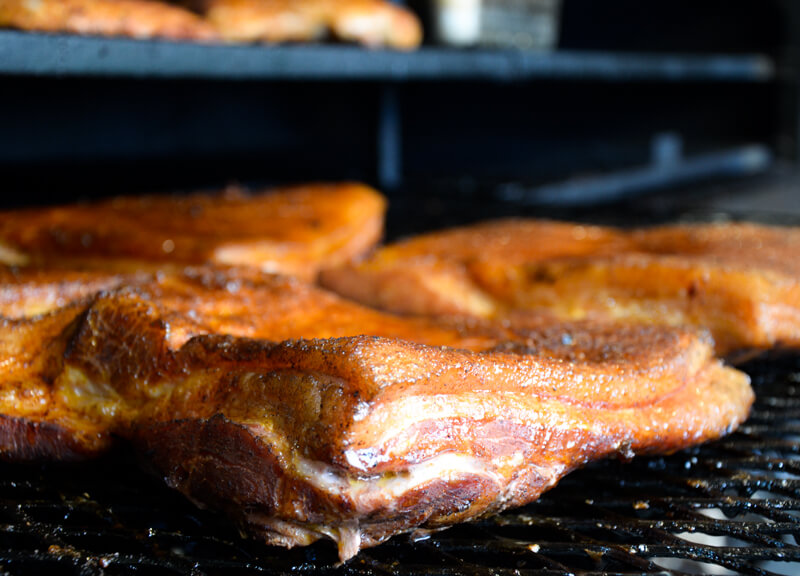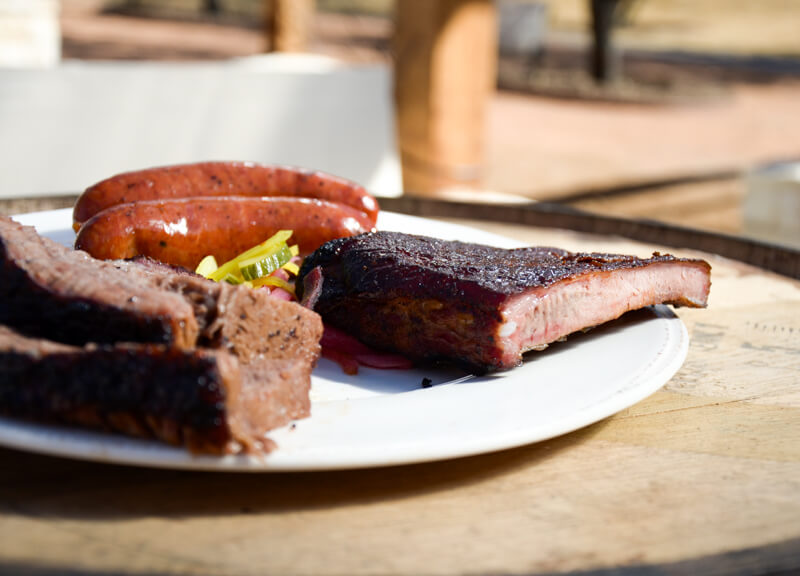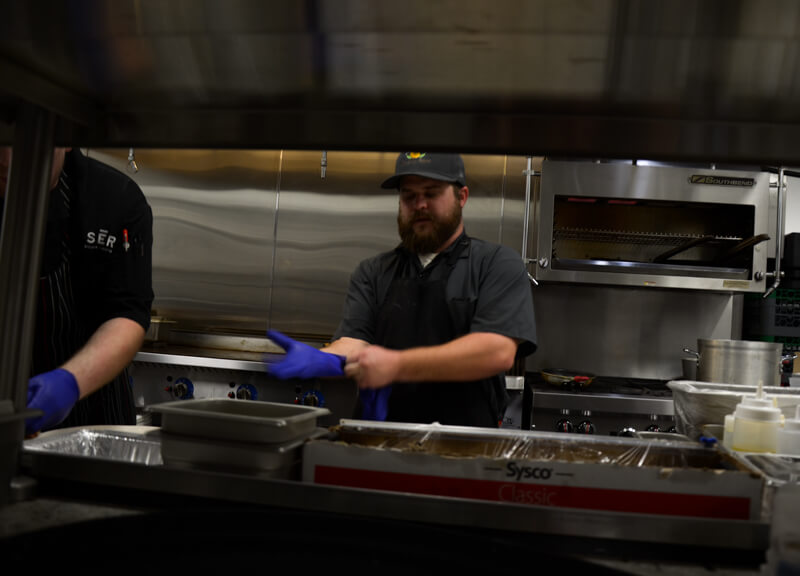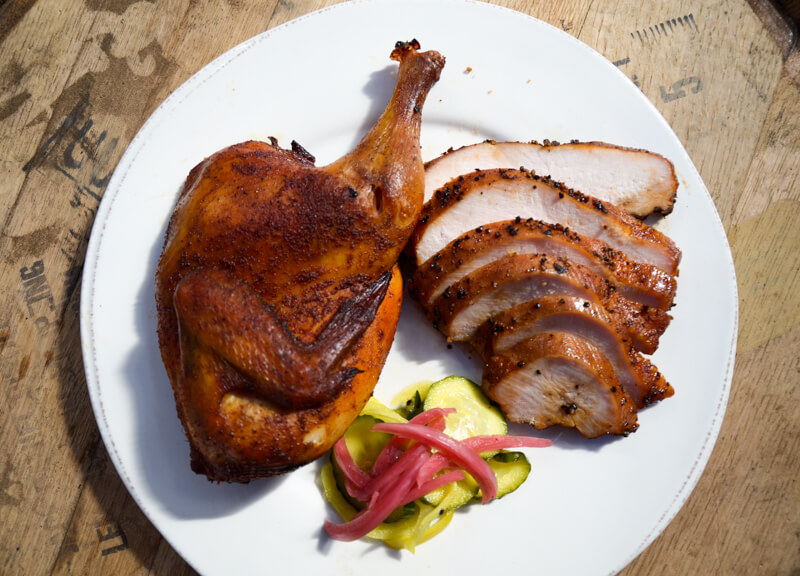 Some History.
Pitmasters Mike Sharp and Tyler Hutt have known each other since they were about 12 years old, since they went to Lake Highlands High School together. Growing up, Sharp was around barbecue a lot, as his father even had a large trailer smoker.
"I never paid much attention to it," Sharp says.
It wasn't until he was waiting tables in college that he started wanting to smoke his own meats.
"I found a smoker by a dumpster and refurbished it," Sharp says.
Taking the money he earned waiting tables, Sharp cooked for his friends and brought the leftovers to the chefs at the restaurant he was working at a so they could critique his food. Using this positive feedback, Sharp eventually worked his way up to Pitmaster of a local catering company.
At the same time, Tyler Hutt was going to school to get into the oil and gas business. One night, the guys were looking at barbecue competitions online and found one that just so happened to be the next day. That night, they made a last minute decision to enter the competition. What the guy's didn't know was that this event was being held by a handful of the top names in competition barbecue. So when they showed up it was quite a shock. The guys went for it as best they could, however, competition barbecue rules are very strict and, in the end, a lot of what they cooked was not eligible because it was not cut correctly. It was disappointing, but they both took a lot out of the experience nevertheless.
"It started a whole new chapter in our lives of cooking together," Sharp says.
Over the next year, Hutt quit his job to move into the world of barbecue, while Sharp continued to work in catering to perfect his skills on the barbecue pit.  Now a part of the Smoky Rose team, the pair brings the barbecue skills while Gauthier has the culinary side covered.
In 2002, David Gauthier graduated from Le Cordon Bleu College of Culinary Arts in Portland. From there,, he became executive sous chef in Sewanee at the University of the South. After some time there he was offered a job as executive chef of the kitchen at Union Square before moving on to the same job at Bitter Alibi, a brunch-only joint up in Chattanooga, Tennessee. Gauthier moved to Dallas when he was offered the position of executive chef at Smoky Rose, which officially opened its doors on December 22, 2016.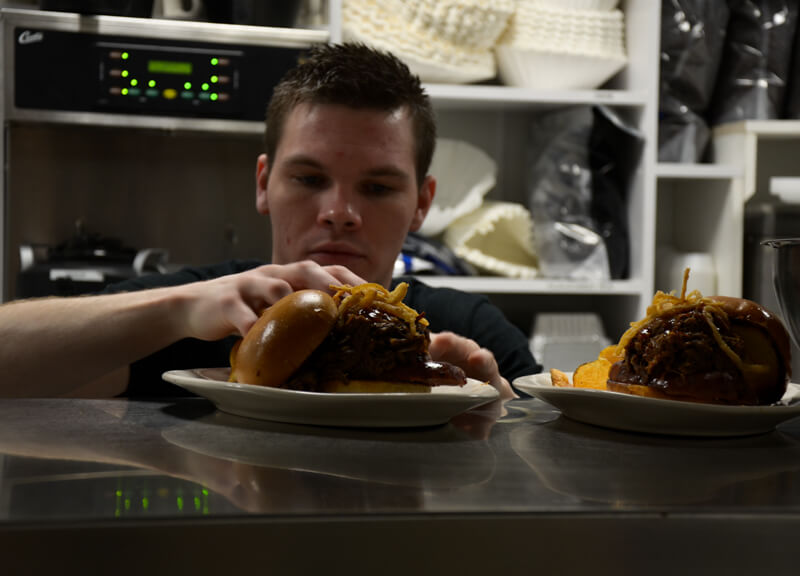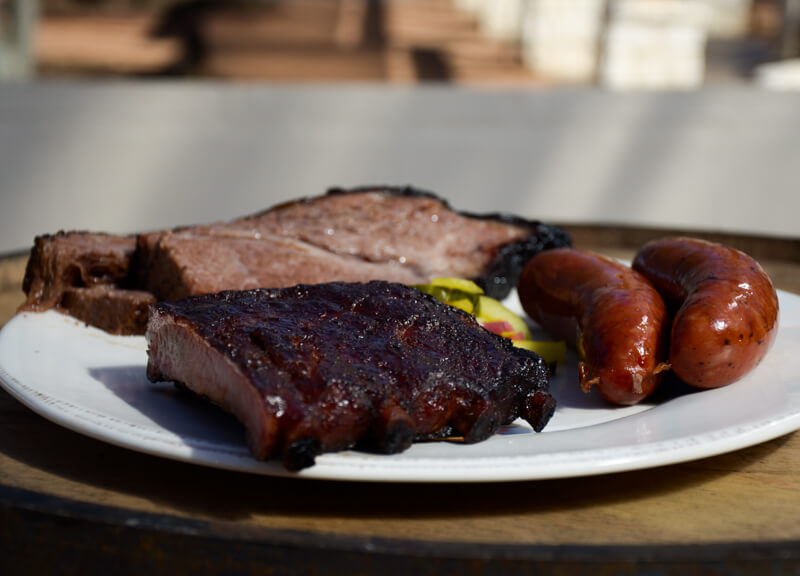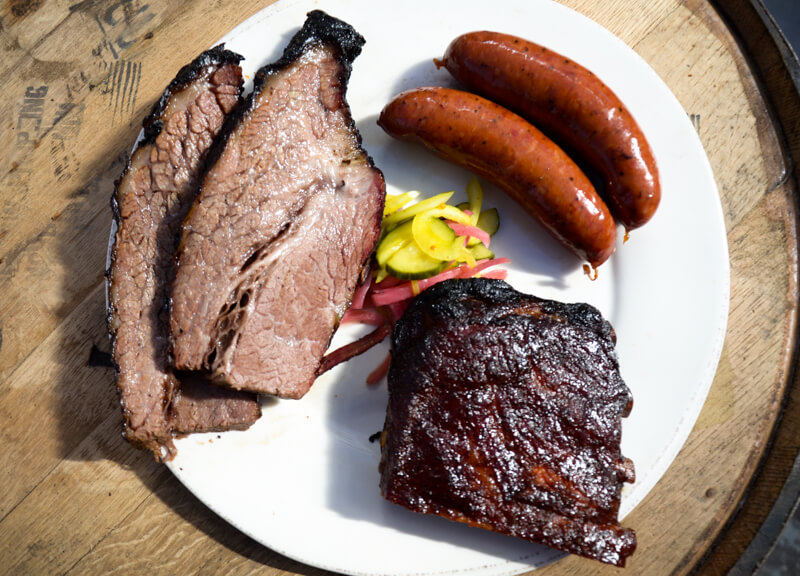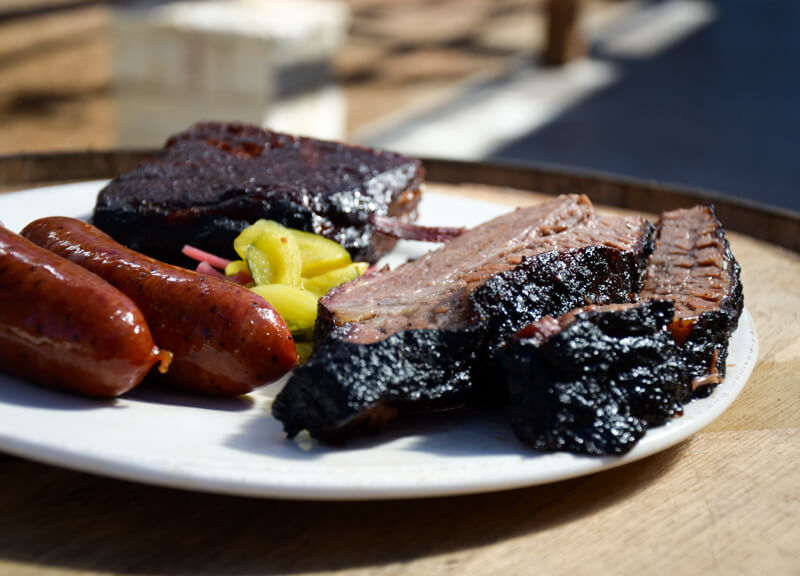 The Pitmaster and His 'Cue.
Having both lunch and dinner menus built by two pit masters and a chef is no easy task, but the team at Smoky Rose has found a way to make it work.
"It's definitely a learning curve trying to incorporate both worlds," Gauthier says.
The setup may be different, but everyone in the kitchen is happy.
"I love having two guys next to you saying, 'Maybe we could add a little of this, maybe we can add a little more of that' and no one gets butt hurt," Sharp says.
This ability to work with one another and blend different culinary and barbecue styles makes for truly top notch barbecue. The lunch menu has a selection of sandwiches that come off at night and are replaced by the entrees for dinner, but both share the smoked meats selections.
The brisket comes in thick slices, with a good amount of lean and fat in each cut, so every bite is tender and juicy. Every piece of meat at Smoky Rose is smoked with oak, which give the brisket a light smoky flavor that doesn't overpower the natural flavors of the meat itself. The bark is dark and smoky with a good about of texture. The team uses a special blend of spices that complements and enhances the flavor of the smoke and the meat itself.
The same attention to detail is given to the St. Louis-style pork ribs. They are done in a special rub as well that gives them a great blend of sweet spicy and smoky.
"It's not Kansas City, but it's more of a hybrid," Hutt says.
The ribs themselves are succulent with a perfect smoke ring, and are almost falling off the bone. The turkey has a good amount of smoky flavor without being dry. The team uses Meat Church Honey Hog seasoning for the rub, and it adds something a little bit different that you don't find with your average smoked turkey.
The housemade sausage comes in classic and jalapeño cheese, and both have great flavor. The classic is spicy and smoky, and deserves a place on every plate, while the jalapeño cheese has a good amount of heat, which is complemented by the cheesy flavor.
The sides are given the same amount of thought and are made fresh every day. The mac 'n' cheese is made with large elbow macaroni smothered in a Béchamel cheese sauce and topped with panko Crisps. The sweet potatoes are done with a roasted banana mash, Tennessee molasses and seasoned with a hint of cinnamon and nutmeg.
The team at Smoky Rose is trying something different with their barbecue and its works. They may be the new guys on the block, but they are already making a name for themselves on the restaurant scene. If you haven't already been, make the time and check out Smoky Rose.