The Juicy Pig Only Does A Few Things, But It Does Them Exceptionally Well.
Welcome to Cued Up! In this new feature, we'll bust out the wet naps and get elbows deep in sauce in order to find what makes the region's best barbecue spots tick. We don't just want to know what makes their 'cue so damn delicious, though; we've got to cut down to the bone of these pitmasters to learn what makes each one of them so special — and why they've dedicated their lives to one of the most fundamentally Texas cuisines.
This week, we chowed down on Juicy Pig Barbecue.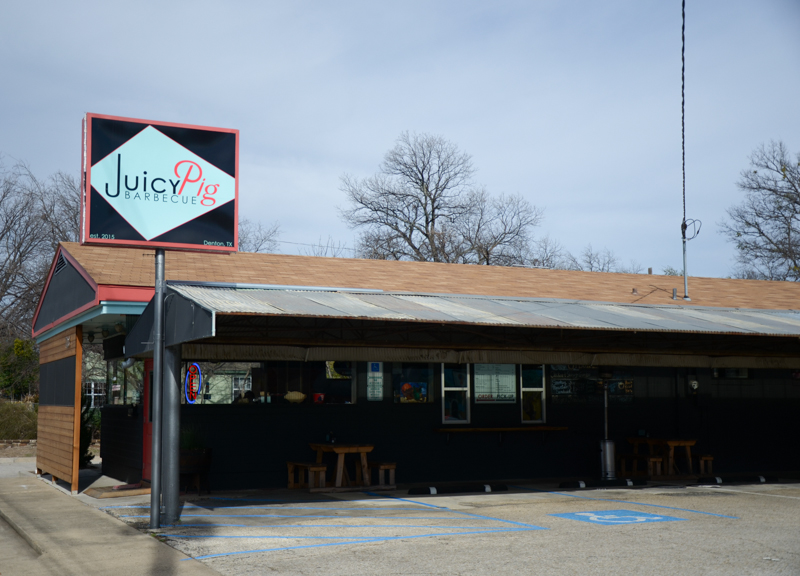 Fast Facts on Juicy Pig Barbecue.
Where: 708 North Locust, Denton.
When: 11 a.m. to 8 p.m. every day.
Seating: Limited.
Line Speed: Fast, plus the window makes pickups quick.
Woods Used: Locally sourced oak
Overview.
Standing on North Locust Avenue, not far from the Denton Town Square, is a little old building that's been home to a hand full of businesses over the years. Now, it houses some of the best barbecue in Denton. Juicy Pig is a classic Texas style barbecue house that focuses on the essentials of what it takes to make good barbecue. Owner and local restaurateur Ken Currin loves food and is passionate about traditional wood fire grilling and smoking.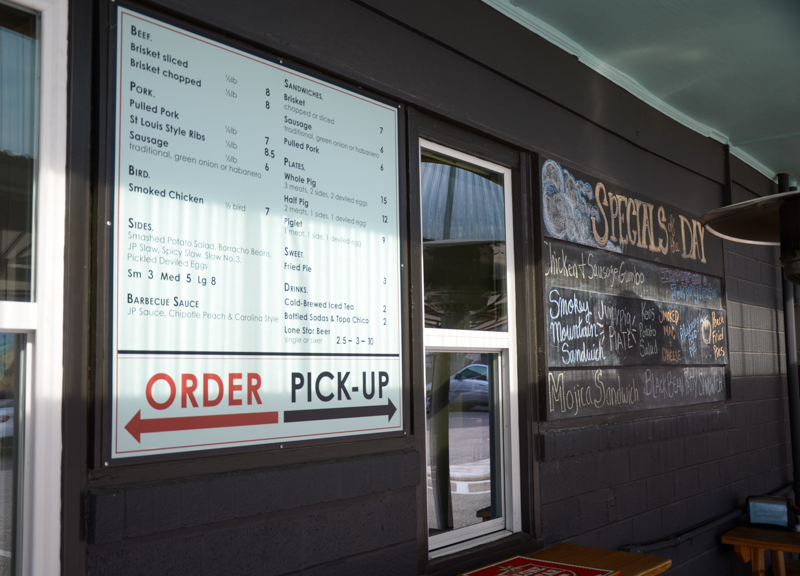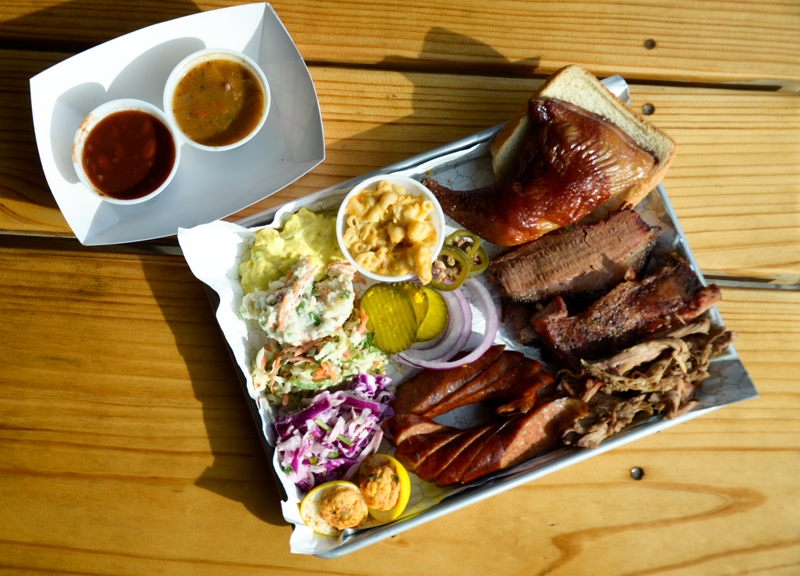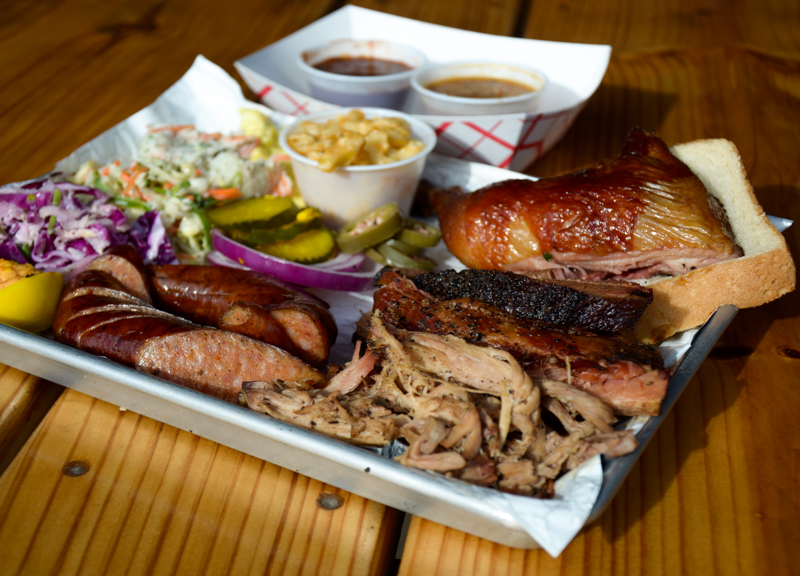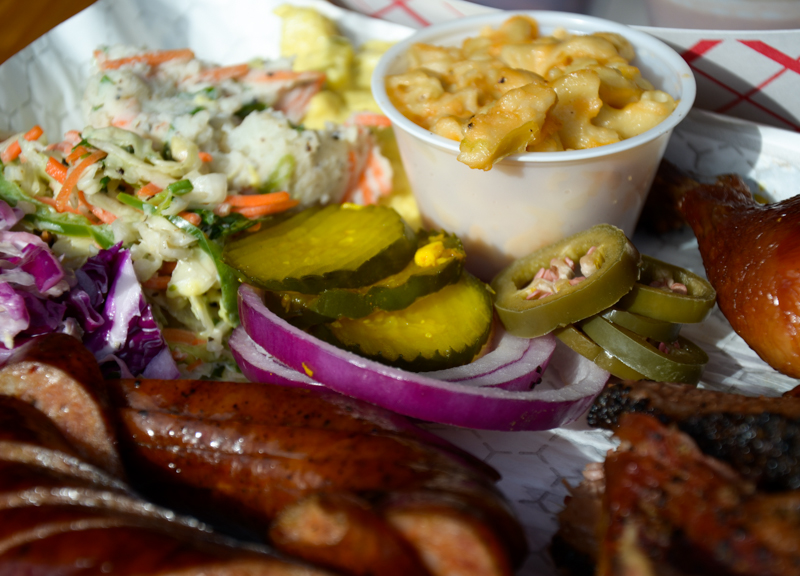 Some History.
Juicy Pig Barbecue may not be the oldest joint in Denton, but it's definitely not owner Ken Currin's first time behind a barbecue pit. Currin has worked in the restaurant industry in one way or another most of his life. The one thing every kitchen Currin has worked in over the years has had in common is that they all have used a wood fire.
"I've been burning wood for a long time," Currin says.
Juicy Pig Barbecue is Currin's third restaurant in Denton; he is also the owner of The Green House and Loco Café, all three of which stand on Locust Avenue. The building Juicy Pig Barbecue calls home has a lot of history; it was originally a little hamburger joint back in the '40s called J.B.s Dairy Bar. Since then, the little building has changed owners a handful of times. It was the original location of Sleeping Lizards, a funky little shop up, and just before Currin got his hands on the location it was a tea shop.
"I didn't think Denton was ready for a tea shop," he says.
Currin started inquiring about the building and wanted to know the minute the place went on the market. Turns out, he was on a mountain biking trip in Colorado in an area with little or no cell coverage when that happened. Currin just happened to stop to rest, when he luckily got the call about the building becoming available and immediately jumped on the chance to acquire the building.
From the beginning, Currin knew that he wanted to use this location as a barbecue joint. It didn't take much work, but after a light remodel the building was ready and Juicy Pig Barbecue opened its doors. After being open for awhile, Currin employed a couple of local artists to paint a mural on the wall in the Juicy Pig parking lot that has since become semi-famous in its own right.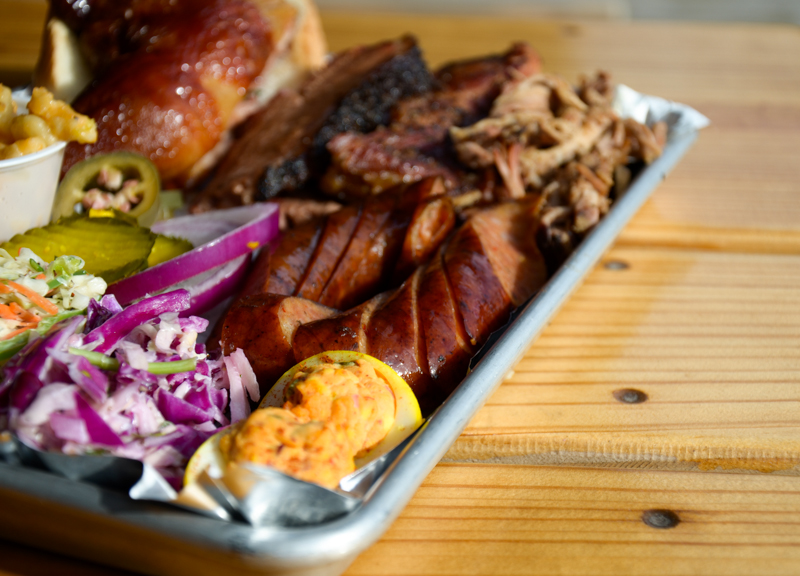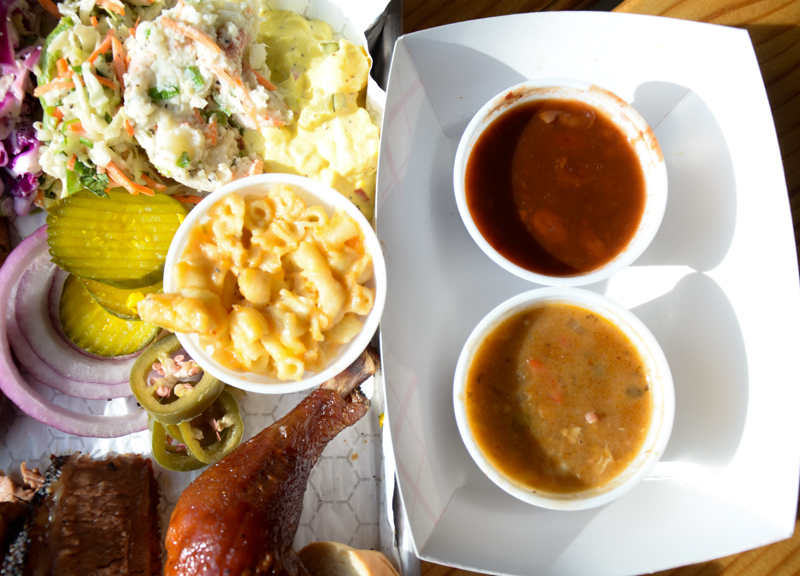 The Pitmaster and His 'Cue.
Ken Currin has been working in restaurants along time; like many kids, his first job at 16 was washing dishes, but he was quickly promoted to cooking steaks.
"[It's the] Peter Principle," Currin says. "Eventually you will be promoted to your level of incompetence."
While working on his degree in journalism, Currin cooked at an old steakhouse called Trail Dust. Some of the friends he made there eventually went on to open a place of their own called Prairie House Restaurant. During this time, it was hard for Currin to find money writing, and he had a family to support, so when his friends approached him for help with opening Prairie House, he agreed. After cooking at Prairie House awhile and having a third child, Currin decided to open a place of his own and it was called the Green House.
"Was it a passion for food? Yes and no, it's a passion for something I do well and know a lot about," Currin says.
After that, he went on to open the Loco Cafe, which is just across the street from the Green House and Juicy Pig Barbecue. Currin grew up in Maryland, where they have crab shacks that are very similar to our barbecue shacks. Currin has always admired a small menu of perfected items.
"Instead of doing 50 things pretty good, I wanted to do 10 things really good," he explains.
The menu at Juicy Pig Barbecue is simple for that reason, and it's the same reason everything on the menu is so good. The brisket is done with a simple rub that helps bring out the quality of the meat, but not mask it. Everything is smoked with local oak that gives the brisket a light smoked flavor that's not to overpowering. The brisket itself come in fat slices and is juicy and tender. The St. Louis style ribs are made with a special dry rub and then smoked to perfection. The crust is full of smoky flavor while the meat itself is succulent and explodes flavor in your mouth. The same attention is given to the pulled pork and sausage which comes in traditional, green onion and habanero for those that that want a real kick in their sausage.
The sides are everything you would expect to find from a barbecue place. The potato salad is fresh, hardy and is made with a classic southern style recipe. The borracho beans are a nice change from your standard barbecue beans. The Juicy Pig has three types of slaw for those that want something a little different from the classic style. The desserts are classic as well, they offer a selection of handmade fried fruit pies that are so good they are worth the visit alone. The pies are made fresh everyday by an employee's mother that has been baking for over 30 years.
"We are commented to trying to do the best job that we can," Currin says. "We get better every day."