We Were Too Focused On Taco Internet's Food To Even Ask For The WiFi Password.
Taqueria la Huasteca.
723 S. Beacon St.
East Dallas.
Ambiance: 2 out of 4 WiFi passwords.
Food: 3 out of 4 WiFi passwords.
Service: 3.5 out of 4 WiFi passwords.
Some things just go together — like peas and carrots, chips and hot sauce or, in this case, tacos and internets.
Stick with us here.
Though it's a little off the beaten path — located at the intersection of Lindsley and Beacon, across the street from a fruteria and, naturally, another taqueria — we've driven past Taqueria la Huasteca enough times now where the two "TACO INTERNET" signs in its windows have become something of a running joke in our inner circle. Yes, we admit, we've even gone as far as to Instagram our affection for these bizarre signs, earning many a double-tap in the process.
Until recently, though, that's about as much thought as we've ever really given the place. Then, a few months back, we found ourselves across the street, waiting for a bus with about half an hour to kill and a rumble in our belly.
That's when we realized that this restaurant is no joke.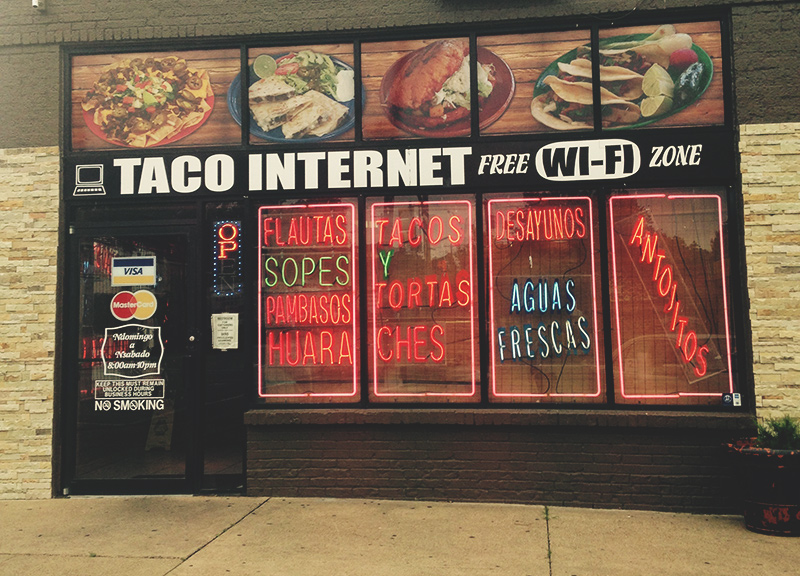 What we saw upon entering the space kind of shattered all of our expectations. No, the interior didn't resemble an early '90s internet café, although the layout was simple and quite clean. Actually, once inside, we pretty much forgot about all of the internet aspects of the business, never even bothering to ask for the WiFi password. A Mistake? Maybe, although retrospect now shows us that we wouldn't have really had the time to make much use for it.
Taqueria la Huasteca doesn't allow it: Soon as we sat in one of the old-school, fast food-style booths by the window affter ordering a plate of chilaquiles verdes from the counter, a bowl of housemade tortilla chips and hot sauce appeared on our table within a matter of seconds.
The fresh chips were good, too — thick and crispy — and perfectly sized so that double-dipping isn't necessary. They also boasted a nice, subtle sweetness that paired well with the red pepper sauce — not salsa, mind you — with which they come served. For its part, the sauce is spicier than what's offered up at most comparable sit-down restaurants, but without sacrificing flavor or becoming too overwhelmingly hot in the process.
Just as tasty was the green sauce that came with the chilaquiles, which came served on a heaping pile of the aforementioned chips. We weren't mad about it.
On a return trip, we opted for a trio of chicken enchiladas, although the big, backlit photos of giant burritos, authentic machetes and menudo looked equally tempting. Again, though: We didn't really have time to second guess our decision; our simply-plated entrée was delivered within a matter of minutes. Seriously, we hadn't even had time to polish off our small bowl of hot sauce yet.
But it's not all lunch stuffs here. In fact, the dessert side of the menu boasts more items than the entrée portion does, even with its just-the-basics approach. There, you'll find all manner of fresh fruit options, juices and smoothies, pasteles, ice creams and even pina coladas served in hollowed out pineapples.
Sure, it's hard to fuck this kind of food up. But Taqueria la Huasteca deserves some credit for not trying to reinvent the wheel here. What it does serve up is simple, authentic Mexican dishes — in a hurry and for cheap. Most menu items were just $5 and came with the chips and sauce, free of charge. For these reasons, it's kind of the perfect little East Dallas lunch spot. It's tucked just far away enough, too, that it's never too crowded or noisy.
And if a quiet little spot with free WiFi isn't necessarily your jam, well, they offer takeout, too. Of course, that doesn't necessarily lend itself as well to being 'Grammed.
What's the fun in not letting your friends know you're eating at Taco Internet?