This Week, Tay-K Continued To Make His Case.
Each week, we take a survey of the local music scene and try to determine which acts in town are really putting in work and seeing it pay off. Which bands have the most intriguing shows coming up? Which bands are getting the most press around town? Which bands have accomplished the most notable feats of late? Based off these criteria, our music writers submit a list to be weighted and compiled into a master list revealed each week in this here space. We like to think it's fairly revealing. Check out our previous Buzz Rankings here.
Listen: This Tay-K train, despite Joe Budden's complaints, ain't slowing down any time soon.
This week, the 17-year-old incarcerated rapper from Arlington saw his song "The Race" jump up to No. 52 on the Billboard Hot 100 chart while outlets as varied as Complex and The New York Times published features trying to explain why people are latching onto his music. (Spoiler: It's because he not only raps about running from the law, but he actually did it.)
Seems you can't top the publicity of a capital murder charge, folks. And while no one should take that lesson to heart and apply it to their own marketing strategies, it's earned Tay-K his third No. 1 position in a month in our weekly power ranking of Dallas-area musicians.
Coming in at No. 2 this week is the ever-interesting St. Vincent, who is not only working on a new album, but a new movie as well. At No. 3, Calhoun makes the grade thanks to scoring a Fort Worth Weekly cover touring its new LP. In the No. 4 position, RC & The Gritz takes the cake after being named Best Band in D Magazine's annual Best of Big D Awards, and the Texas Gentlemen get the 5 slot on the strength of yet another rad new music video.
Lower down on the list, Blue the Misfit gets props for finally dropping his long-awaited Perfect Night For A Funeral LP, Erykah Badu pops up thanks to her quick pop-in performance at last night's Best of Big D Awards party and T.Y.E shows up thanks to a recent Noisey feature that basically confirmed everything we've been saying about the dude for the last year or so now.
Elsewhere: Country icon Charley Pride is about to drop a new album; Bobby Session too popped up on stage at that Best of Big D bash; Curtis Mayz keeps dropping fire singles in promotion of his new release; and The Venetian Sailors are playing around town this week celebrating their own new album's release.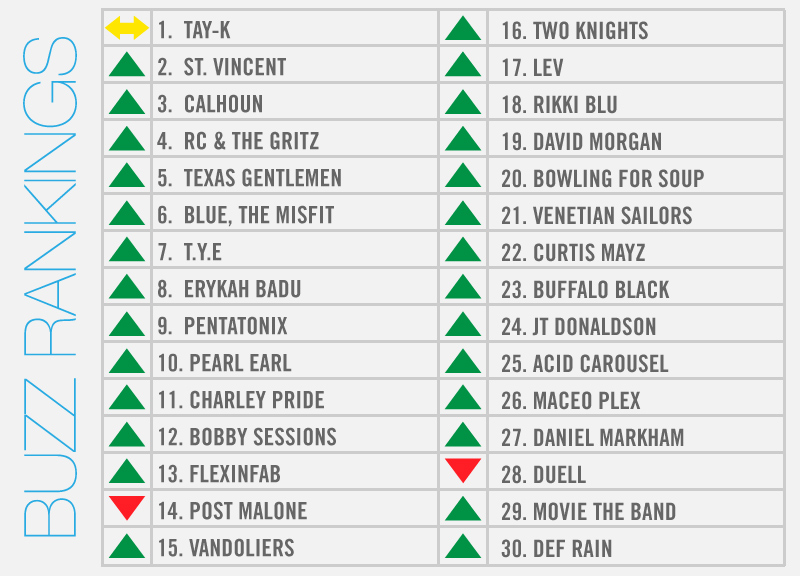 (Also receiving votes: The Spiral Sound, Lost Balloons, Herrick & Hooley, Dreamchild, Nick Lewis, Hextape, Little Image, Monoculture, Mother Tongues, Talkie Walkie, The Say The Wind Made Them Crazy and Jay Fresh.)