This Week, Old 97's Weren't Just Whistling Dixie.
Each week, we take a survey of the local music scene and try to determine which acts in town are really putting in work and seeing it pay off. Which bands have the most intriguing shows coming up? Which bands are getting the most press around town? Which bands have accomplished the most notable feats of late? Based off these criteria, our music writers submit a list to be weighted and compiled into a master list revealed each week in this here space. We like to think it's fairly revealing. Check out our previous Buzz Rankings here.
What a busy couple of weeks it has been for the Old 97's.
Last week, leading up to the release of their 11th studio album, the band appeared on national television a couple times, and then released a music video co-starring Jenna Fischer and Fred Armisen.
Then, finally, the album came out this past Friday to mostly positive reviews, including tweets from many notable comedians and comic actors, which the band followed up by embarking on a cruise with a bunch of other famous country bands. Or, y'know, just a pretty average week for a band that's managed to hang around and make a 24-years-and-counting career out of it.
For their efforts, the 97's top our weekly, local music power rankings once again, something they've done many times over the years.
Just behind them are another couple names that have been around just as long. In the No. 2 hole, Queen Erykah Badu celebrated both her birthday and the 20th anniversary of her debut album at The Bomb Factory during a sold-out show that included many big-name guests. On the local side of things, acts like Bobby Sessions, -topic and Cure for Paranoia were some of the many groups that played short sets leading up to her arrival.
Similarly, the No. 3 spot this week is occupied by Pantera, which celebrated the 25th anniversary of Vulgar Display of Power over the weekend. To mark the occasion, Loudwire produced a short doc looking back at the album that forever changed metal.
Lower down the list, the newbies in Siamese are making waves thanks to the release of their first album this weekend. With the band's emphases on great performances and productions – in addition to killer tunes – we tend to believe this group is about to blow up.
Like those guys and gals, Danny Diamonds celebrates the release of his third album (under that band name, anyway) this weekend, too. Other recent releases include Power Trip's sophomore LP, Animal Spirit's new one and Rob Viktum's long-in-the-works LP that just came out as well.
Then there was Joseph Prein, who earned his spot with a Phil Collins edit that's been getting some online love this week.
Elsewhere: Charley Crockett and Quaker City Night Hawks have been on big tours, opening for Turnpike Troubadours and The Cadillac Three, respectively; Sarah Jaffe is headlining back-to-back nights at Dan's this weekend; and Selena Gomez put her ugly Fort Worth mansion on the market.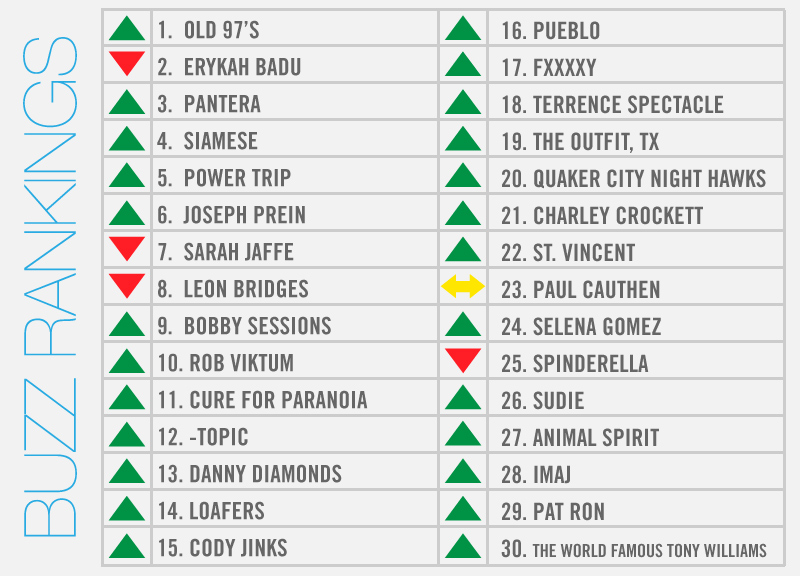 (Also receiving votes: Sam Lao, Dorrough, Whiskey Folk Ramblers, Jon Bap, Zach Witness, Christy Ray, Medicine Man, Forever The Sickest Kids, Willis Alan Ramsey, Bart Crow, Casey James, Jesus Chris + The Beetles, Demi Lovato, Mark Lettieri, Cheridan, Sealion, Jenna Clark, Matt Tedder, Dead Flowers, Kid Liberty, Pearl Earl, The Unlikely Candidates, Blue, the Misfit, Curtis Mayz, Clayton Smith, Plain Jane Francis, Ting Tang Tina, Teleoso, Garrett Owen, iill, DJ Sober, The Angelus, Sundae Crush, John Stewart, Survival Guide, Felt & Fur and The Rotisserie Chickens.)
Old 97's cover photo by Pete Freedman.