This Week, Midlake's New BNQT Supergroup Served Up Its First Taste.
Each week, we take a survey of the local music scene and try to determine which acts in town are really putting in work and seeing it pay off. Which bands have the most intriguing shows coming up? Which bands are getting the most press around town? Which bands have accomplished the most notable feats of late? Based off these criteria, our music writers submit a list to be weighted and compiled into a master list revealed each week in this here space. We like to think it's fairly revealing. Check out our previous Buzz Rankings here.
The band taking the No. 1 slot in our weekly, local music power rankings is BNQT, an act that finds itself in that slot for the first time ever. It's not because the group isn't deserving; it's just that they didn't exist before this week – well, not formally, anyway.
The indie rock supergroup boasting members of Franz Ferdinand, Band of Horses, Travis and Grandaddy, backed by the members of Midlake has been in the works for a while now, but they just put out their debut single earlier this week. And the web has responded in kind, streaming the sucker tens of thousands of times.
We'd also have to imagine that with that pedigree, it won't be the last time they hit the No. 1 spot. Hey, it's something Midlake has done a few times before, once in a joint effort with Grandaddy's Jason Lytle, no less.
Just behind them are acts like Cody Jinks and Parquet Courts, both of which were part of North Texas' big late-night talk show takeover last week.
Then there were acts like Leon Bridges, Sam Lao and Sarah Jaffe, all of which are playing at Super Bowl-related events in Houston this week. And Bridges reworked the national anthem for ESPN recently, too.
In other big show news, MC 900 Ft. Jesus is playing his first show in many years at Kessler this weekend. The Gorehounds mark their return to the stage in over a year this weekend, too. And Pinkish Black opened a sold-out show Sleep show at the Granada earlier this week.
Elsewhere: Corner Suns put out a new record last weekend, Bobby Sessions is putting out a new record this weekend and Charley Crockett's record gets the vinyl treatment this weekend.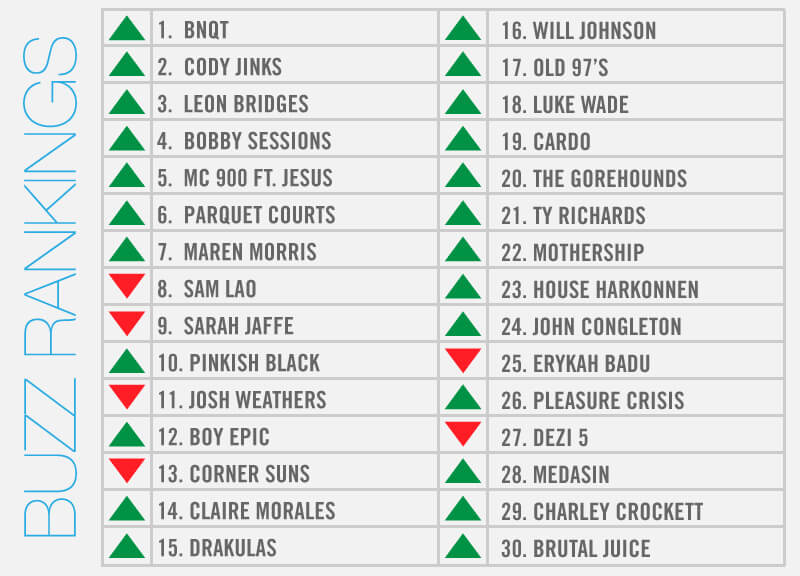 (Also receiving votes: Siamese, Dondria, Wesley Jenson, Psychic Killers, Doug Burr, FXXXXY, The Warden, Devy Stonez, Lil Ronny MothaF, Chris Welch & Cicada Killers, Norvis Junior, Joe Gorgeous, iill, Shotgun Rider, Summer Dean, David Morgan, Lord Byron, Sealion, Bargoyles, Cut Throat Finches, Shear Pleasure, Heavy Bens, Night Rides, Medicine Man, Native Fox, Broke Society, Dark Rooms, Vandoliers, Daniel Markham, Teenage Sexx, Vegan Shark, Closure.)
Cover photo of Midlake by Pete Freedman.