This Week, Demi Lovato Was Not Sorry.
Each week, we take a survey of the local music scene and try to determine which acts in town are really putting in work and seeing it pay off. Which bands have the most intriguing shows coming up? Which bands are getting the most press around town? Which bands have accomplished the most notable feats of late? Based off these criteria, our music writers submit a list to be weighted and compiled into a master list revealed each week in this here space. We like to think it's fairly revealing. Check out our previous Buzz Rankings here.
Seems the only way around these parts to dethrone a 17-year-old incarcerated rapper from the top of our weekly Dallas music power rankings is to enlist the services of a queen.
And, boy, did one member of Dallas music royalty deliver in that regard over the last weekend: Not only did Colleyville's Own Demi Lovato perform at the MTV Video Music Awards on Sunday night, but she also performed a stellar rendition of the national anthem before Saturday night's Fight of the Century way over-hyped bout between Floyd Mayweather and Conor McGregor.
Give an artist with pipes as powerful as Lovato's two stages of that magnitude and it'd be tough for anyone to even come close to getting on that level.
And yet some tried! Arlington-raised YouTube Todrick Hall, to his credit, also had himself a fine week, releasing this viral mashup of 2000s hit songs and, no big deal, dancing backup for Taylor Swift in the video for her newly released comeback singkle "Look What You Made Me Do."  Of course, the aforementioned in-jail Tay-K also placed highly this week, with his "The Race" continuing to earn him press as it also moves up the Billboard charts.
How'd the Top 10 round out? North Texas-bred country stars Miranda Lambert and Kacey Musgraves each scored major social media points for Houston relief efforts in the wake of Hurricane Harvey, with the former fostering a mess of displaced puppies and the latter working the phone banks at a fundraiser in her current hometown of Nashville. Lil Ronny MothaF, meanwhile, went viral this week with a NSFW new music video, the always-viral Pentatonix announced a new tour, St. Vincent released a new video, CARLYLE was the only local announced in the first wave of Lights All Night 2017 confirmed acts and CT favorites Sad Cops got an endorsement from the dude behind The Needle Drop.
Elsewhere: Siamese changed its name to Midnight Opera; the Toadies, Garrett Owen and Cure for Paranoia dropped new videos; the Observer ran a retrospective feature ont he 10-year anniversary of Doug Burr's great On Promenade; Ronnie Fauss and Ben Kweller teamed up for a new track; and Blindwish got ready to drop its debut for Rise Records tomorrow.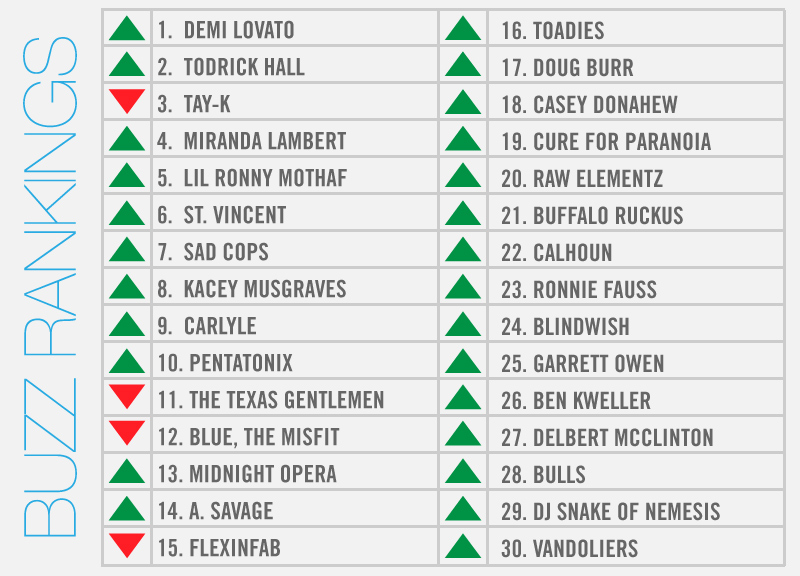 (Also receiving votes: -Topic, Buffalo Black, Pearl Earl, Acid Carousel, DJ Sober, Herrick & Hooley, T.Y.E, Pat Ron, Diego Money, Lost Balloons, Two Knights, Signals & Alibis, GrantClass, Curtis Mayz, ArraDon, Jay Fresh, The Outfit, TX, Loafers, Lizzie Boredom and All/Everything.)