This Week, Flexinfab Got By With A Little Help From His Friends.
Each week, we take a survey of the local music scene and try to determine which acts in town are really putting in work and seeing it pay off. Which bands have the most intriguing shows coming up? Which bands are getting the most press around town? Which bands have accomplished the most notable feats of late? Based off these criteria, our music writers submit a list to be weighted and compiled into a master list revealed each week in this here space. We like to think it's fairly revealing. Check out our previous Buzz Rankings here.
For a while now, we've been extolling the virtues of Dallas music video director Dance Dailey, who has spent the last year-plus making artists like T.Y.E and The Outfit, TX (among others) look damn good on film while promoting their music.
This week, though, he may have released his best work to date, the video for the apparently controversial, happy-go-lucky Dallas rapper-singer Flexinfab's "Friends" song. Like the track itself, the video is genuinely gleeful, featuring Flexinfab goofing off with his pals just like he sings he loves to do.
Combined, the visuals and the audio make for a pretty damn infectious pairing.
It's not surprising, then, that the clip has been the talk of the Dallas rap community since it dropped, making Flexinfab the most-buzzed about act in town and earning him his very first trip to the top of our weekly Dallas music power rankings. Albeit for totally different reasons, it's the second week in a row in which a fresh face from the Dallas rap world has skyrocketed to the top of our list for the very first time. And, at least in Flexinfab's case, we have a feeling it won't be the last time he reaches the pole position, either.
Following closely behind him this week is producer Zach Witness, who began the promotional cycle for his debut solo EP (called Electric Revival: Rise of an OutKast Nation, due out later this month) this week with a bang, scoring profiles both on Passion of the Weiss and in D Magazine this week. Rapper-singer, Post Malone, meanwhile, got some ink for joining John Mayer on stage at a show this week and for announcing that he'll be hitting the road for a tour that will bring him back home to Dallas for a show at The Bomb Factory on October 24. Country crooner Cody Jinks, on the other hand, somehow got Kris Kristofferson to agree to open for him at his show at the Verizon Theatre tomorrow night, and Tay-K is still riding the high on the viral fame his song "The Race" has earned since he got arrested on capital murder charges.
Lower down on the list, Leon Bridges had a cameo in Amine's new music video, Panic Volcanic got the Fort Worth Weekly cover, Teenage Sexx headed out on tour, the Old 97's covered T. Rex and Mothership's signature guitars were finally released.
Elsewhere: Bobby Sessions is hosting a show at Dada this weekend, Mystery Skulls is dropping a new album tomorrow, and Selena Gomez released a new video.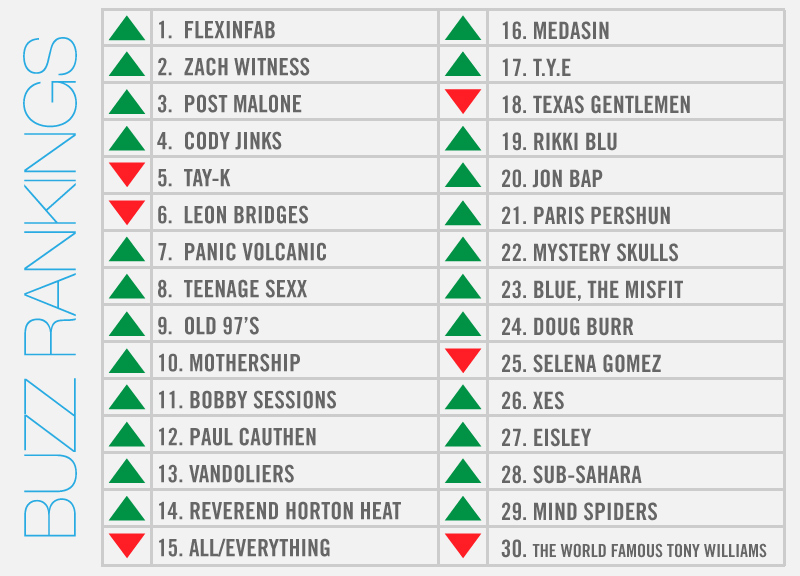 (Also receiving votes: Bronwen Roberts, Pyrex Pirates, Pat Ron, Ease, Boy WNDR, Sealion, Nervous Curtains, Born Snapped, Crit Morris, Coach Tev, CardiacTheGhost, Dondria, Pedigo's Magic Pilsner, Jay Fresh, Brandon Callies, Chris J Norwood and Alex Harris.)
Cover photo via Flexinfab;s Twitter.