This Week, The All/Everything Crew Really Did It All.
Each week, we take a survey of the local music scene and try to determine which acts in town are really putting in work and seeing it pay off. Which bands have the most intriguing shows coming up? Which bands are getting the most press around town? Which bands have accomplished the most notable feats of late? Based off these criteria, our music writers submit a list to be weighted and compiled into a master list revealed each week in this here space. We like to think it's fairly revealing. Check out our previous Buzz Rankings here.

For well over a year now, it's been known: If you wanna party in a packed house filled with sweaty dancers, rowdy party people and stans who know the words to every single damn word in the songs that the DJs are playing, the move here in Dallas is to head to RBC on Sunday nights and rock with the All/Everything crew.
And, turns out, that's not necessarily a Dallas-exclusive thing any longer. Over the course of the past few months, the DJ tandem behind the concept — John Stewart and Blue, The Misfit — have taken its act on the road, bringing to new markets all across the country their concept of playing one artist (or a collective) and just that one artist (except, OK, for a few tangential collaborators, maybe) for the entirety of the night. This month alone, that meant turning things up in Los Angeles, St. Louis, Cleveland and Tulsa.
Impressively, though, the duo always makes it back to town on Sunday nights for their RBC parties. And with this past Sunday's All Texas Everything party falling on a long weekend thanks to Memorial Day, that meant even somehow bigger crowds looking to get in on the action this week.
Thanks to that kind of local fanfare and an increasing national profile growing for the brand, All/Everything finds itself atop our weekly Dallas-area music power rankings this week for the very first time ever.
Closely following All/Everything's trail this week are Lord Byron and the Vandoliers, both of which just dropped critically acclaimed albums. Byron celebrated that fact this week by joining his New Math and Dolfin Records family at the New Math Festival at Dada all day long on Sunday. The Vandos, meanwhile, continued along on their national tour.
Sam Lao also had herself a strong week thanks to an impressive-as-ever showing opening for Lupe Fiasco at the Granada over the weekend. Meanwhile, These Machines Are Winning celebrated the release of three albums and a 128-page graphic novel at the Double Wide on Saturday, and Medicine Man Revival apparently played through one of their instruments catching fire during a weekend showcase as well.
Elsewhere: Party Static played alongside Foster The People at a Poor David's Pub-hosted secret after-party following the "Pumped Up Kicks" band's stop at the House of Blues; the Waco ex-pats and still fairly new Dallasites in Loafers and Teenage Sexx each dropped new releases this week, because apparently one can't do anything without the other doing the same; Nervous Curtains and Pleasant Grove shined at Twilite's four-year anniversary bash; and Ten Can Riot and The Scandals played at Punk Rock Bowling in Las Vegas.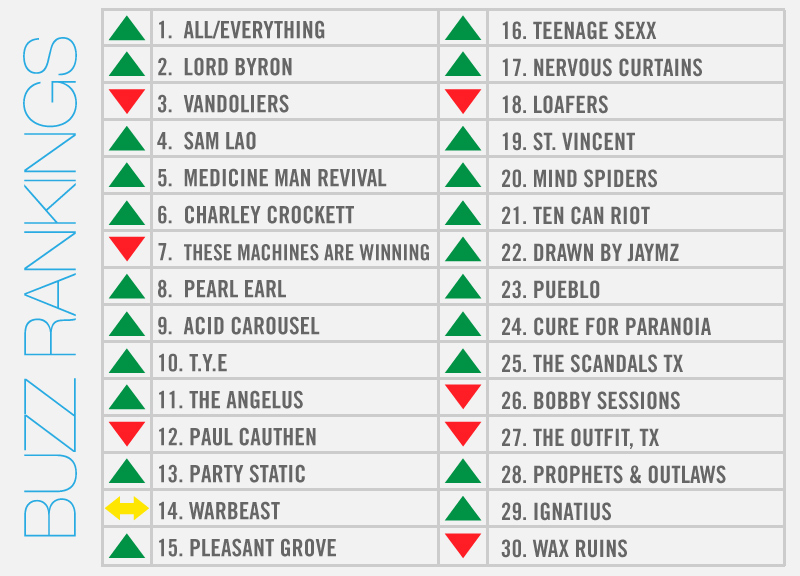 (Also receiving votes: John Bap, Mark Lettieri, Corner Suns, Polyphonic Spree, Mountain Kid, NHD, Caterpillars, Brave Combo, Rio Pourcel, Yella Beezy, Sleazy Ease, Pat Green, Pyrex Pirates, Conner Youngblood, 88 Killa, KissedKilled, Dorrough, Catlash, Rizzo Blaze, Larce Blake, FlexinFab, Yak The Mack, David Morgan, Curtis Mayz, Devy Stonez, D & Chi, K-Wonda, Joseph Wayne Miller, Jackie Daytona, Mountain of Smoke, Matthew McNeal, Mother Tongues, Daniel Markham, Fishboy, Native Fox and Natural Anthem)
Cover photo of All/Everything by Karlo X. Ramos.