This Week, BNQT Enjoyed Another Serving.
Each week, we take a survey of the local music scene and try to determine which acts in town are really putting in work and seeing it pay off. Which bands have the most intriguing shows coming up? Which bands are getting the most press around town? Which bands have accomplished the most notable feats of late? Based off these criteria, our music writers submit a list to be weighted and compiled into a master list revealed each week in this here space. We like to think it's fairly revealing. Check out our previous Buzz Rankings here.
For the second time since unveiling its existence earlier this year, the Midlake-led supergroup BNQT tops our weekly, local music power rankings. That now makes twice as many Buzz No. 1s as live shows they've played.
Tomorrow, the band releases its debut full-length, which has already been streaming over at Consequence of Sound all week. Spoiler alert: It's fantastic. It's so good, in fact, that the band's already reportedly already working on a second album.
Just behind BNQT this week is the Texas Gentlemen, which similarly released a special edition vinyl
at last weekend's Record Store Day celebration, where they also performed. Several others appearing on this week's Buzz list also performed around town at various RSD celebrations.
This weekend, meanwhile, Toadies continues its relationship with the Texas Rangers when it performs a post-game concert on Saturday. Lecrae will do the same thing following Sunday afternoon's game against the Angels.
Yes, live shows were a big player in this week's rankings. Take Todrick Hall, for instance, who headlines The Bomb Factory with his new musical. Or Cure for Paranoia, who crushed it so hard at The Bomb Factory opening for Bone Thugs this week that they're now tagging along for the rest of the tour. Or Blue the Misfit, Sam Lao, Ronnie Heart, Sudie, Burning Hotels and others, who are all playing this weekend's first-ever Fortress Festival.
Elsewhere: Ishi premiered a new song featuring Cure for Paranoia and Sam Lao; Alejandro Escovedo will be backed by The Minus 5 at his Kessler show tonight; and From Parts Unknown, Drawer Devils and Starfruit are all playing album release shows this weekend.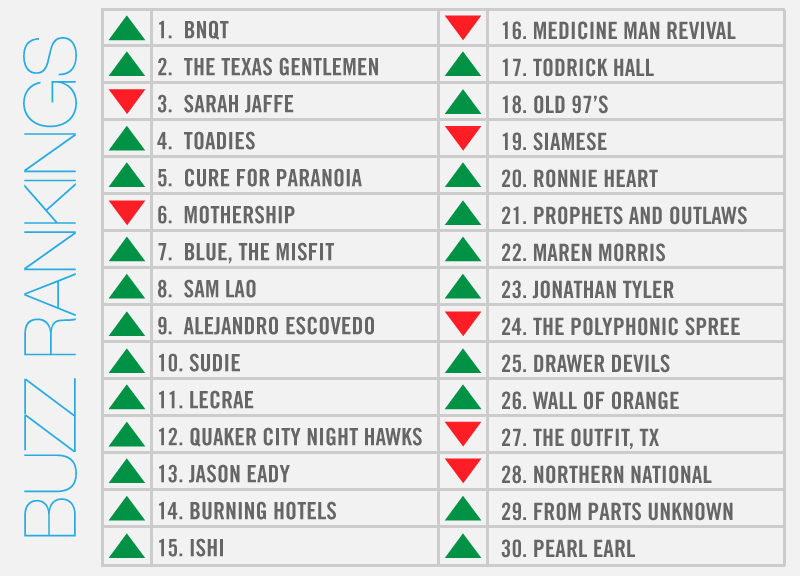 (Also receiving votes: Bobby Sessions, Garrett Owen, Paul Cauthen, Dakota Prescott, Dalton Domino, Matt Tedder, Rania Khoury, Daniel Hart, Starfruit, Supersonic Lips, -topic, Drawn By Jaymz, The Nixons, Motorcade, The World Famous Tony Williams, Farah, Wesley Jensen, Charley Crockett, Ray Wylie Hubbard, Riverboat Gamblers, Mean Motor Scooter, 88 Killa, Max Stalling, Rat Rios, Junk Food, Honor System, Teen Slut, Black Taffy, Zane Williams, Koolquise, Eleven Hundred Springs, Loyal Sally, Acid Carousel and G.U.N.)