This Week, Old 97's Whistled Dixie.
Each week, we take a survey of the local music scene and try to determine which acts in town are really putting in work and seeing it pay off. Which bands have the most intriguing shows coming up? Which bands are getting the most press around town? Which bands have accomplished the most notable feats of late? Based off these criteria, our music writers submit a list to be weighted and compiled into a master list revealed each week in this here space. We like to think it's fairly revealing. Check out our previous Buzz Rankings here.
For the second week in a row, and eleventh time overall, the Old 97's top our weekly, local music power rankings. It makes sense, too, because those boys know how to throw one hell of a party.
The band's second annual County Fair festival was the talk of the town this past week, getting write-ups and slideshows in the Big Four of Dallas culture publications. And to their credit, it was about the most fun we've ever had at a music festival before. Plus, they got an accommodation from the state for their efforts.
Anyway, here's to the next one!
Just behind the 97's this week was another County Fair act, The Texas Gentlemen, which was not only the best act we saw that day, but a band that found themselves quoted this week in CNN. They also announced the release of a debut 12-inch for Record Store Day, and a full-length later on this summer.
That same day, Sealion and Blue, the Misfit teamed up for a joint performance at our 5th anniversary party. Also helping us celebrate that day were Bobby Sessions, Medicine Man Revival and Lizzie Boredom, the last of which also premiered a kickass, ass-kicking feminist anthem on our site just yesterday.
Also releasing new music this week was Native Fox, Jason Eady, Luke McGlathery, Andrew Combs and Kody West, among others. So too did St. Vincent, on behalf of Planned Parenthood.
Finally, Curtis Mayz gave the Dallas hip-hop scene some national shine, Cody Jinks impressed the hell out of The Rock, The Bird Dogs sold out another Jub Jam and -topic is still putting off that move, we guess.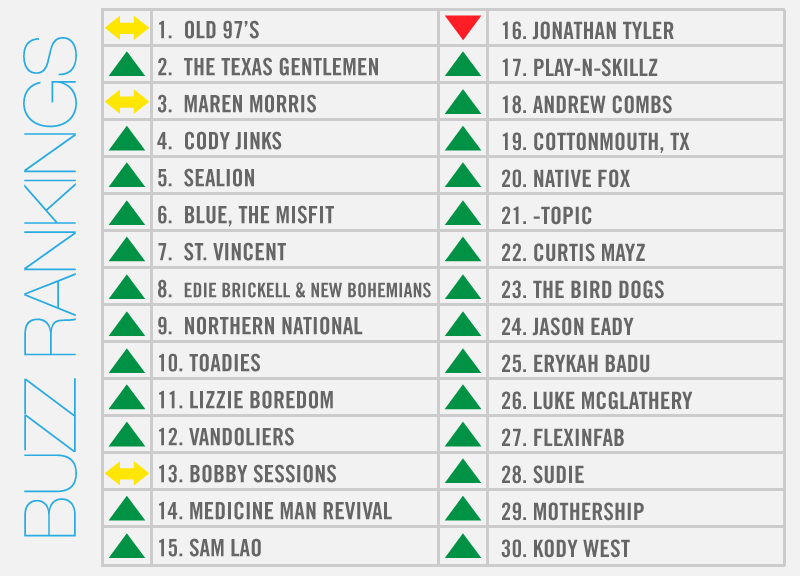 (Also receiving votes: Cure for Paranoia, DJ Sober, Felt & Fur, Cygnus, Party Static, Picnictyme, Vegan Shark, Richard Haskins, Whyte Noyze, Jessie Frye, Duell, Pentatonix, Vincent Neil Emerson, Joshua Ray Walker, FEEVES, Terrence Spectacle, Messer, The Outfit, Cheridan, Dead Flowers, Corner Suns, Daniel Markham, Pinkish Black, Smoke Paint, Duell, Dead Sullivan and The Warden.)