This Week, Badu Had It In The Bag.
Each week, we take a survey of the local music scene and try to determine which acts in town are really putting in work and seeing it pay off. Which bands have the most intriguing shows coming up? Which bands are getting the most press around town? Which bands have accomplished the most notable feats of late? Based off these criteria, our music writers submit a list to be weighted and compiled into a master list revealed each week in this here space. We like to think it's fairly revealing. Check out our previous Buzz Rankings here.
In February, Erykah Badu's genre-defining breakthrough album Baduizm will turn 20, a fact she'll celebrate at her upcoming birthday bump at The Bomb Factory. Ahead of both those things, she was profiled in D Magazine.
It's a long read, but a good'un that's made up of numerous anecdotes from her pals and collaborators. Aside from the album and that profile, she'll also celebrate her 22nd trip to the top of our weekly, local music power rankings – something only Leon Bridges has done before. Now, the two sit tied as all-time leaders in the ranks.
Speaking of Leon: He'll be headed down to Houston for the Super Bowl, along with Lecrae, Sam Lao and Sarah Jaffe to perform at the Super Bowl LIVE Compound. And that's not Lao's only big upcoming performance; she's also booked for this summer's Fortress Festival, along with fellow locals Quaker City Night Hawks, Sudie, Ronnie Heart, Burning Hotels, Bobby Sessions, Cure for Parnoia and Blue, The Misfit.
Also profiled this week was Josh Weathers, who earned a Fort Worth Weekly cover story thanks largely to his performance at Trump's inauguration. He's also performing at Eric Nadel's birthday this weekend, along with The Hendersons.
Elsewhere: Cody Jinks and Parquet Courts did the live TV thing; Corner Suns releases its debut LP this weekend; and Dezi 5 released his last new song as a Dallas resident.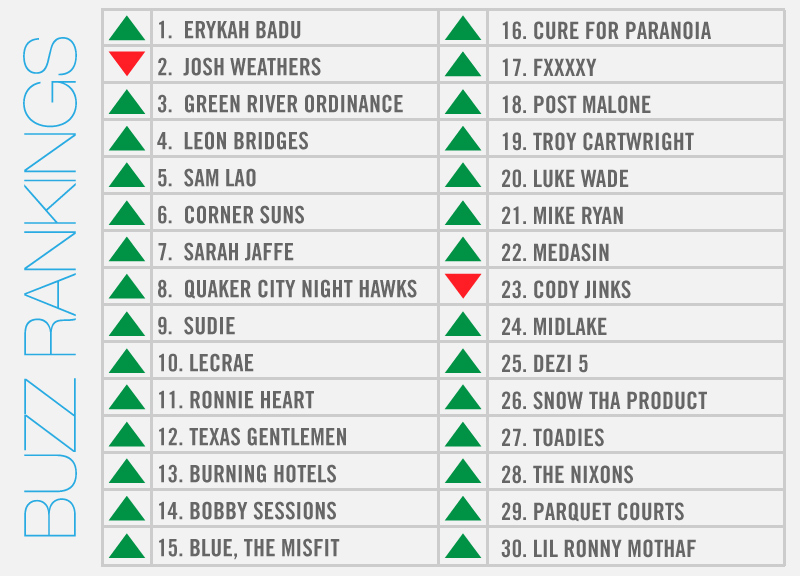 (Also receiving votes: Power Trip, The New Bohemians, Devy Stonez, Will Johnson, Doug Burr, Ty Richards, The Hendersons, Dark Rooms, Cut Throat Finches, Claire Morales, Young and Brave, Night Rides, Delbert McClinton, Pearl Earl, Funky Knuckles, The Unlikely Candidates, Mean Motor Scooter, Caterpillars, Reverend Horton Heat, Brutal Juice, Norah Jones, Paul Cauthen, Jonathan Tyler, Crayondroids, Pat Green, Ray Wylie Hubbard, Brandon Marcel, MC 900 Ft. Jesus, St. Vincent, Charley Crockett, Old 97's and The Angelus.)
Cover photo by Kathy Tran.