This Week, Power Trip Made Some Mayhem.
Each week, we take a survey of the local music scene and try to determine which acts in town are really putting in work and seeing it pay off. Which bands have the most intriguing shows coming up? Which bands are getting the most press around town? Which bands have accomplished the most notable feats of late? Based off these criteria, our music writers submit a list to be weighted and compiled into a master list revealed each week in this here space. We like to think it's fairly revealing. Check out our previous Buzz Rankings here.
Mondays aren't always the most action-packed nights to go out — well, save for those wild and crazy service industry folk — and that's especially true on big holiday weeks like this one.
But that fact didn't prevent Power Trip and their cohorts in Napalm Death and The Black Dahlia Murder from making metal mayhem at Gas Monkey a few nights ago.
Better still, that swim through Dallas for the currently-on-tour hometown boys came just a matter of days after Power Trip released a wild new single from its freshly announced sophomore LP — one that comes four years after its debut on Southern Lord. While that record may not come out until early next year, we're going ahead and calling Power Trip the buzzingest band in town this week. It marks the fourth time in the history of our weekly, local music power rankings that Power Trip winds up at the top spot.
Not far behind was Selena Gomez, who made quite the impression with her acceptance speech at the AMAs, after winning the Best Rock/Pop Female award. In summary: You may be broken, but you don't have to stay broken.
Also on big stages this week were the following locals: Pentatonix, which headlined the AAC last weekend; Mike Ryan which headlined Billy Bob's last weekend; Troy Cartwright, who'll headline that same stage tonight; and Erykah Badu, who popped in at Wiz Khalifa show at The Bomb Factory for a "surprise" set.
Elsewhere: MC 900 Ft. Jesus announced his first show in more than a decade; Forever the Sickest Kids announced a reunion; Austin Allsup continued his run on The Voice; and Luke Wade premiered a new video on Conan O'Brien's website.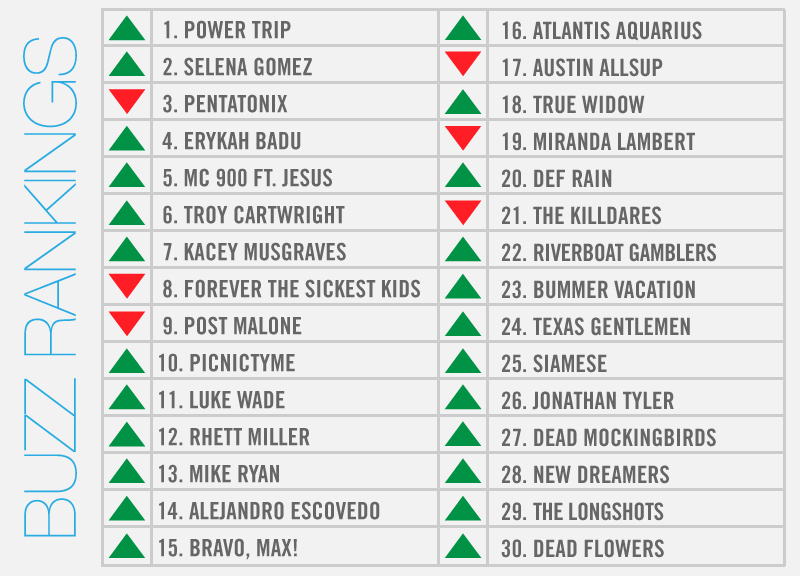 (Also receiving votes: Charley Crockett, Felt & Fur, DJ Sober, Sikwitit, Cygnus, Psychic Killers, Sudie, Mike Lackey, Baptist Generals, Matt Tedder, The O's, Field Guide, Party Static, Mean Motor Scooter, Lord Byron, Mink Coats, The Phantom Sensation, G.U.N., Different Strokes, Garrett Owen, Mousehearted, TALL, Redeye, Rache', Blake Ward, Mind Spiders, Blue, The Misfit, Vincent Neil Emerson, Chris Holt, Slow Seers, Pueblo, Digo, Devin Leigh and Whiskey Folk Ramblers.)
Cover photo by Carly Seitz.