This Week, Tripping Daisy Hit Like The Atom Bomb.
Each week, we take a survey of the local music scene and try to determine which acts in town are really putting in work and seeing it pay off. Which bands have the most intriguing shows coming up? Which bands are getting the most press around town? Which bands have accomplished the most notable feats of late? Based off these criteria, our music writers submit a list to be weighted and compiled into a master list revealed each week in this here space. We like to think it's fairly revealing. Check out our previous Buzz Rankings here.
The biggest story of the week? C'mon, you already know: It was the announcement that Tripping Daisy would be reuniting after 17 years away to headline the 2017 Homegrown Music & Arts Festival.
So, yeah, Tim DeLaughter's pre-Polyphonic Spree name-maker was the buzzing-est act of the week. And, given the time the band's been away, it is of course its first time atop our weekly local music power rankings list, which we've been compiling for going on five years now.
Coming in a close second is the Old 97's, who also announced a return of sorts. In their case, it was that the band's namesake County Fair festival, which is a sister fest of sorts to Homegrown, will be coming back for a second year, with them sitting atop the lineup once again, as expected. Jonathan Tyler, Vandoliers and the Texas Gentlemen are also playing that deal.
Then there's Kacey Musgraves, who comes in third this week. She'll be headlining this spring's Texas Music Revolution festival in Plano, and she'll be joined there by Paul Cauthen, Zane Williams and, once again, those Vandoliers boys.
A little ways down the list, Snow Tha Product too makes an appearance thanks to a festival announcement, as she's the only local so far confirmed to play this year's JMBLYA festival.
Elsewhere: Selena Gomez returned to Instagram, which had the national gossip blogs going crazy; Un Chien, Kim Nall, Frank Moka and Coywolfe dropped new tunes; and Blue, the Misfit launched a new DJ gig at Off the Record.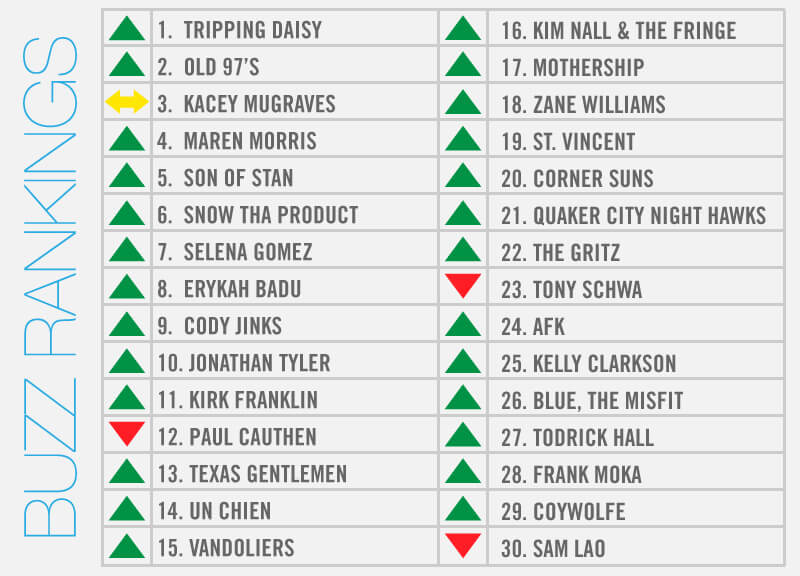 (Also receiving votes: The DOC, The Gordon Keith Band, Colton Carlyle, Lift to Experience, Brave Combo, West Windows, Wayne Hancock, Bravo, Max!, The O's, Josh Abbott Band, Eleven Hundred Springs, Dead Flowers, Akkolyte, Power Trip, Cygnus, Lord Byron, Bullet Machine, Goodnight Ned, Medicine Man, Crystal Furs, Talkie Walkie, Starbass Laboratories, Lizzie Boredom, Androppolis, Sad Cops, Becky Middleton, Afu, The Broadsiders, Trái Bơ, Aye-D, Birds of Night, Jenna Clark and Ronnie Heart.)