This Week, Erykah Badu Was Able To Connect.
Each week, we take a survey of the local music scene and try to determine which acts in town are really putting in work and seeing it pay off. Which bands have the most intriguing shows coming up? Which bands are getting the most press around town? Which bands have accomplished the most notable feats of late? Based off these criteria, our music writers submit a list to be weighted and compiled into a master list revealed each week in this here space. We like to think it's fairly revealing. Check out our previous Buzz Rankings here.
In the past week, Ms. Erykah Badu reminded us why she's the queen of all things local music. As we mentioned last week, she dueted with Nas on Jimmy Kimmel's late-night show, and was announced as the host of the next Soul Train Awards.
More recently, though, she showed up on D.R.A.M.'s new track, "WiFi," which kind of piggyback's off the phone theme of her last mixtape, in a way. It got the web way hyped for D.R.A.M.'s new project, which is set to drop tonight at midnight.
Hey, remember when D.R.A.M. told us what to expect of their collaboration? Boy, do we!
Anyway, her efforts, this win nets Badu her 20th all-time Buzz Ranking No. 1, putting her in second place all-time in those rankings, just barely behind Leon Bridges' 22. Not too far behind them is last week's No. 1, Maren Morris, who has topped our weekly, local music power rankings nine times now.
This week, she not only opened Keith Urban's AAC bill, but she did her thing live on Ellen's show, too.
Then there's the Texas Gents, which not only backed Kris Kristofferson twice last weekend, but have some shows lined up with other big names this weekend — including Jack Ingram, Alejandro Escovedo and Jonathan Tyler, to name a few.
Farther down the list, Dorrough Music inked a deal with the Dallas Cowboys. And Austin Allsup, Simone Gundy, Dana Harper and Josh Halverson all four advanced to the next round in televised singing competition The Voice.
On the show front, -topic held a benefit show at Trees, and Telegraph Canyon headlines a Granada show this weekend with Oil Boom and Daniel Markham on the undercard.
Elsewhere: Joshua Balis released his debut album; Zane Williams celebrates the release of his new LP at Billy Bob's; Post Malone was featured on the cover of the Dallas Observer; and Ronnie Heart made a splash at our relaunch party.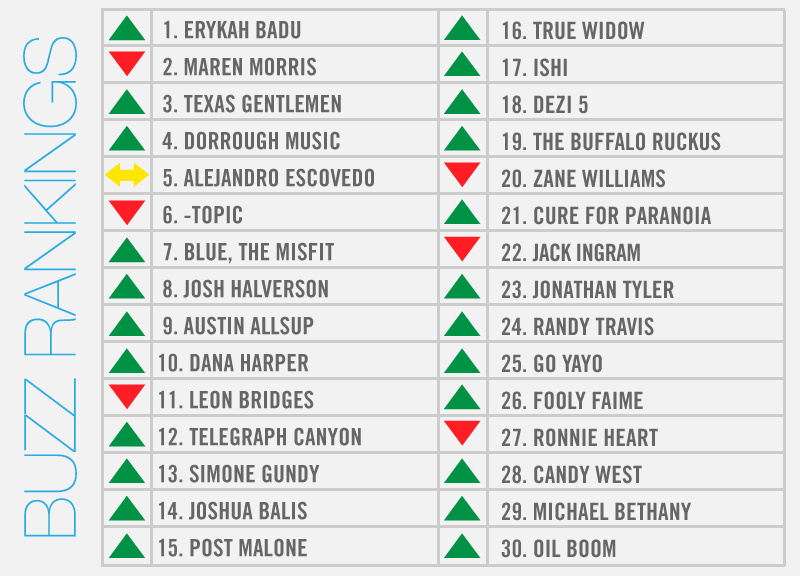 (Also receiving votes: Daniel Markham, Frankie C. Wilson Jr., Bobgoblin, Troy Cartwright, Bobby Sessions, Paul Cauthen, Kirk Franklin, Hollyhood Bay Bay, Sealion, Rikki Blu, Lizzie Boredom, FXXXXY, The Heavy Hands, Loafers, Siamese, Pat Green, Herrick & Hooley, Bravo, Max!, Charley Crockett, Cody Jinks, Vegan Shark, Pearl Earl, Brave Combo, The Eggshells, Larry g(EE), Treehouse Cabaret, Hawatha Hurd, Britni Jessie, Plain Jane Francis & Tony Q, Honor System, Character, Blands, Katsuk, Kierra Gray, Course of Empire.)