In Which We Taste Test and Rank The Best Under $4 Wines In Town.
Back when Trader Joe's opened up on Lower Greenville, there was quite the hoopla. Seriously: When is the last time you can remember the mayor showing up for the opening of a grocery store?
Listen: For a lot of folks, it did seem to be a pretty big deal. And one of their biggest reasons? No longer was it necessary for these people to drive up to Plano to score a bottle (or six) of Trader Joe's' famous Charles Shaw line of wines.
Better known as "Two Buck Chuck," the California-based chain changed the ultra-value wine game when they first introduced their super-cheap vino in 2002.
But how good can a $2 wine really be? While TJ loyalists swear the stuff tastes just like expensive stuff, we remained unconvinced. For our money — admittedly very small amounts of it — we weren't even sure Two Buck Chuck was the best $2 wine in town.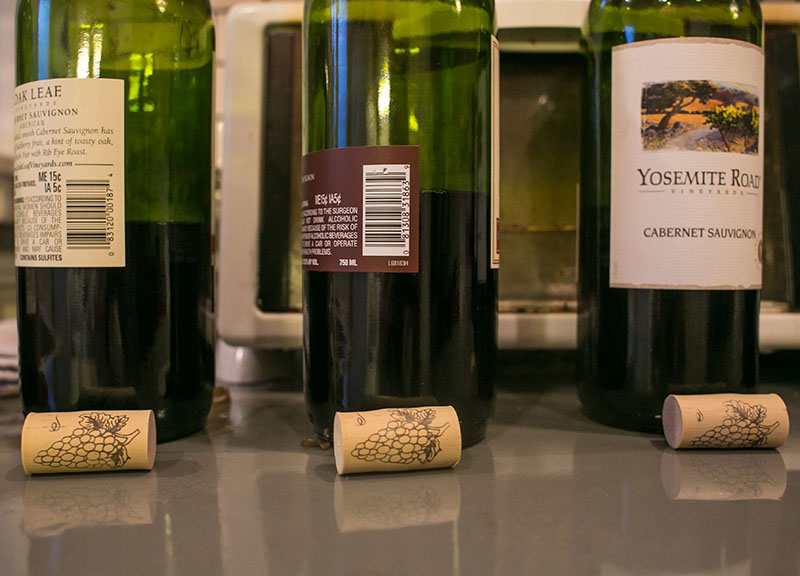 Did you know, for instance, that 7-Eleven, Aldi, Walmart and CVS stores all sell their own proprietary brands of uber-cheap wine as well? They do.
So, to settle the dispute once and for all, we gathered a group of 10 Central Track staffers and served them blind samples of Cabernet Sauvignons from each of these brands. Afterward, we had them rank their favorites from best to worst and compiled the results, which you can find at the end of this post.
First, though, let's take a closer look at each of the hella-cheap competitors.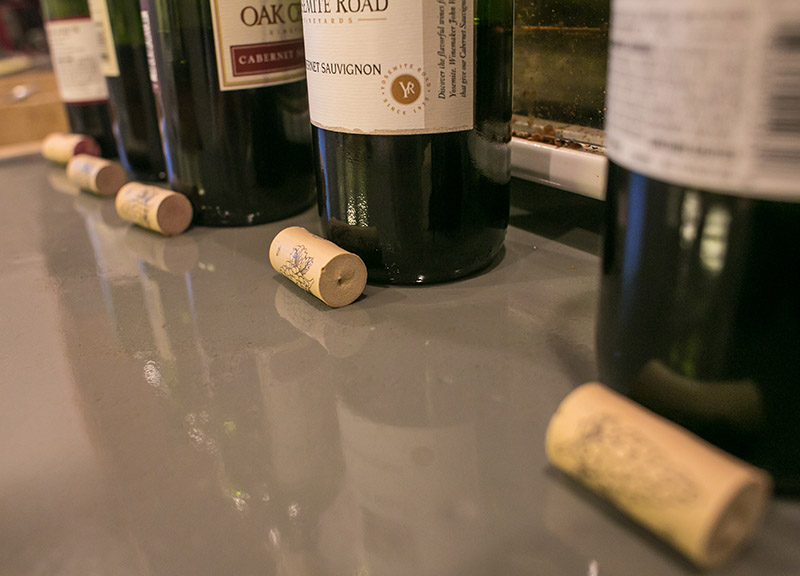 The Contenders
Brand: Charles Shaw.
Where to buy: Trader Joe's.
Price:$2.99
Varieties: Chardonnay, Merlot, Cabernet Sauvignon, Shiraz, Sauvignon Blanc, Pinot Grigio, White Zinfandel.
Background: Charles Shaw wines are made by Bronco Wine, a company started by Ernest Gallo's nephew Fred Franzia, his brother Joseph Franzia and their cousin John Franzia. The name itself is literally a contraction of "brothers and cousin." And, thanks to the boxed wines that this company once sold (but no longer owns), Franzia is a name long familiar to cheap winos. In the past decade, the company has sold over 600 million bottles of their Charles Shaw line through Trader Joe's. When asked how his company can afford to sell its wines for virtually the same price as bottled water, CEO Fred Franzia has been quoted as saying, ""They're overcharging for the water. Don't you get it?"
Tasting notes: "It's juicy and jammy, but has decent cherry-plum-spice flavors and no hints of green bell peppers or shoe soles. [It's] definitely fine to serve if your party gets out of hand."
Pairs well with: Heat and Eat Falafels, fair trade hummus, spoonfuls of Cookie Butter straight from the jar.
Brand: Winking Owl.
Where to buy: Aldi.
Price: $2.89
Varieties: Merlot, Cabernet Sauvignon, Shiraz, White Zinfandel, Chardonnay, Pinot Grigio.
Background: Winking Owl comes from E.J. Gallo — California's largest exporter of wines — whose nephew, as we've already pointed, is the CEO of Bronco Wine. The wine is sold exclusively at Aldi's, whose tagline is "Like brands, only cheaper."
Tasting notes: "Subtle flavors of blackberry, plum, toasted oak, and a hint of vanilla."
Pairs well with: Brown Sugar Toaster Tarts, Happy Farms Cheese Wedges, Horse Meat "All Beef" Patties.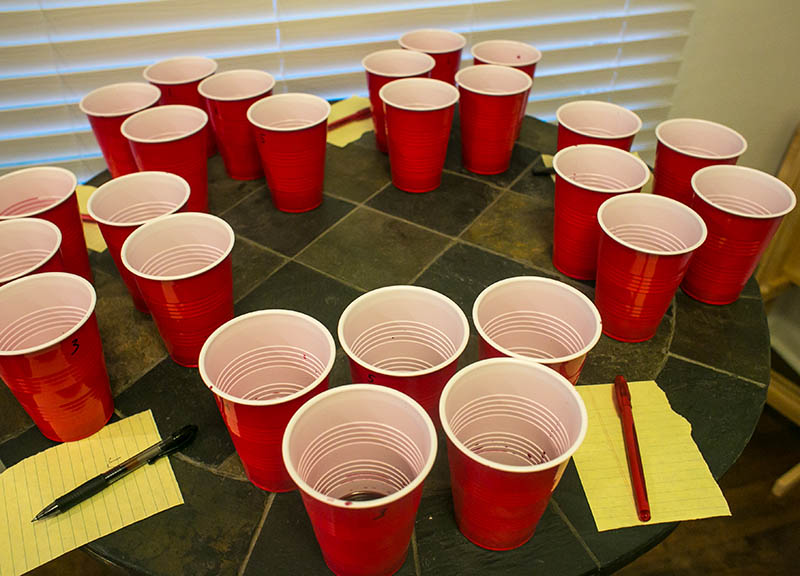 Brand: Oak Leaf.
Where to buy: Wal-Mart.
Price: $2.97
Varieties: Cabernet Sauvignon, Chardonnay, Merlot, Pinot Grigio, White Zinfandel, Sauvignon Blanc, Shiraz, Moscato, Sweet Red, Sweet White.
Background: Oak Leaf Vineyards is but one of hundreds of brands bottled by The Wine Group — including Franzia boxed wines, Cupcake Vineyards, Concannon, Big House, Almaden, FishEye, and flipflop. The company, as of 2008 was the world's third-largest wine producer, also produces Cupcake Vodka. A privately held company at onetime owned by Coca-Cola, Oak Leaf keeps most of its operation a secret. Not only is there no corporate website, but Oak Leaf Vineyards doesn't even have its own telephone number.
Tasting notes:"This medium-bodied, smooth Cabernet Sauvignon has vibrant notes of blackberry fruit, a hint of toasty oak, and a lingering finish."
Pairs well with: Great Value Frozen Habanero Drumsticks, Great Value Lasagna, "Walmart" Cookies.
Brand: Oak Creek.
Where to buy: CVS.
Price: $3.67
Varieties: Cabernet Sauvignon, Merlot, Sangria, Sweet Red, White Zinfandel, Chardonnay, Pinot Grigio, Sweet White.
Background: Not to be confused with the Oak Creek Winery in Arizona, this Oak Creek (formerly owned by Golden State Vintners) has been making wines in Livermore, California, since 1988. The company was purchased by The Wine Group in 2004 for $82 million.
Tasting notes: "This Cabernet is big, bold and rich with woody accents of vanilla and oak. It is soft and somewhat forward and should be enjoyed within five years of the vintage."
Pairs well with: Name-brand chocolate bars, prescription drugs.
Brand: Yosemite Road.
Where to buy: 7-Eleven.
Price: $3.99
Varieties: Moscato, Cabernet Sauvignon, Chardonnay, Red Blend.
Background: Yet another wine in the list developed and produced by The Wine Group. Per Kevin Elliott, 7-Eleven's senior vice president of merchandising and logistics: "By using our collective purchasing power to negotiate product exclusivity and pricing, we can meet customer demand for quality and value, as well as differentiate our brand from the competition."
Tasting notes: "Winemaker John Willumson carefully selects premium grapes that give our Cabernet Sauvignon a deep full-bodied flavor and smooth finish."
Pairs well with: Hot dog potato chips, beef jerky, mini-tacos that have been sitting under a heat lamp for at least three hours, or mix with lemon lime Slurpee to make a nice makeshift wine-a-rita.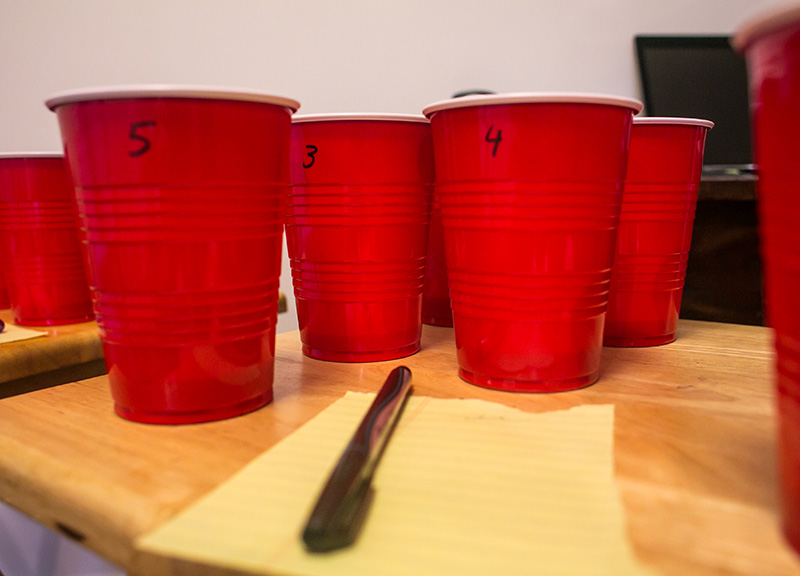 What Our Blind Tasters Said
Charles Shaw
• "Is this Merlot? It tastes like what I used to drink from my Dad's box wine in high school."
• "It has a smooth, nice flavor, kind of like a fruit punch."
• "It's watery and smells alcoholic as fuck. And yeah, it's OK."
Winking Owl:
• "It's sweet and smoky. Have I found my $3 wine match?!"
• "It's not bad. But it's not good either."
Oak Leaf:
• "It kind of tastes like a fuller [Oak Creek], but it's somehow not as good."
• "This one leaves my throat dry. It kinda sucks."
Oak Creek:
• "What died in here? It tastes like sugar water. It's like I'm eating grapes. Actually, it's kind of nice, come to think of it."
• "It tastes like off-brand candy that has been left sitting in the sun (or some water) for a few days. It's sweet."
• "It's a little bitter, but not bad."
Yosemite Road:
• "It makes me feel like I have strep throat."
• "It smells funny, but it tastes good."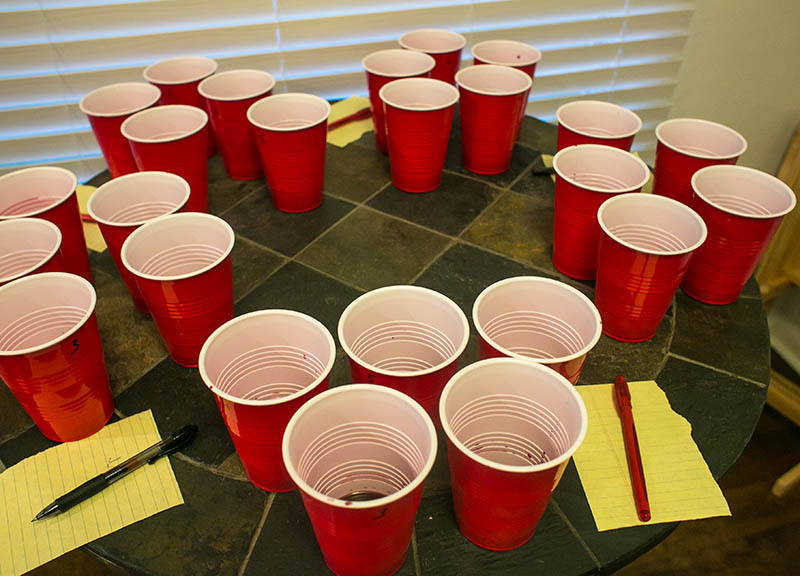 The Results
Not only did Aldi's Winking Owl take home the most first-place votes in our competition, but it was also the only wine that didn't receive a single last-place vote. Interestingly enough, it was also the cheapest wine on the list.
Coming in a somewhat close second was CVS brand Oak Creek, which proves that quality wine (relatively speaking here, of course) doesn't necessarily have to come from a traditional grocery-type outlet. And finally, bringing up the rear, was 7-Eleven's Yosemite Road and Trader Joe's Charles Shaw, which tied to finish a single vote above Walmart's Oak Leaf.