Before A Concept Switch-Up And A Final Run Of Offerings Next Month, Frank Underground Shows Us How It Became Yelp's Top-Rated Dinner Spot In Dallas.
All photos by Melissa Hennings.
It's 10 minutes till 8 p.m., and the guests should be arriving any minute.
Well, emphasis on should. The rain and thunder outside on this night means the guests will likely be a few minutes behind in showing up to this Deep Ellum loft.
No matter. The Frank Underground team is still on schedule.
As is their standard just-prior-to-guest-arrival custom, the group behind this chic underground dinner service gathers in a circle as a round of shots gets handed around. It's the same drink they'll be serving their diners here shortly — a twist on a caipirinha, Brazil's national cocktail, that has been infused with hibiscus.
In unison, the group raises its glasses with excitement and toasts the long night ahead.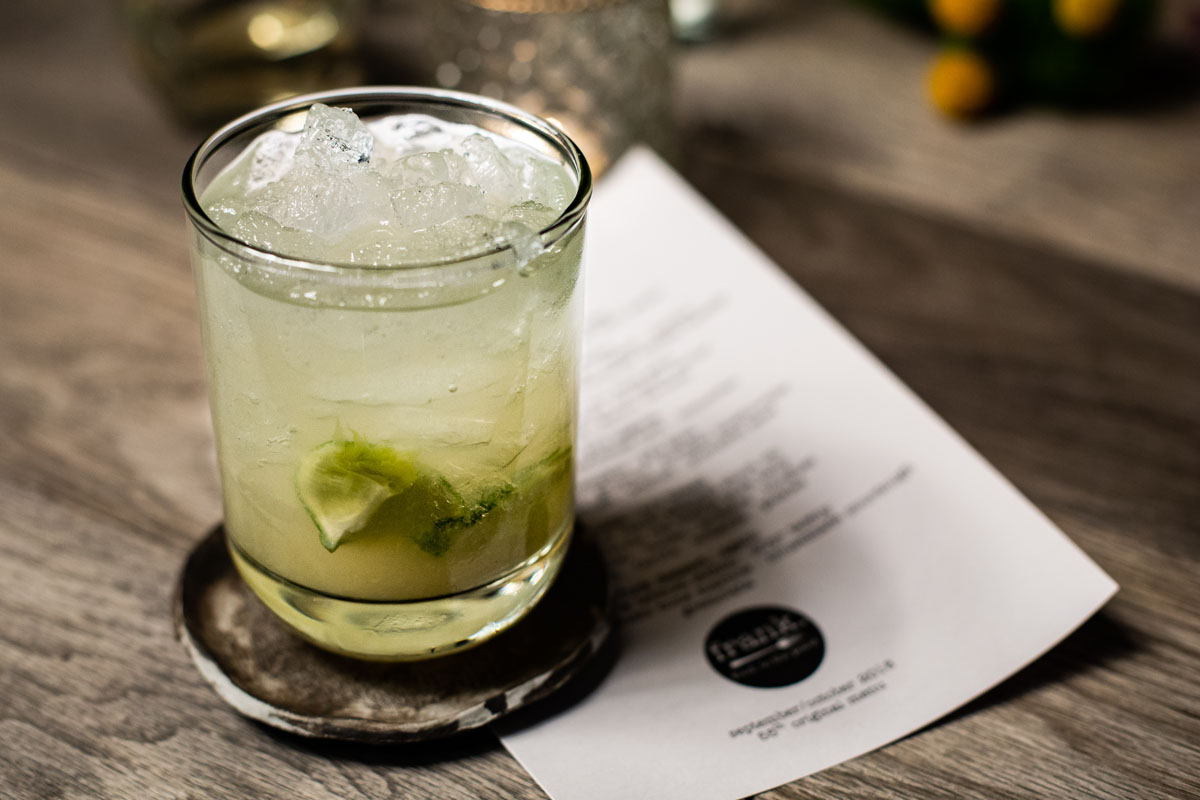 It's December, and this night will be the 55th original menu that Frank has served — this one an homage to the late Anthony Bourdain. They've called it "Uncle Tony: Eat with Abandon," and the night's courses were all thoughtfully selected as nods to some of the most interesting foods that Frank's chef discovered on Anthony Bourdain's lauded TV programs, Parts Unknown and No Reservations.
Countless hours of preparation go into the creation of each of Frank's dinner themes, which it maintains in three-week runs. And with no dish ever repeated — a feat of which everyone here is immensely proud — each new menu only means more work.
Jennie Kelley keeps all the menus and ideas that the Frank team has ever created in an enormous sky-blue binder that's on the verge of bursting. Past themes have centered around concepts such as classic French cuisine, Valentine's Day, traditional American eating and, well, since this is Dallas, lots of brunch. Kelley is also is the founder of the brand.
Established in 2012, Frank is a private, invitation-only dinner party that brings strangers and chefs together for an intimate night of fellowship over food. It is Yelp's highest-rated dining establishment in Dallas — but it's really less of a restaurant and more of an experience.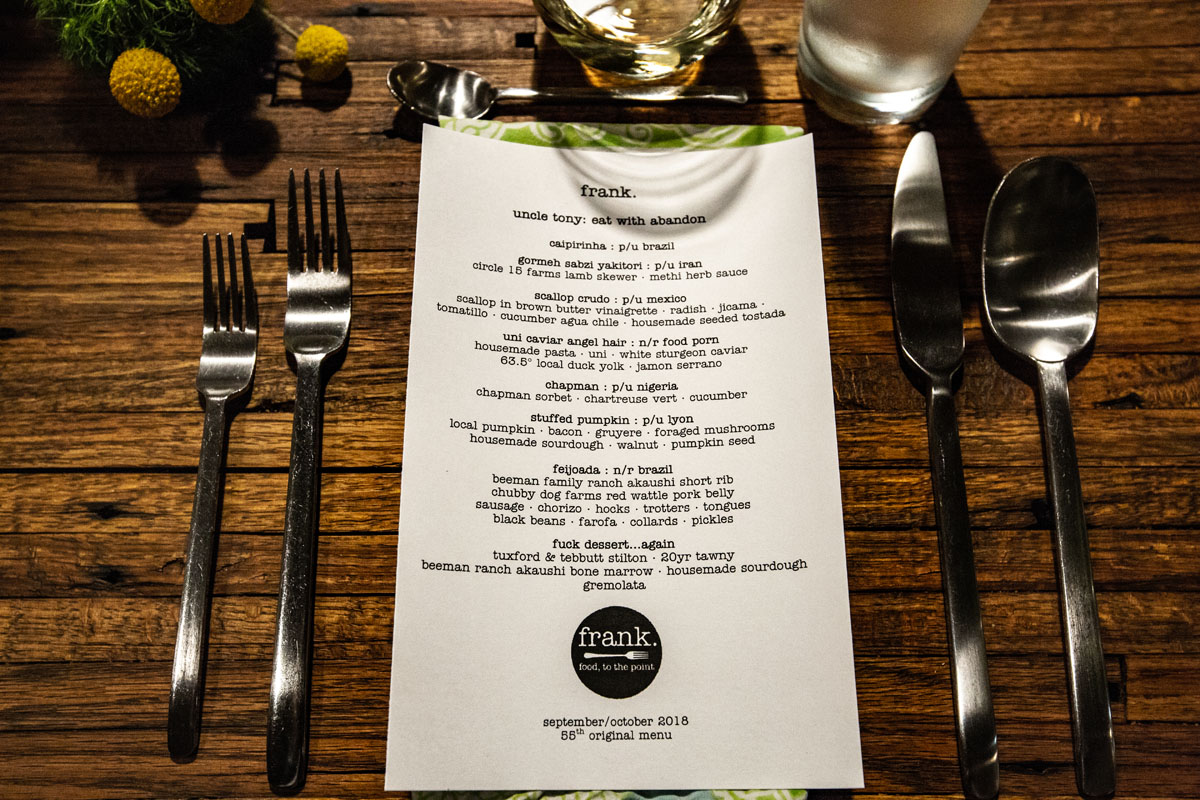 In the coming months, that experience will undergo sweeping changes. After seven years of operations and following one final (and extended) five-week return of the brand's ever-popular "Brunch After Dark" theme starting on June 20, Frank's team will embark on an extended, indefinite hiatus in August. What comes after that, well, the team's not yet sure. "Frank 2.0," as they've taken to calling their to-be-determined future, could take on any number of shapes — more private dinners, almost certainly, but maybe also cookbooks, cooking classes, food-themed group trips around the world or, just maybe, a permanent above-ground home.
Who's to say? Not Kelley, although she brims with excitement while considering all the possibilities that await not just her own future but that of her whole team.
"Frank is my project," she says, "but I do have two other co-chefs that I work in tandem with as far as… well, everything."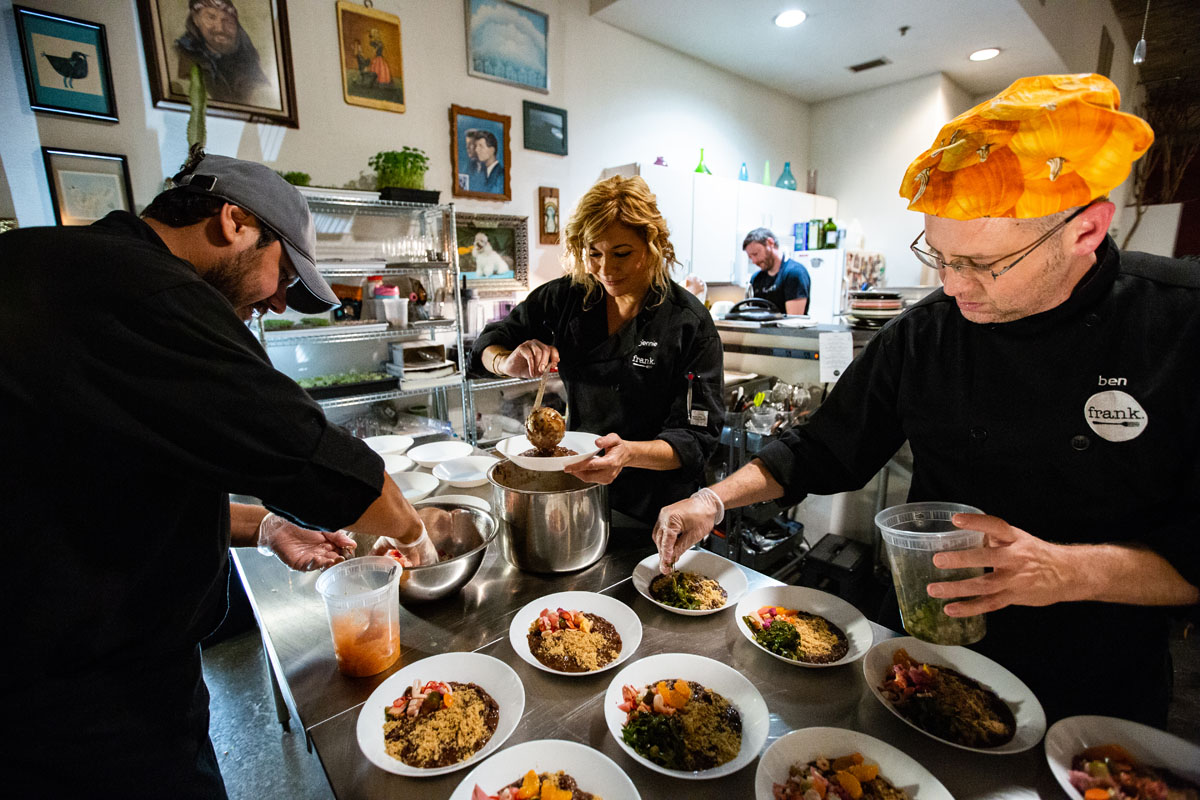 She and her partners, Ben Starr and Chef Adrien Nieto, have known one another for years: "All three of us met on MasterChef — y'know, the reality food show with Gordon Ramsay," she says, smiling at the idea that, against stereotype, she actually did make friends through her dalliance with reality television.
They're confident that, whatever comes next, the magic they've capture with "Frank 1.0" will continue. And, once the guests start arriving on this rainy December night, that magic is indeed palpable.
* * * * *
Food service begins with an amuse-bouche — single, bite-sized hors d'œuvres — right as guests walk through the door. On this night, that means gormeh sabzi yakitori (a lamb skewer served with farm-fresh onion, tomatoes and jalapeños) inspired by a Parts Unknown episode filmed in Iran. It's the first bite of a multi-course meal, paired with some generous (probably an understatement) servings of wine, beer and cocktails. Because she doesn't don enough hats as is, Kelley acts as the sommelier, pouring estate wines that her diners loudly gush over while mingling about and settling into the loft space they'll call home for the new few hours.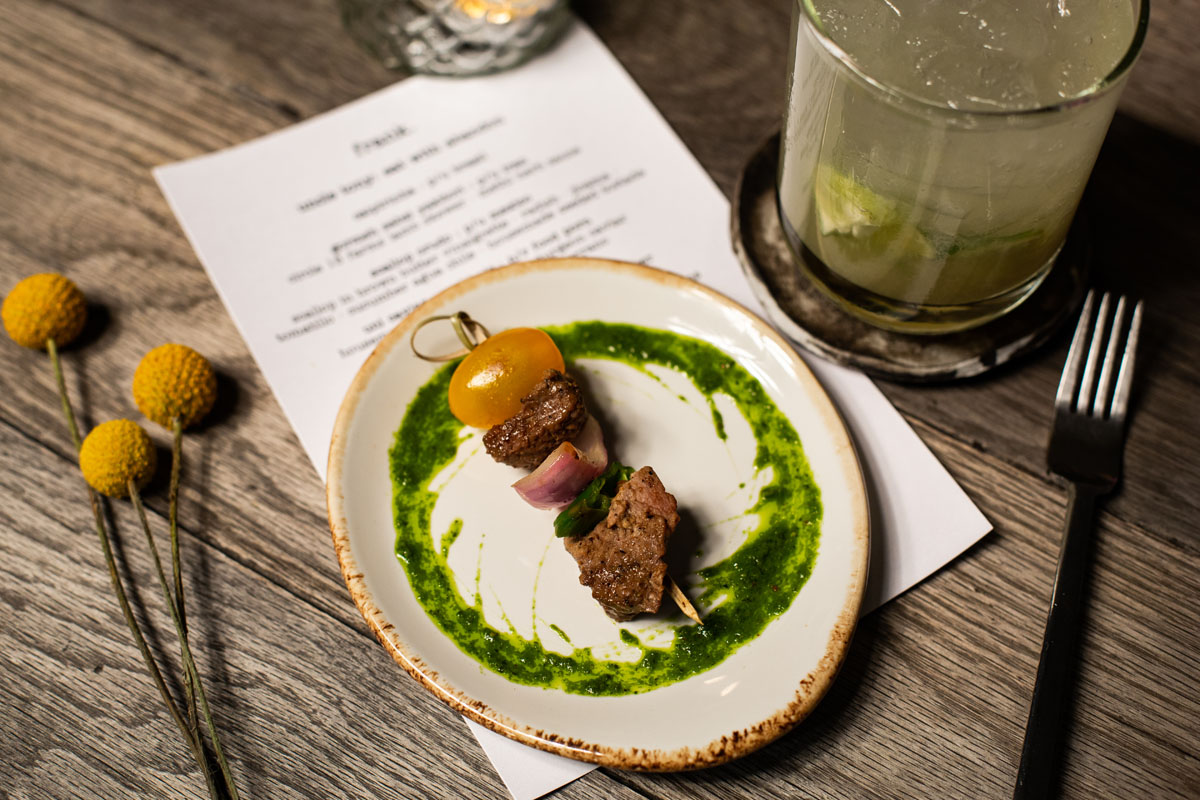 For all the "underground" terminology that pops up in descriptions of Frank, the scene feels rather above-board — even though most attendees are strangers, it feels very much like your standard family get-together, with guests engaging in polite small-talk with one another as they ease into the night's proceedings.
Still, "underground" is somewhat on an inherently apt descriptor. Part of Frank's allure is the secrecy of its location and the exclusivity involved in getting a seat at the table. The latter is a simply a matter of necessity more than anything: Even with dinners costing a suggested $150 donation per guest (not including tip), more than 15,000 people have eagerly signed up to receive Frank's email blasts, which announce upcoming seating dates along with revealing their themes and menus; from that pool, hundreds of eager guests enter into a lottery system in hopes of being randomly selected to attend one of the handful of services Frank hosts each month. Because of Frank's relatively small size and scope, only 20 to 25 guests are approved for its weekend-night-only offerings, and they're only alerted to the location of the dinner a mere 24 hours in advance of their arrival.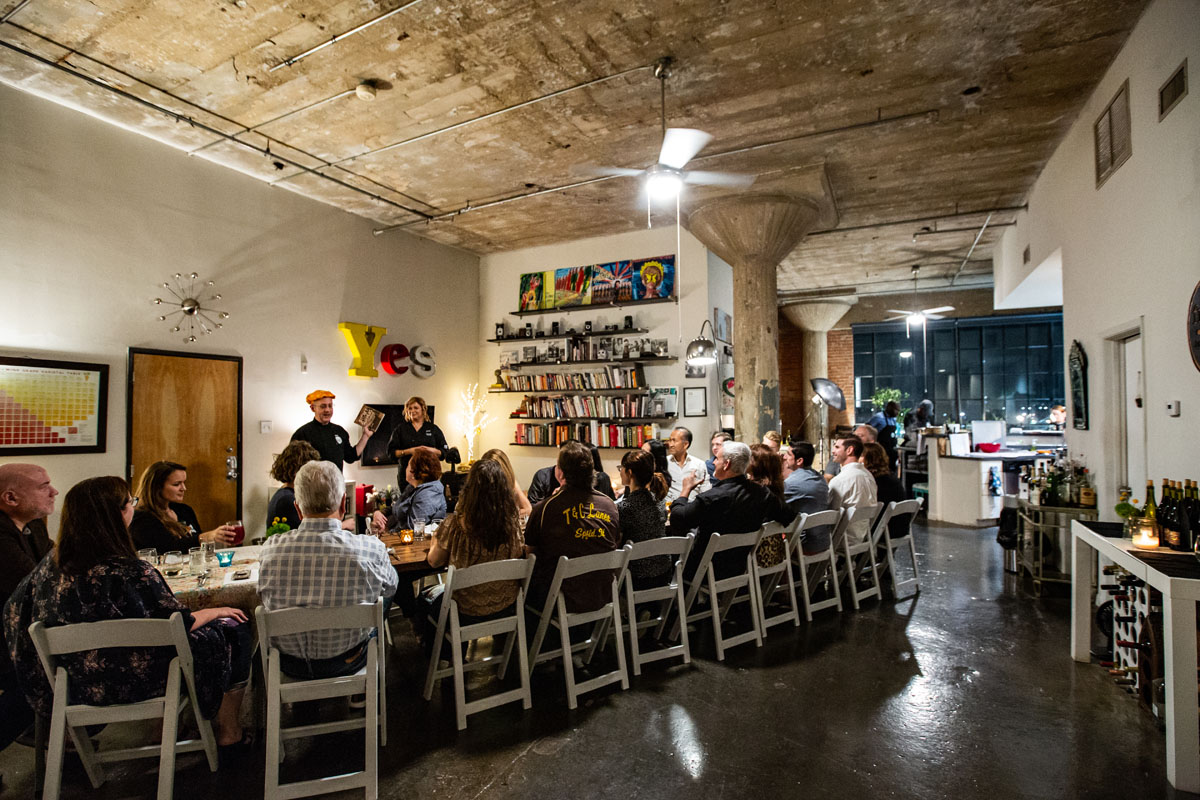 Any pretension is left at the door, though. The guests on this night — which more or less feels representative of most nights, according to Kelley — represent various walks of life. Various races are represented at the massive, wooden community dining table they all share for the night. So, too, are fashion senses; one woman is dressed in an expensive-looking leopard-print dress, and just a handful of seats to her left, a man is wearing a track jacket and jeans.
Everyone now finally seated, the servers begin bringing out the next offering — a scallop crudo (read: a fresh salad with scallops in brown butter vinaigrette) inspired by Parts Unknown's Mexico episode. Starr, as he does with each new course that's brought to the table, spends 10 to 15 minutes at the top of each course, explaining the history of the dish, its ingredients and what inspired the chefs to put these items together. Beyond its given educational purpose, these contextual explanations also afford Kelley and Nieto some additional time to finish plating each course's dishes — a more important task than it sounds, considering that Frank aims to send out all of its plates at once rather than one seat at a time.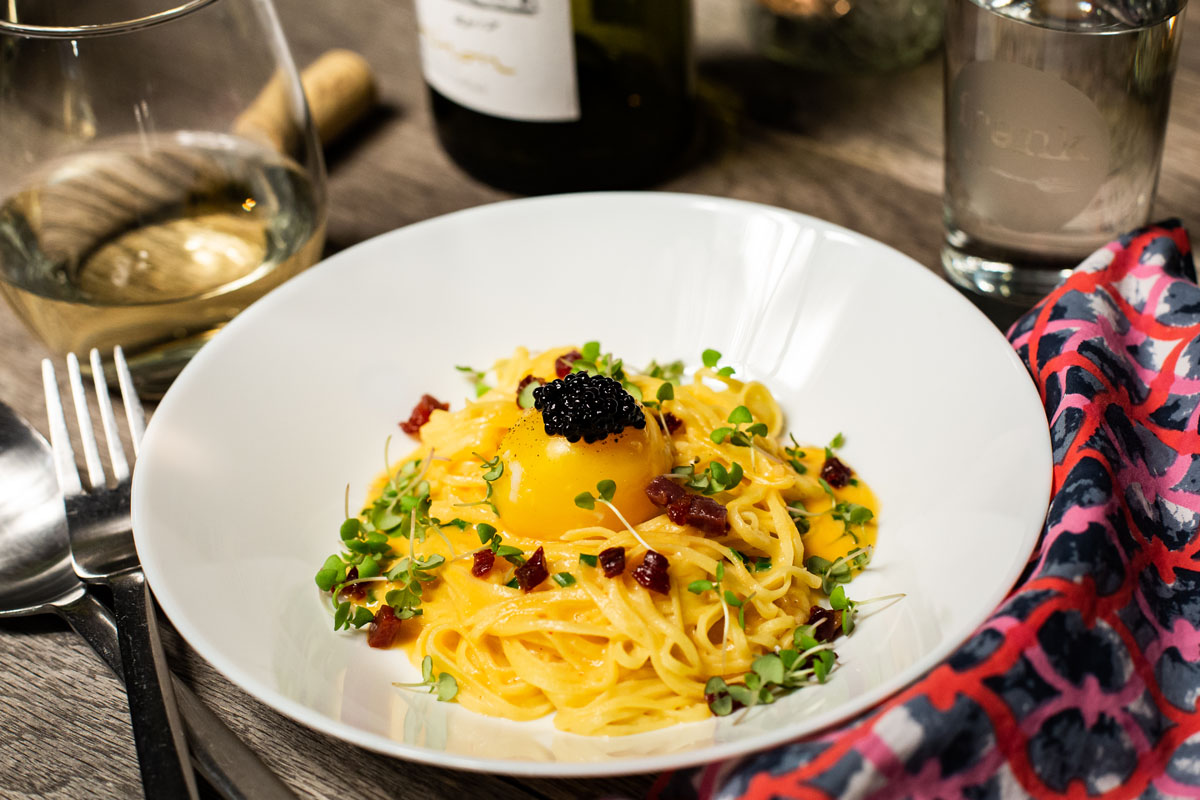 This added time comes in particularly handy on the next course: The uni caviar angel hair takes a bit more care to construct; its sous-vide duck eggs have to be carefully unclothed from their egg whites and placed gently on top of the angel hair pasta piles that Starr has handmade for the occasion. It's the most time-consuming dish Frank will serve all night, with several hands — from chefs and servers alike — conspiring on various kitchen efforts, all in the name of efficiency.
* * * * *
The kitchen is perhaps the most impressive aspect of Frank's entire operation. It's no grand restaurant-sized spread filled with top-level appliances; it's just a pretty regular loft-style kitchen that forces the staff to make do with the devices the property managers installed in the multi-unit building that Frank calls home.
It's actually something of a wonder that the chefs are able to produce enough food for the 20 to 25 diners out of such a space. Storage is a premium here. So too are prep stations.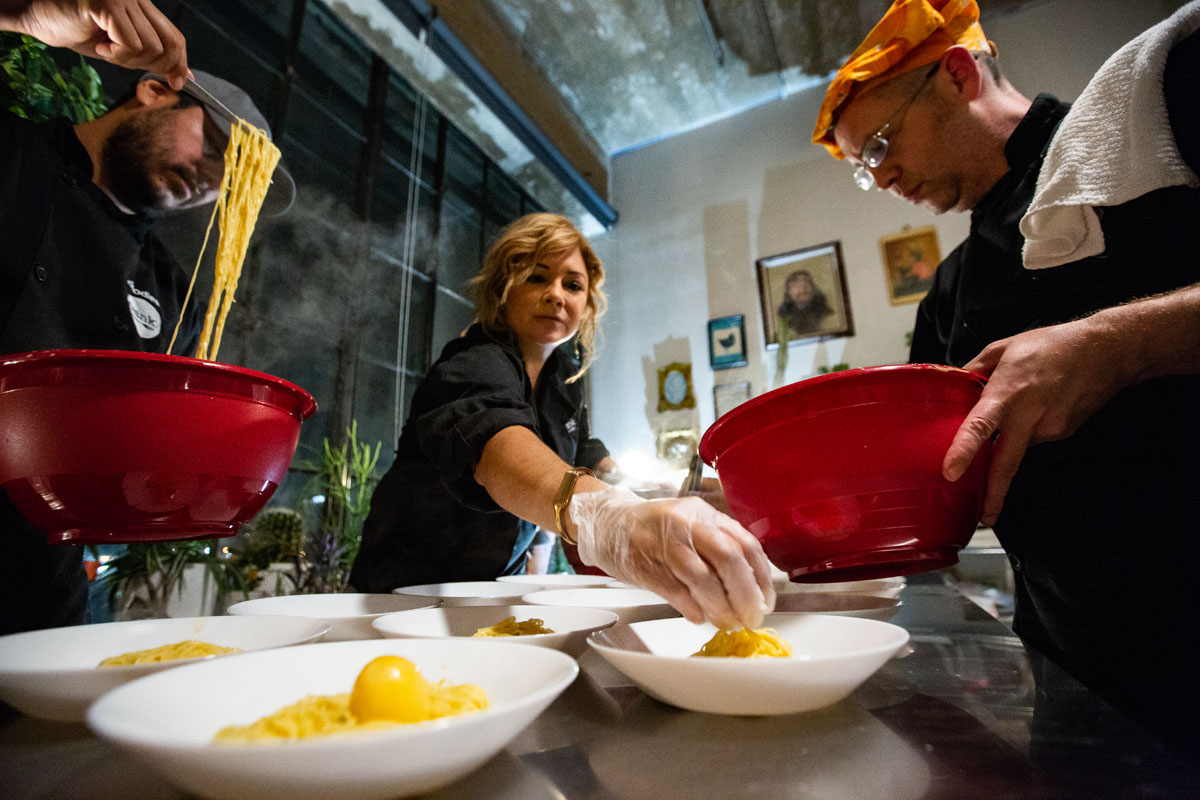 Guile and multi-tasking are the names of Frank's kitchen game. A slow pressure cooker sits in the corner keeping some ingredients warm. A tub for sous-vide cooking sits on the stove. Chilled ingredients await their fate while nesting in large ice chests that get slid underneath tables when they're not immediately needed.
Out at the communal table, the diners are mostly none the wiser in regards to the limitations Frank's team faces just a few feet over in the kitchen. The servers — a rotating crew represented on this night by David Brooks and Brandy Butler — help pull this shell game off. They rush from one area to the other with plates almost always in hand, either bringing the latest course out to the table or taking cleared dishes back to Frank's director of operations (and clear all-hands-on-deck advocate) Chris Fisher's dish-washing station. Between plate runs, the servers fill water cups and join Kelley in offering second (and third, fourth and so on) servings of wine.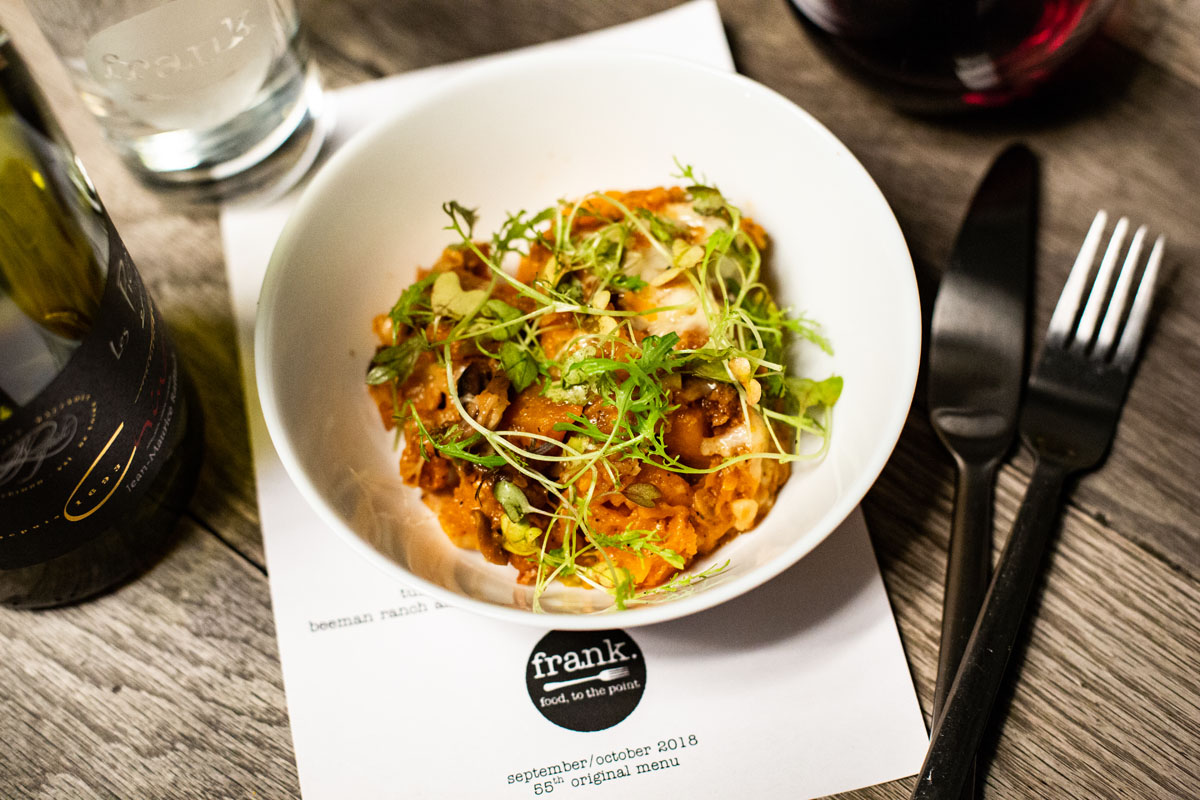 It's a fast-paced environment, and one the Frank crew is well-rehearsed at it. In the blink of an eye, the servers have set down a chapman sorbet, which comes as a refreshing respite from the earlier, much-heavier pasta platter. That dish's appearance short and sweet, though, and before most diners even realize it, they're off to the next dish — a pumpkin stuff with wild mushrooms that Starr foraged himself.
Most of Frank's ingredients are locally sourced, in fact. And, what they can't get from North Texas farms, they make sure to order from other ones within state limits.
* * * * *
The night is finally starting to come to its end, and you can tell: Many of the diners are leaning back in their chairs, looking like they're about to burst from the amount of food they've already eaten. But the main course is only just now arriving. It's a hefty, meaty stew called feijoada that was referenced in a No Reservations episode on Brazil.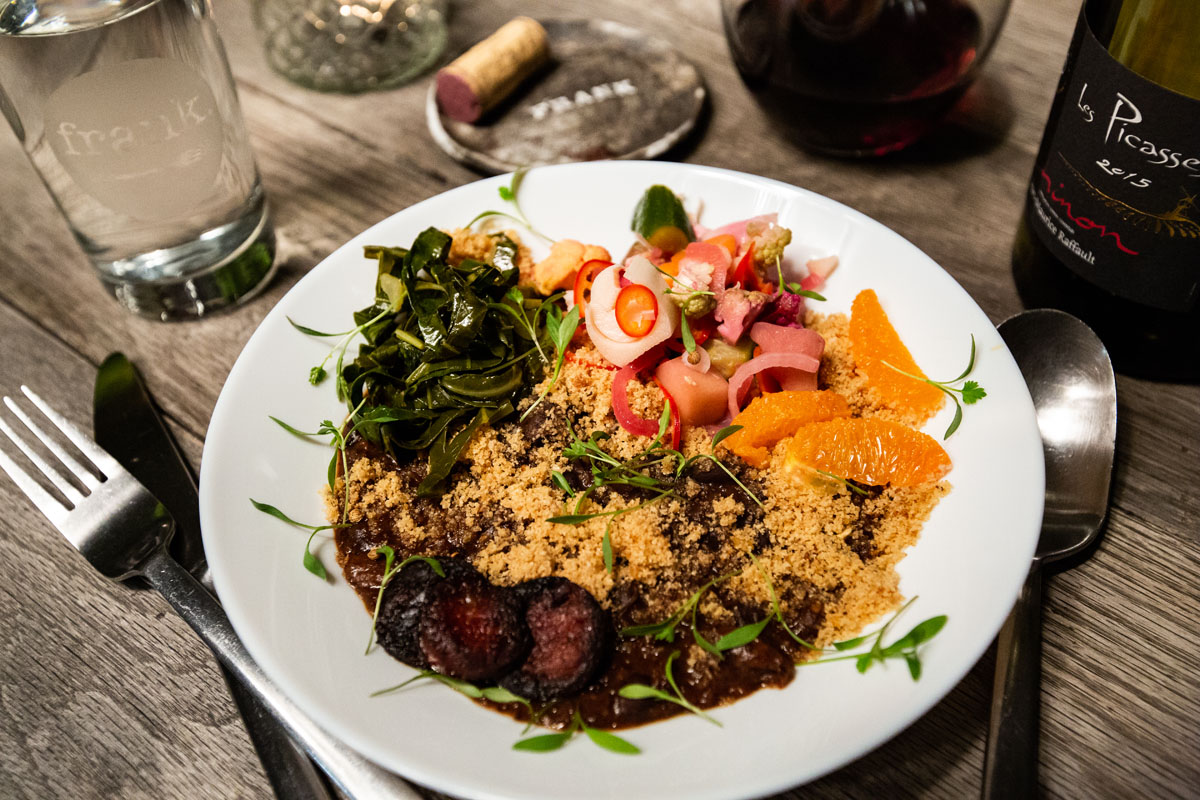 Few of this night's diners have even heard about most of the dishes they're being served. Such is not necessarily par for Frank's course, although the ultimate goal remains the same on menus featuring more familiar items, too. Kelley, Starr and Nieto simply want to make their guests consider the food they're consuming in new lights. That's a big part of what has made Frank such a fulfilling experience on their side of the equation.
"Honestly, this gig is so great," Nieto says, taking a quick breather from the kitchen. "I've cooked in kitchens with chefs who use the most advanced technology, but a lot of those chefs can't even cook a simple omelet. Here, it's not like that. If it's simple food we'r serving, it's the best of the simple food. For example, take a homemade apple pie: At Frank, we would think, 'Well, how can we make the best homemade apple pie you've ever eaten?' That's why it's different."
The night's last dish punctuates his point. Leaning into Bourdain's notoriously dislike for dessert, Frank opts to end the meal with buttery, fatty bone marrow served alongside a slice of toasted sourdough, bleu cheese and a 20-year tawny port.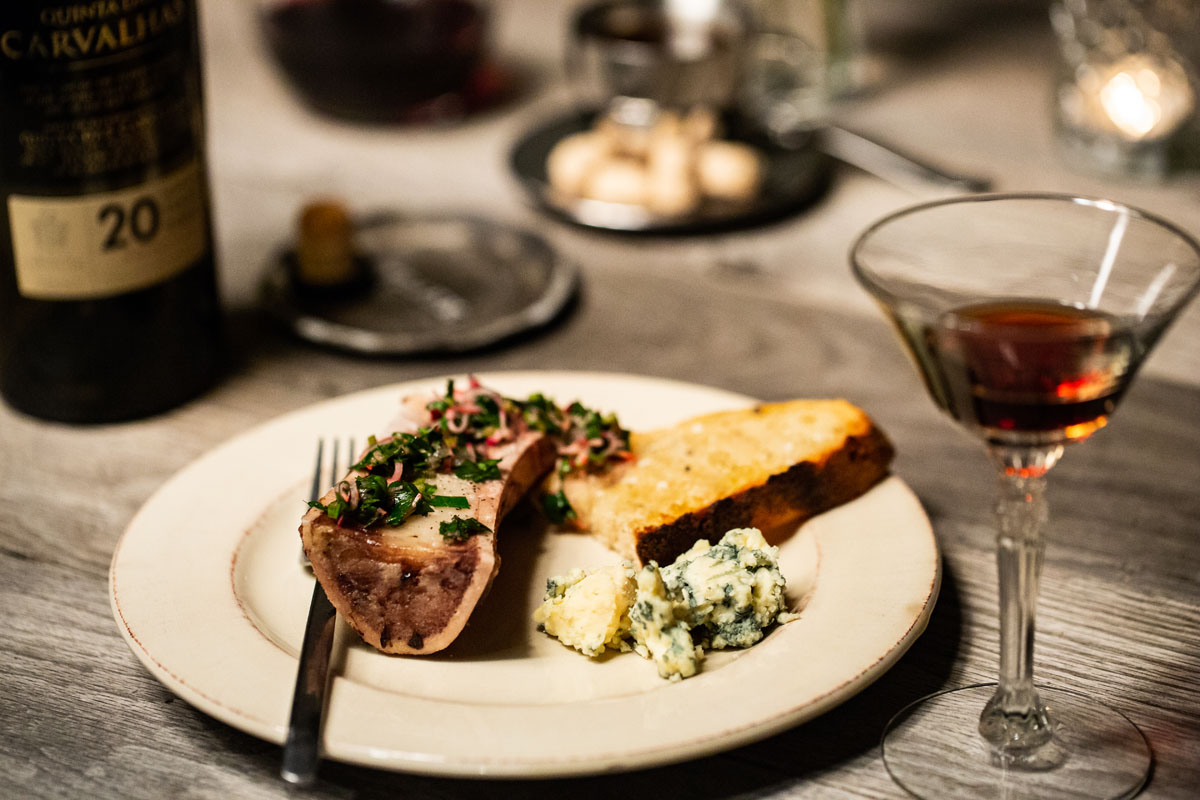 The diners swoon. Bleu cheese haters are converted into fans.
It's a miracle.
The whole night has been, really — a result not just of the cuisine's quality but of the community that surrounds it. As the guests effusively thank the Frank team for the experience and start filing out of the door, one of the night's servers sums that appeal up rather succinctly.
"You're treated like family the moment you walk in the door," Butler says, "It's an incredible experience for the diners — but also for us, you know?"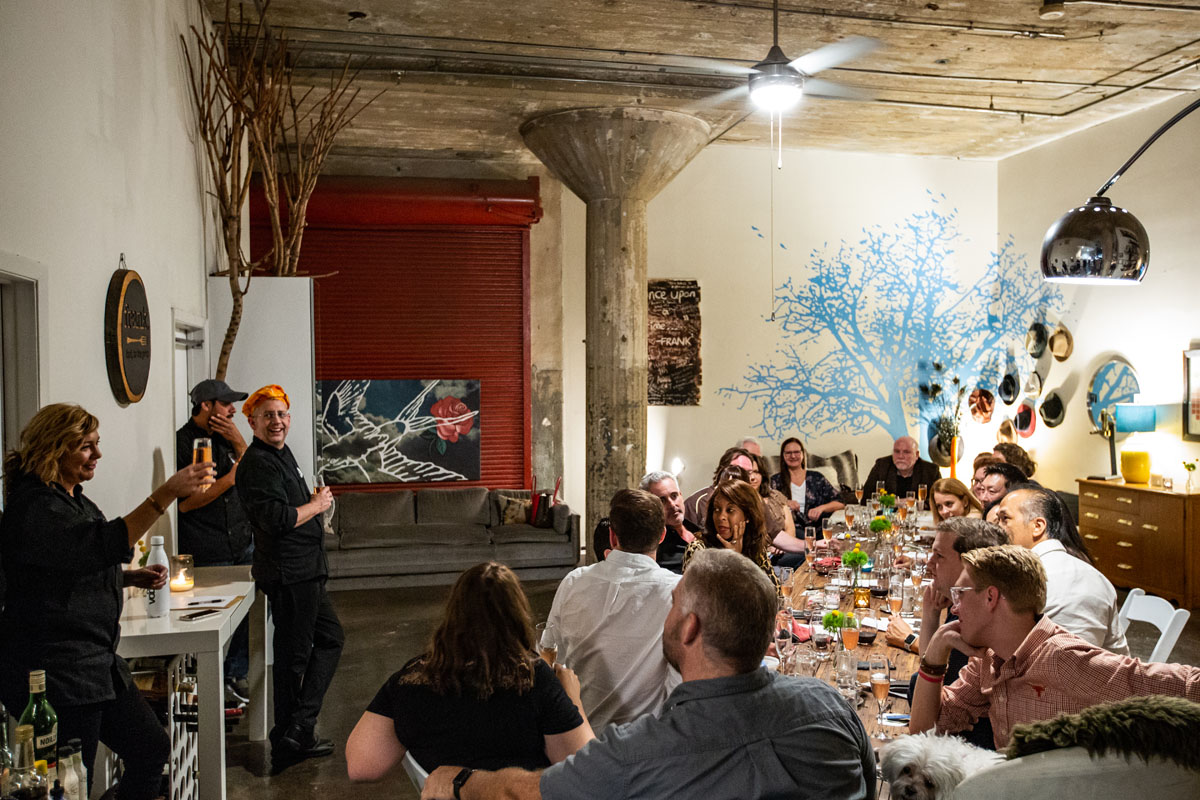 While Frank may undergo a few changes in the coming months, that much seems a sure bet to persist through whatever form it takes.
"We honestly have no clue what 'Frank 2.0' will be," Kelley says, "but the one thing we know for sure is that it will be as unique, special, and heartfelt as the current version."
Starting Friday, June 14, Frank will slowly start unveiling the schedule for its final five-week run of "Brunch After Dark" dinners. For alerts on when these dinners will take place, and for details on how to enter the lottery to attend these meals, be sure to sign up for Frank's email newsletter.