Announcing The Lineup Of King Camel's Third Annual Local Education Fest.
If they were handing out grades to the biggest supporters of local music in town, you'd be hard-pressed to find anyone coming up with higher marks than Jeffrey Brown. For almost four years now, Brown's been booking concerts under his King Camel Productions brand, which really began building a name for itself with its Local Education series of regular, all-local bills at Three Links.
Those shows have since given way to bookings all over town at places like Armoury D.E., Crown & Harp (RIP) and Double Wide, among other spaces. But his signature event remains the now-annual Local Education Fest blowout.
And that celebration of all things local returns for a third year on Saturday, June 17, with a lineup just announced today.
Performing on two stages at Three Links will be margarita punks Sealion, the best new band in town Siamese, psych rockers Monoculture, young post-punkers Sub-Sahara, dark-wavers Aztec Death, industrial noisemakers Mother II, funeral poppers BATHHØUSE and shoegazy teen sensations Rosegarden Funeral Party. It's a diverse lineup that falls in line with the Camel's signature over the years.
"I kept seeing the same locals playing with the same bands all the time," Brown says. "Although personally fun, I did not feel this was the best way to help grow our local music community. Mixing up genres, immersing in different angles of music all in one night just seemed to make complete sense if done properly. That's one of the areas that has seen the biggest changes since we started — the quality and attention to fun has increased due to the mixing of artists with different backgrounds, but with similar passion."
And as the bands he books move on to bigger and bigger stages in town or head out on tour, Brown's always ready with another worthwhile local discovery or the next big thing — and long before they'd have otherwise popped up on most folks' radar. That's another aspect that holds true on this festival bill, where bigger draws like Sealion, or acts that have received a decent amount of radio play like Siamese, will share the stage with bands like Rosegarden Funeral Party, whose members can't legally drink yet, or Mother II, which typically sticks to experimental friendly spots like the room behind the screen at Texas Theatre.
"As for seeking out new bands, that's just a drug of personal preference," Brown says. "To me, finding about a new kickass local band is like getting a shot in the arm. It's a huge thrill and I get excited about the possibilities I have with the new artist I can work with. Every new band I can help establish is one more piece of art that our cities patrons get to enjoy. Thus enhancing, small or large, the betterment of life for our town and art communities."
Adds Brown: "Local Education Fest is a celebration of just that."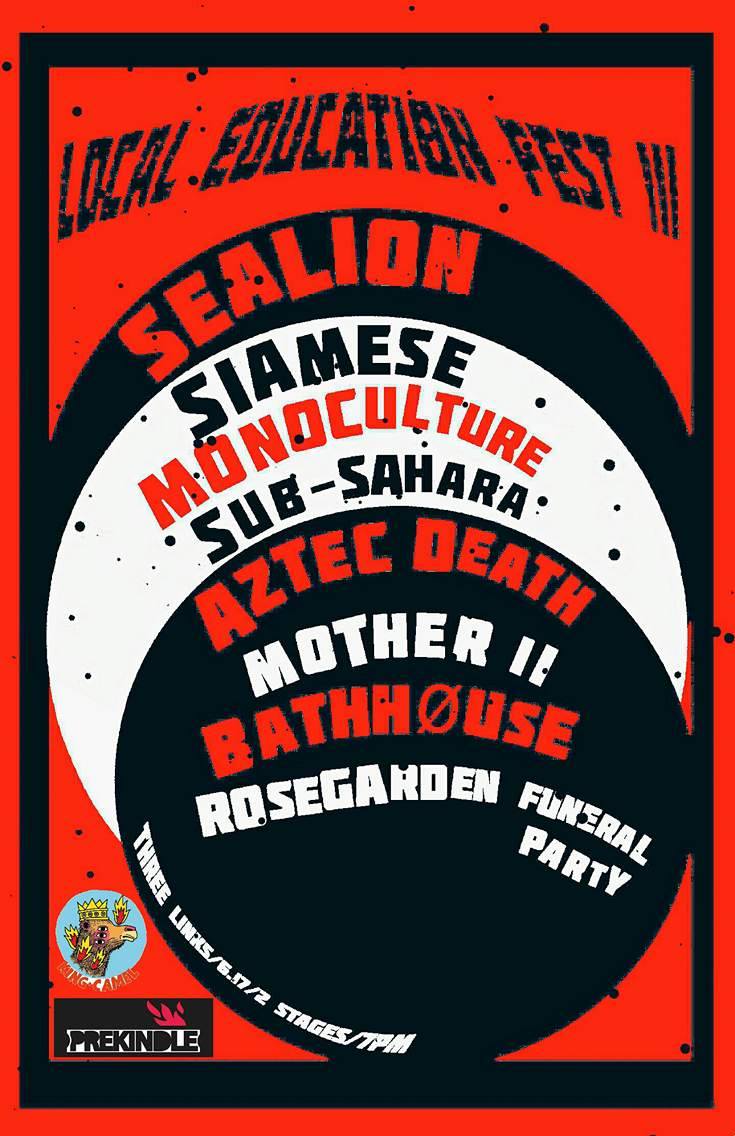 Cover photo by Cal Quinn. Tickets to Local Education Fest III are available at Prekindle.