Ten Years Ago, The Dallas Music Scene — Or At Least The One In The Suburbs — Was Dominated By Acts Who Used Myspace To Fuel Their Rise.
When I first started booking shows around the region in 2004, the best tool at my disposal for discovering new bands was Myspace.
Like, it wasn't even close.
The ability Myspace offered to discover music, interact with artists, add songs to your profile and so on will likely never again be matched by another social network. Not only was it "a place for friends" as the company liked to say about itself in its own branding, but it was also without a doubt a place for music.
This was especially true here in Dallas throughout the '00s, where the platform allowed us all to witness firsthand the rise of a ton of local bands into national prominence — all thanks to this free (!), game-changing social media platform.
I can certainly say this much with confidence: Without Myspace, I never would've had the career in the music industry that I do now. It truly shaped my life in too many ways to count.
So, no surprise, I still think about Myspace a lot to this day. Even now, I constantly find myself missing the music I grew up on, and openly wondering aloud why bands these days just can't seem to make the same kind of classic album that we so frequently saw released some 15 years ago. There's a reason why I often catch myself fondly reflecting on this era, I think. Sure, maybe everyone romanticizes the music of their youth in this way, but it really feels to me as if the Myspace-driven music era — particularly here in North Texas — was a special time, a kind of lightning-in-a-bottle moment the likes of which we might never see again.
When I look back on that era, certain bands jump out more to me than others as true titans of the scene — the acts that helped put the North Texas scene at large, and venues like the Plano Centre and The Door (in Dallas and Fort Worth), on the map. I'm talking about the bands that took their act on the road and played to thousands of fans all around the world while especially making their marks here in North Texas, where they regularly headlined insane hometown shows that were excitedly supported by a scene that was truly thriving. Well, up to the point when Myspace fell by the wayside, anyway, and the desire to form bands seemed to fizzle as well.
Conveniently, a pretty clear Top 8 list of bands forms in my mind when I look back at that stretch when Myspace ruled the Dallas music scene — or, well, its suburbs, at least.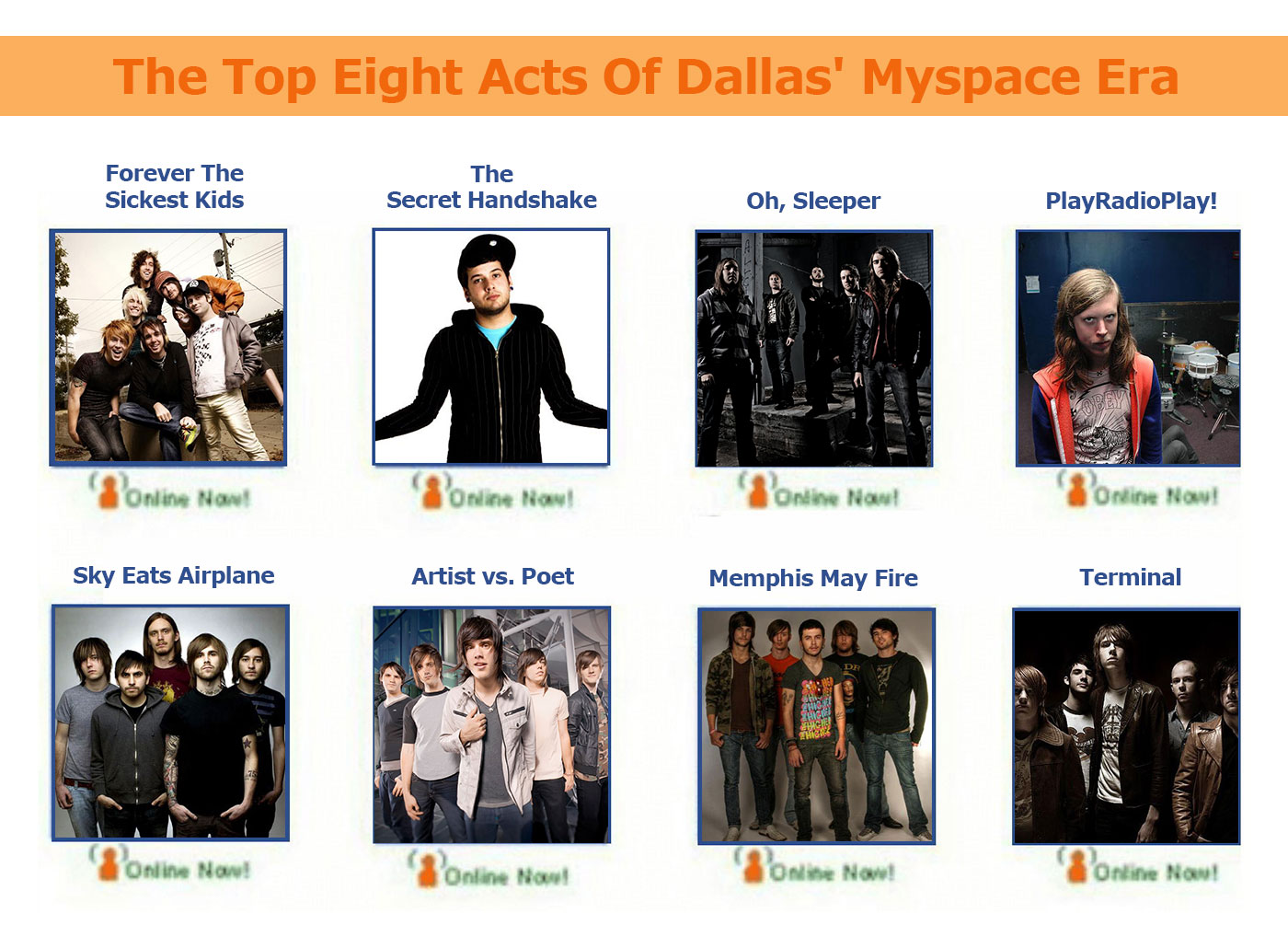 Granted, I could easily customize that Top 8 from time to time, swapping out these acts for any number of their contemporaries. I continue to have such fond memories for so many of these blast-from-the-past names: Keeping Lions, Kessler, In Theory, Knockout Kings, A Bird A Sparrow, Red Car Wire, Disco Curtis, Zac Seif, First Class Fever, Pat The Human, Dorian Grey, In Fair Verona, Forever Midnight Sun, The Hit, Ivoryline, A Bullet For Pretty Boy, American Mantra, Kid Liberty, Balance Problems, Belle Epoque, Gazelles, Scenes & Sirens, The Motion, Enjoy The Fall, 12 Years Wasted, Fourth Score, The News Can Wait, Scarlet Affair, Red Letter Union, The Elliot Project, Minority, DV8, KK Holiday, The Easy Crowd, Before The Fall, Restricted, Yesterdays Pancakes, The Waiting Room, A Foot Ahead, Jhombi, South FM, The Vanished, The Background, Don't Wake Aislin, Life Of The Party, Hopesdielast, Oceans Firing, The Falling View, Ten Cent Pistol and White Arms of Athena.
But, according to Myspace rules, you can only give performative love to eight friends at a time. And, for now anyway, these are the ones I'm going with — the bands that I think best represent what the Myspace era of music meant around these parts.
Why these acts? I'll explain.
PlayRadioPlay!
He would later embrace a lo-fi stadium rock sound and change his stage name to Analog Rebellion, but when Daniel Hunter first emerged as under his PlayRadioPlay! moniker during his teenage years, he quickly established himself as a young musical genius with an ahead-of-his-time ear. In 2007 and 2008, his songs "Compliment Each Other Like Colors" and "Even Fairy Tale Characters Would Be Jealous" were damn near unavoidable as Myspace user profile song choices among the North Texas scene. That attention helped him score opening slots on tours with Fall Out Boy and Gym Class Heroes (among others) early in his career. An impressively hardworking and creative individual, it's no wonder he quickly found himself in a major label bidding war before signing a deal with Island Records during his senior year of high school.
The Secret Handshake
To me, Luis Dubuc will always be the definition of DIY. When I think back to his days as The Secret Handshake, I remember him touring around in his car, shipping out his own merch and running everything involved in his operation 100 percent himself. It was no surprise at all to me, then, that his 2007 Album One Full Year was a huge hit filled with still-classic singles like "Too Young," "Summer of '98" and "Midnight Movie" — a run he then extended thanks to the release of his well-received cover of Skee-Lo's "I Wish" for the Punk Goes Crunk compilation. As a promoter, he was always a blast to work with. He handled his entire business so intelligently, and his work ethic and perspective was always inspirational. So, yeah, it's not a shocker in the slightest that he's still killing it these days as Mystery Skulls, which has found him taking his music in an even more electronic-oriented direction than ever before.
Forever The Sickest Kids
FTSK's road to success was wild. Here's how that story went: Lead singer Jonathan Cook accidentally purchased a Purevolume promo before his band even has a song, which led the band to team up with local producer Geoff Rockwell in order to quickly record and release their debut "Hey Brittany" single, which in turn helped the band sign with Universal Motown — likely the biggest major label deal scored by any Dallas act during the MySpace era. From there, the band went on a remarkable run from 2006 to 2009, releasing hit after hit and touring the world with everyone from LMFAO to Good Charlotte. The band finally flamed out in 2013, but it was probably the most successful Myspace-era band in Texas up until that point. I'll never forget watching the band headline the Unsilent Night 2 festival I booked at The Plano Centre in 2008, and just seeing them absolutely rock a crowd of more than 5,000 crazed fans. It's possible there could be more to the FTSK story to come, too: I was able to convince most of the band to reunite and perform a set for the 10th anniversary of the So What?! Music Festival back in 2017, and just this year the band also played a couple of dates on the nostalgia-fueled Sad Summer tour, which went down locally at Gas Monkey Live! Even if the band only pops back up every now and then from here on out, it doesn't really matter. To anyone who ever witnessed their rise, FTSK will forever remain legendary.
Artist vs. Poet
Story time! In 2007 and 2008, Tarcy Thomason was one of my closest friends. But he was in a rough spot: His band Enter The Collector had come to an end, and he didn't really know what to do outside of music — it was all he knew. I offered to let him move in with me while we figured out the next step for his career. Eventually, we settled on one as he teamed up with Craig Calloway (formerly of The Flipside, which later became Forever The Sickest Kids) and quite literally formed Artist vs. Poet in my living room. By the end of 2008, the band had signed to indie pop-punk super label Fearless Records, which released the band's first self-titled EP. The band would later release just a single full-length called Favorite Fix before Tarcy left the band in 2011 to spend more time with his family. Still, that album's big song "Damn Rough Night" — inspired by the time Tarcy spent living with me, I swear! — became a huge hit, landing the band on the Billboard Heatseakers chart.
Memphis May Fire
Along with FTSK and Artist vs. Poet, Memphis May Fire also owes a good chunk of its initial success to the talents of Dallas producer Geoff Rockwell, who helped record "Cowbell's Makin' A Comeback," the band's debut single, which hit big on Myspace immediately upon its release. Armed with a unique sound that added a little southern rock flair to the popular metalcore sound of the time, the band also drew fans thanks to the abilities of original vocalist Chase Ryan Robbins, whose talents ranged from beautiful singing to some of the nastiest screams I had ever heard at the time. The band began gaining attention and momentum as soon as its first EP was uploaded to Myspace, promptly landing them a label deal, dozens of tour packages and a large local fan base that simply couldn't get enough of all that the band had to offer. These days, the band is still going strong, albeit without Robbins, who was replaced after the first EP by Matty Mullins. Kellen McGregor is the only remaining original member of the group at this point. Robbins, meanwhile, has gone on to perform in numerous additional Dallas music projects since leaving Memphis May Fire, perhaps most notably as part of the now-defunct Virgin Wolves.
Terminal
In 2004, I was checking out a band called Letter Twelve that was playing at the punk rock venue Red Blood Club (now just RBC). They absolutely did not fit in among that room's edgy vibes, but their energy was undeniable. Every member of the band was great in their role, and particularly lead vocalist Travis Bryant, who used to swing around the mic stand in just the coolest way imaginable. It made sense that the band was rock solid at that point — though I'd never managed to see them before, they'd been around since 1998. Little did I know they at the time that they were mere months away from changing their name to Terminal, signing to Tooth & Nail Records and providing a gateway for other area bands like Ivoryline and Fit For A King from Dallas to gain similar national exposure. The band's one and only release, How The Lonely Keep, was an instant classic featuring the songs "Just A Failure," "Wisher," and "City By The Sea." Though the band would break up less than two years after dropping that gem, they made the most of that time, touring the globe alongside the likes of The Spill Canvas, Rufio, Saosin, He Is Legend and Cartel, just to name a few. In 2007, the band reunited for a gig at Unsilent Night, and then did so again in late 2018 to raise money for bassist Lucas Starr's battle with cancer. Sadly, Starr passed just weeks after that most recent reemergence from this all-time local outfit.
Oh, Sleeper
One good thing came from Terminal's end: After that band's break-up, Starr and drummer Ryan Conley would help form Oh, Sleeper, one of the most important metal bands of Dallas' Myspace era. Also featuring vocalist Shane Blay (formerly of Between The Buried And Me) and vocalist Micah Kinard (of Keeping Lions, which once counted America Idol's in its ranks), Oh, Sleeper release its debut The Armored March EP in 2006 and instantly begin making waves both regionally and on Myspace. By the time the band's debut Solid State album When I Am God was released, Oh, Sleeper boasted the national popularity to land it tours with the likes of Demon Hunter, Advent, Norma Jean and many more. Another band that helped open the door for North Texas' metal scene, the band is still going strong today, having just released its Bloodied/Unbowed LP in July.
Sky Eats Airplane
I am telling you: If you were a Myspace user of a certain age who listened to screamo music, your life most likely changed the first time you heard the intro to "Giants in the Ocean," the standout track from Sky Eats Airplane's self-produced debut LP, Everything Perfect on the Wrong Day. That album, written entirely by the multi-instrumentalists Brack Cantrell and Lee Duck who formed that band, was hugely influential in how it brought programming and keyboards into the forefront of metal music. That helped the album immediately land on Myspace's global charts, leading to a fast rise in popularity. Major changes quickly followed, though: Cantrell left the band less than two years after its formation, and Lee filled in the lineup around him and new vocalist Jerry Roush with members from another extremely important Dallas-Fort Worth metalcore act, (In Theory); that lineup would tour the world through Roush's departure in 2009, with the entire band eventually calling it quits the following year. My fellow fans and I are still hoping to one day get a reunion from Sky Eats Airplane, but Duck is mostly helping other artists shine on stage these days; he's fully focused now on his Duck Lights brand, an in-demand lighting production company that works with some of the biggest artists out there. So, yeah, his influence on the music world is still present — and, frankly, the experiences of music fans far and wide are all the better for it.
Mike Ziemer is a concert promoter and artist manager that has been putting on concerts and events in the DFW metroplex since 2004. He got his start at the beginning of the Myspace boom, putting events on at The Plano Centre and eventually taking his shows all over Texas. He's most known for his niche So What?! Music Festival that caters to the demographic of emo, metalcore, pop-punk and hardcore music fans. Find him on social media @mikeziemer.