The All-Ages Venue Where Major Bands Like Fall Out Boy and Paramore First Performed In Dallas Will Close As Owners Seek A New Home For It Elsewhere.
All photos by Marlene Núñez.
And the winds of change just keep blowing through Deep Ellum: After two decades of operating as Dallas' premiere all-ages concert venue, The Door will be closing at the end of December.
The news was initially teased within an October post to the club's Facebook page meant to hype some of the venue's upcoming shows:
Reached by phone this week, The Door owner Russell Hobbs confirms the news and adds that the closure is the result of the venue's rent being raised — doubled, he says. That added cost, along with the funds required to make other long-necessary and much-needed upgrades to the bare-bones space, just no longer left the building as a viable home for a music venue, Hobbs says.
"We'd love to stay in Deep Ellum, but there's just no space," says Hobbs, who helped usher in the 1980s rock boom of the neighborhood — and its reverberations that are still felt today — when he opened the Theatre Gallery in 1984 and the Prophet Bar in 1985. "If you want to open a 1,500-person venue, there's no space for it."
His third Deep Ellum venue, Hobbs initially opened The Door in 1998 as a Christian rock hub on the eastern edge of the neighborhood before he moved both it and the Prophet Bar into the space once occupied by the Gypsy Team Room and Ballroom in 2007. With a new lease just signed, the Prophet Bar is set to remain in its home of the past decade for the foreseeable future, but The Door's run in Deep Ellum is now just two months away from being done.
Rather than lament that end, Hobbs says he is choosing to celebrate that stretch. To do so, he is actively working to book a series of farewell shows at the venue featuring artists who played The Door as they were first breaking out. So far, Hobbs has secured a Hawthorne Heights performance to that end set to take place on November 20, as well as a not-yet-dated performance from Fort Worth's Oh Sleeper.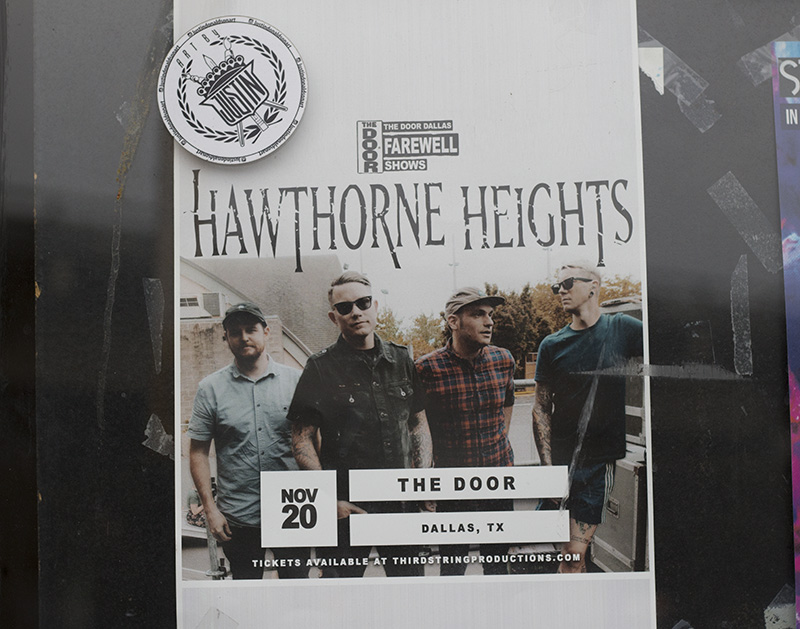 While those shows and any others that may be added will mark The Door's end in Deep Ellum, Hobbs, having already moved The Door once before, is hopeful that his venue will continue on in a new home sooner than later. He says he is seeking a new space that can accommodate a capacity of 1,600 people and has already seen spaces in both the Dallas neighborhood of The Cedars and in the suburb of Addison that fit the bill. Ideally, he says The Door will return in one of those spaces, or perhaps in a another not-yet-found location, at some point in 2018.
"I used to make fun of Addison," says Hobbs, who famously transitioned from one of Deep Ellum's most progressive minds to a born-again Christian in the late '80s. "But its perfectly situated between most of Dallas and people way out in places like Frisco. It's actually a good place for a venue."
As Hobbs weighs the pros and cons of possible new homes for The Door, he expects The Prophet Bar will see an uptick in events; it will be carrying two venues' responsibilities with just one set of footprints.
"All our booking will be there for a while," Hobbs says. "And we're hoping to increase our product line and stick to the nitty-gritty of live music."
Hobbs says he'll miss having two clubs in Deep Ellum, an area he says is now far removed from what he helped it become in '80s and '90s.
"Deep Ellum is successful now," he says. "Everyone is telling everyone to come to Deep Ellum. Now, everyone knows what Deep Ellum is, and it's commercialized. It's crowded and full of kids lining up for ice cream."
His hopes for a new location of The Door is that it will be able to provide ample opportunity for new artists from all around, just as its current one did.
"We appreciate everyone that has been a part of The Door," Hobbs says. "We appreciate everyone who came to shows and had their lives changed here and saw the bands they loved for the first time."