Have Yourself An Incredible 2018 Fortress Festival With This Insane Prize Pack That Includes A Four-Pack Of VIP Passes And More Than $500 In Additional Goodies.
Anyone who attended the inaugural Fortress Festival in Fort Worth last year can tell you that the first go of that two-day affair was a great time.
And with a second-year lineup featuring such performers as Father John Misty, Chromeo, Courtney Barnett, De La Soul, RZA and a whole bunch of other genuinely interesting acts from a wide array of genres, this year's April 28 and 29 offering is looking like an even sweeter deal. And with tickets starting at just $59 for a day pass centraltrack.com/fortress-fest-review-and-photos— buy yours here! — it almost certainly is.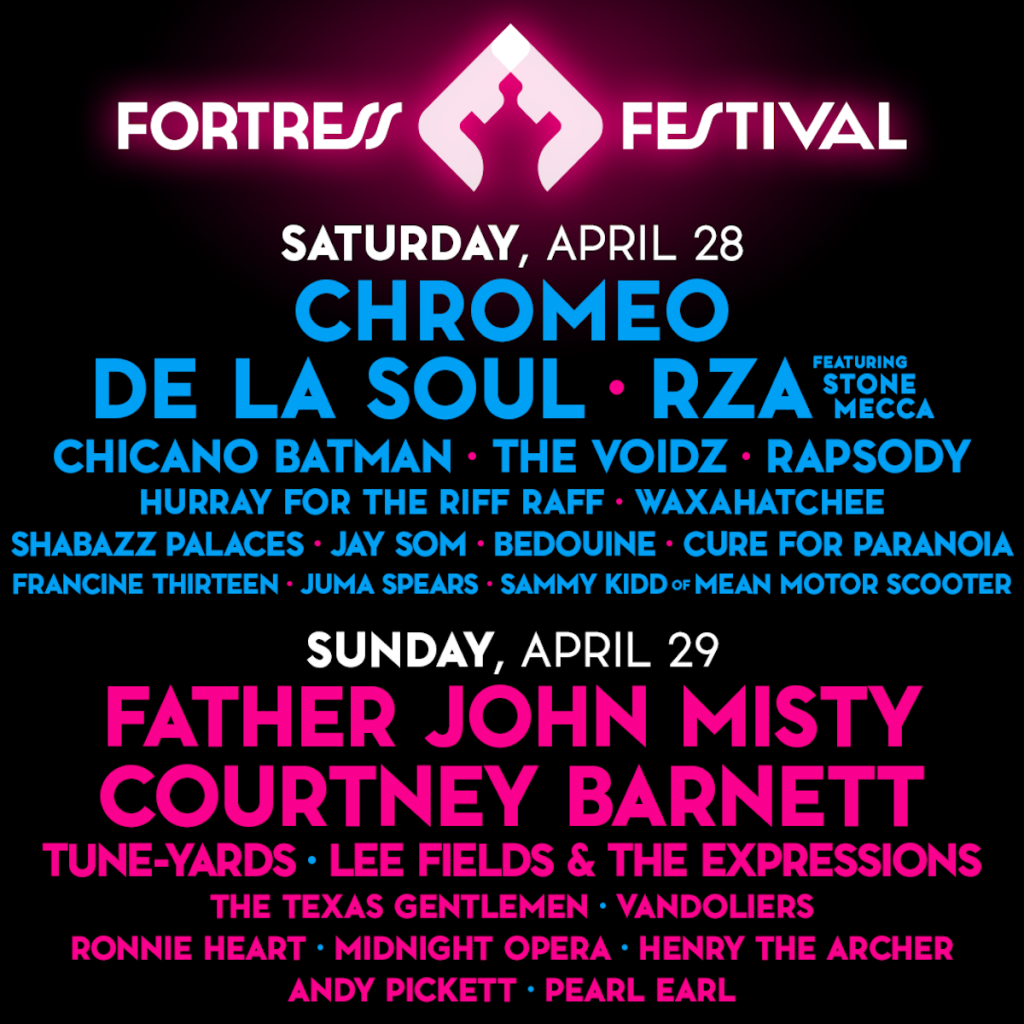 The only thing sweeter, really, would be getting into Fortress Fest '18 free. Right? We'd say. But what if we told you that we could not only help you and a group of friends do just that — while receiving VIP privileges and earning a whole gang of other kickass prizes? Well, it turns out that we can do exactly that.
Along with our pals at the festival itself, we're stoked to announce our 2018 Fortress Festival Baller Pack, which guarantees that one lucky Central Track reader is going to have one hell of a time at this year's event.
Seriously. If you enter and win the contest, here's all that you stand to win:
Four (4) 2-Day VIP Passes to Fortress Festival 2018. In addition to two-day festival entry and access to all general admission amenities, the Fortress Festival VIP experience includes: an expedited and dedicated VIP entrance line; unlimited access to the private VIP area; VIP viewing zones in front of all stages; private air-conditioned bathrooms; a free parking pass; access to a private cash bar with a specialty drink menu; discounts on merchandise, memberships and programs at the Modern Art Museum of Fort Worth; and bag and coat check.
An official Fortress Festival merchandise bundle. Oh, you like festival tees? Good, because that's what this means.
A $100 gift card from Dripping Springs Vodka and Gin (must be 21+ to redeem). Y'know, to help you kickstart your festival partying.
Two (2) $100 gift cards to Centre. From head to toe, this Dallas streetwear mecca will help you look fresh at this year's festival.
A $50 gift card to Esther Penn. This Fort Worth clothing boutique will help you score that final piece to perfect your festival look.
A $50 gift card to Taco Heads. Because you can't fest on an empty stomach, this Fort Worth taco shop is here to help.
Two (2) branded Keep Cups, a coffee tasting and roastery tour for two at Avoca Coffee. Because getting caffeinated is only half the battle when it comes to surviving a whole weekend of fest-ing, Avoca wants to help you understand the entire process of enjoying your coffee.
Yeah, that's a pretty sweet pack of prizes, we'd say.
And, get this, it's free to enter the contest. It's also super easy! All you need to do is fill out the below form before 11 p.m. on Wednesday, April 11, which is the deadline for entering and point at which we'll select our victors. Oh, and if you do the additional tasks mentioned in the widget, you can increase your odds of winning — so that's pretty cool, too!
Fortress Festival 2018 Baller Pack

*Anyone associated with any of the businesses offering these prizes is not eligible to win. Must be at least 21 years old to win. Winner must be able to accept the prize within 24 hours of being notified of winning or another entrant will be selected. Prize is non-transferable and may only be claimed and used by the winner selected.