Clubs Across Dallas Continue Shunning Hip-Hop Events Based On Old Stereotypes, And Galaxy 9 Productions Keeps Making Those Spots Look Foolish.
When a club owner talks about enforcing a certain dress code on its clientele or keeping a certain genre of music out of their clubs, we need to acknowledge what these people are really saying, and we need to recognize the ugly stereotypes that these people are letting influence their decisions.
But, more than that, we need to acknowledge how foolish these people truly are — if not for their backwards-ass perspectives than for the fact that boxing out entire populations from enjoying their spaces, while by no means a new phenomenon, is ultimately their loss.
One of the best argument against such asinine thinking in Dallas these days is to simply point out the efforts of the upstart hip-hop event operation, Galaxy 9 Productions.
Over the course of the last year, Galaxy 9 has established itself as one of the region's top independent hip-hop promotions entities — a fact that the three-headed collective of Rob "Robski" Bell, Jah Born and Keisha Hunter behind the company will celebrate this Saturday night as it hosts a stacked lineup of performers for its "one-year anniversary monster jam" at The Nines.
With a roster of noteworthy touring hip-hop guests including Keith Murray, Rah Digga, Sa-Roc, Lyric Jones and host Greg Nice, Galaxy 9 will look on this night to once again host an event that flies in the face of the unfortunate conventional — and false — wisdom that still exists among certain club owners around town, who believe that hip-hop events only bring trouble, and no money, into their rooms.
Throughout the last year, Galaxy 9 events have thrived in their home base setting at the Deep Ellum venue The Nines, which has itself made quite the name for itself over that same stretch by becoming a welcoming home for the events that ignorant venue owners around town avoid for all the wrong reasons. With The Nines' help, Galaxy 9's mostly legacy-hip-hop-focused events have actually become destination parties in Dallas because of all the right reasons — namely that they're safe, high-energy affairs that are built around the consumer rather than the talent.
Or, well, that's how Galaxy 9's Hunter sees it, anyway. In advance of this weekend's celebration, we recently caught up with her to talk about the anniversary party's details, how Galaxy 9 has been able to succeed where other like-minded hip-hop promoters in town haven't, and the difficulties she and her partners have faced in trying to establish themselves in a market that seems like it sometimes goes out of its way to keep efforts like theirs from succeeding.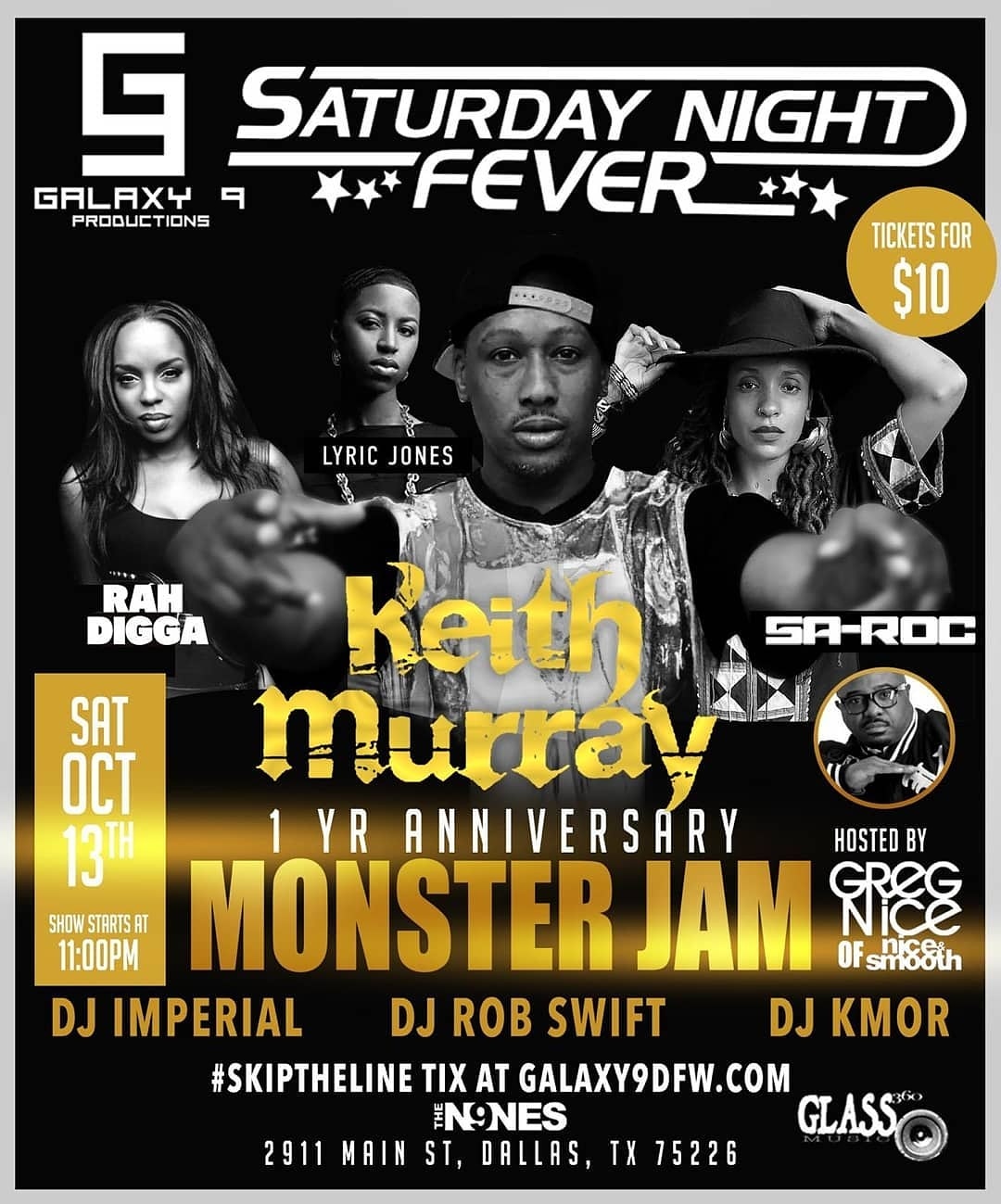 First of all, let's talk what's going on this weekend with this party on Saturday night.
Basically, what we decided to do is to bring back a few of the artists that we've had over the course of this past year. So, that's how we went ahead and reached back out to Rah Digga — she had a hell of a show with us before, and people were super excited and, of course, we had a lot of buzz afterwards. Also, Sa-Roc, who's fairly new and is definitely gaining momentum, and we're excied to be bringing her back. Then Lyric Jones got added to the bill. And Keith Murray, too! And our host is Greg Nice.
And, to be clear, what are you celebrating this weekend, specifically?
Well, this is really just a one-year anniversary of our kickoff in Dallas. Rob and Jah, who are our founders, they actually did this a long time ago back in Houston and then just in the last year, like October of this last year, was our very first event. it was actually at RBC. Then we had a couple of events at IBK and, since then, we've been at The Nines. And The Nines is definitely our home base now.
Is it fair to say that your relationship with the venue is part and parcel to the success y'all have had over the last year? Beyond the cute notion that you've got Galaxy 9 booking at a spot called The Nines, it seems like it's been a good fit between venue and promoter.
Absolutely. So, we were working with Corey Howe when he was at IBK, and the he left at the same time when we were looking for a new space, so we went to The Nines and we basically just followed Corey. It's been perfect. The owner, Allen Falkner , and Corey and the rest of the management and all of the staff, whether it be the bar staff or anyone else, they have created an environment that is super open. Like, for our event, a little bit of everybody's there — y'know, black, white, blue, yellow, gay, straight, LGBT. I mean, every type of person you can think of is in there, and that environment is comfortable for that. And a lot of that, I attribute to the staff. It's just a really laid back environment.
What about the physical aspect of the room?
Sure, so the capacity is like 300 or 350, and we probably get 600, 700 or 800 people throughout the course of the night coming through there. There's part of us that does feel like we maybe have outgrown it to a degree, but at the same time it's just home. It's down to earth, there. Everything is in your face. Everyone is right there, even the artist that we bring out on the stage, it still feels like you're right there to where you can touch them. It creates a real intimate atmosphere, which I think works well for what we are and what we've been doing. The room is just so badass.
If someone's never been to a Galaxy 9 event, what can they expect?
We provide an environment that, to me, is a perfect mesh Top 40, trap music and old-school hip-hop. And we've even been looking at bringing in artists that are a lot newer and not necessarily just hip-hop acts from the '90s or 2000s or whatever. So we're trying to mix that up as well, but we're mainly about trying to provides a really great opportunity to come and party and also hear some really good true-school hip-hop at the same time.
From my perspective, the legacy aspect of things is a big part of it, but it seems like y'all have cracked a formula where others have failed. I can't tell you how many times I've gone to a show from a quote-unquote legendary emcee aimed at getting hip-hop heads to come out, and there's just 20 people in the room. How have y'all avoided those trappings?
Well, I think the biggest difference is that we still make sure that everyone understands that they're coming to party. Another a big part of it is also our DJs. So we've got our house deejay Rob Swift, who is based in El Paso, but he comes for every single show and DJs for us — he's family. And then you've got DJ Big Texas, who has traveled the world with The Cannabinoids and Erykah Badu. And then we've had DJs like K-Mor and Imperial D and these type of cats. So we choose some really great DJs who know how to turn up and make sure people know that, if they are coming to a club, they are gonna party. We make sure of that. And, purposefully, whenever we do the actual show, we don't have 10 doggone artists where you have to sit there and listen to music that you don't know. We get us a good headliner — usually something nostalgic — and we'll almost always put on a DFW-based artist, too. We also make the show short: We're like, "OK, you come and you're going do 10 minutes, and this headliner, they may do a 15 or 20 minute set at the most." We keep it short and sweet to where you get that good feeling, but you still get to party before and after. And I think that's what caused it to be successful.
That's definitely one of the most frustrating things as a live hip-hop fan — that so many promoters just slam as many acts as they can on a bill. It's crazy, and way too much! Why does this still happen in 2018? What message aren't these other promoters receiving?
I don't know! I don't know if it's a money thing for some promoters, but to me, as someone who has been both an artist and on the promotion side and the business side of it, it's just so asinine to me and it drives me nuts to have 10 different artist go up that I don't know, and some of them are good, but a lot of them ain't. We're just super picky. We try to hand-pick and choose wisely with who we put on and and we make sure that we give them just enough time to where you get a taste of who this person is and then it's on to what's next because we're not going to do this all night.
Sounds like it's just the quality versus quantity argument.
Absolutely, yes.
I think another unique thing about Galaxy 9 is that you all appear to be thriving in the face of some ugliness we've seen over the years, and even earlier this year, in Dallas and specifically in Deep Ellum, where some certain venue owners and operators, either explicitly or implicitly, have made it known that they'd maybe prefer not to host hip-hop events at their spots. How have y'all been forced to navigate those waters?
We have been told at certain spots not to play this or that type of music, and it became clear that it just wasn't a right fit. All thta stuff absolutely has to do with the ownership of those spots and what prejudices they have and their thinking, "Oh, if you play this, these type of people will come, and they're not going to purchase anything at the bar." But, y'know, our environment has always been such a safe environment — and that's another reason why we're successful, in my opinion. We have really good security — like, really good security — very present at our events. You know they're there. And I think that has a big role to play in it as well.
Wow, you provide your own security?
We do. We have always had our own security, no matter where we were. And we have never had any issues. So the complaints we got really were just based on some prejudiced stuff that these people must have going on on their inside. And, like, we made them money, so we knew it was. I think part of why this marriage between Rob and Jah Born and myself has been really great is because all of us have been in the game for so long, and we've had the opportunity to bring all of our experiences together at once, so we really started out on a really great foot, where a lot of people start and they have to kind of wade their way through the muck and figure things out for a bit. But we understood all that already.
I think that shows, too. In this era of flaky and janky promoters, and club owners who maybe aren't embracing everything as they should, your success over the last year has been really impressive. Not to pigeonhole you all, but Galaxy 9, to me, is a shining example of how to do things right. And I think you're proving a lot of people wrong, showing people that you can do a professional hip-hop concert right and without these unrealistic concerns that people have bringing it down. Is that a fair statement? Like, do y'all wear that as a badge of honor?
Hell yes! I've been around long enough and I've seen promoters come and go. I've seen shows where you would walk in there and think that they were absolutely going to work, and they didn't for whatever reason. There's so many different pieces to being successful in this game. And we bring all those elements to the table. And I'll tell you what: Another reason why we have also been successful is because we have gotten a lot of support from our local artists and business owners, and it's because we support them! Like, not only do we put on artists that are DFW-based, but we always pay them. And that was one of the things, as an artist myself, that was always everything. Like, forget that exposure! That's great and everything, but, if I'm coming to rock your crowd and give them a show, pay me! So we've always paid anybody that touches our stage, and anybody that helps us with videography, promotions, this, that and the other. We handle business. And I think that has also set us apart too, because there's so many hip-hop people — unfortunately, but it is what it is — that are in the business but don't know how to do business.
It also helps that you're not having to pay 25 rappers for one show.
It makes a difference!
So you guys should feel proud of hitting the year, but what's next?
A lot of it for me is bringing acts to town that — and hopefully this doesn't sound too ugly — have put out a project, like, in the last decade! I want to tap more into that and the newer hip-hop market. Not necessarily anything too trapped out, but the same kind of lyrical stuff that we've embraced. We definitely have talked about that, and I'm also looking into opportunities to get into different venues as well, and to try more R&B and also comedy. Because we feel like we have the chops to put together a good show, regardless of the genre. We're definitely going to stay at The Nines, but we will likely also branch out to other, larger venues, too.
You've got to grow that empire!
We've got to!
Galaxy 9 will host Keith Murray, Rah Digga, Sa-Roc and more as part of its one-year anniversary monster jam on Saturday, October 13, at The Nines. Head here for tickets and more information about that show. All photos courtesy of Galaxy 9 Productions.