Looking For a Come Up? Check Out Dallas' Best Thrift Stores.
Dallas can be a mecca for amazing vintage finds — if you know where to look.
And that, of course, is the difficult part. Thrifting isn't an easy game by an stretch of the imagination. It takes a lot of time and a lot of legwork, too. For the effort even to be worth its while, you have to know where to go and you have to know what you're doing. Otherwise it's just a waste of time, not even worth using your one day off from work for this purpose.
Fortunately, we're here to help. We love thrifting. And we think we're pretty good at it, too. If nothing else, we know which thrift stores in the region are tops, that's for sure. Cautiously, we're sharing that information with you now, too.
Just try not to abuse this information to snatch up all the good stuff before we even get the chance, OK?
Value World Thrift.
4621 Gus Thomason Road.
This shop is organized and features a friendly staff. Here's the kicker, though: They offer all of their clothing at half-off their already discounted prices on the last Wednesday of every month.
Pro Tip: They keep the really great housewares in the glass case up front, too.
Casa View Thrift.
2303 Gus Thomason Road.
This place is the jam for vintage purses. In fact, the entire back wall is covered with them. They also do you a little favor by keeping the designer ones behind the counter. And they arrange their clothing by color, which is great if you're looking for something specific.
Pro Tip: All the "expensive" purses are under $25, so it's worth a short wait in line to take a look.
Ferguson Road Thrift.
2424 Gus Thomason Road.
This store is small and at times is sparse, but they always have a great selection of crocheted blankets. Odd, but true.
Pro Tip: This is a good place to hit last if you go thrifting in the Casa View area. It's not as great as the above two, but, you can rest assured, if none of these three spots have what you're looking for, you probably aren't going to find it.
Garland Road Thrift.
10030 Garland Road.
This store is quite large, but it's pretty well organized, too. Some perks about this gem are that they have an actual dressing room and a large area in the front full of pretty decent furniture.
Pro Tip: There are two smaller thrift stores directly across the street from this one that aren't listed as "thrift stores." Technically, they're antique shops. But whatever.
Super Pro Tip: Go across the street and have a taco at Good 2 Go Taco if you come here before 3 p.m. The food at that place is delicious.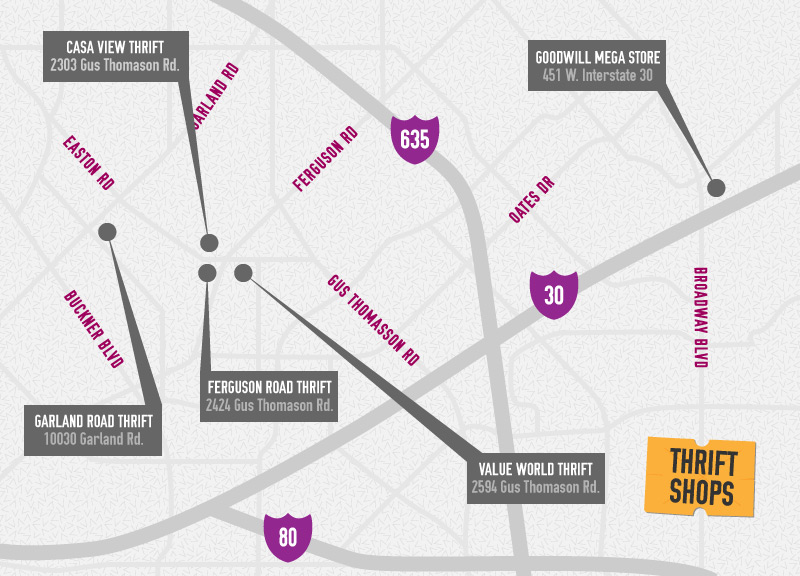 Value World Thrift.
2223 South Buckner Boulevard.
Like the above Value World, this place offers all of their clothing at half-off the marked price on the last Wednesday of every month. And, again, they keep all the good housewares in the front cabinet.
Pro Tip: If you're looking for shoes, this is the spot.
Goodwill.
7812 Lake June Road.
This is a normal Goodwill location, so it's super organized and cleaner than most thrift stores. They always have tons of glassware and shirts for men, which is kind of an odd combination, but it somehow works. They also have more expensive items in a glass case that you can bid on if you want.
Pro Tip: As if Goodwill prices weren't competitive enough, you can also print Goodwill coupons out for use in the store for free right here.
Lake June Thrift.
9024 Lake June Road.
It may look a little sketchy from the outside, but go inside and you'll be rewarded. This place has a huge selection of clothes and shoes — and always a few cool record players, too. They also have some makeshift dressing rooms, if you really need to try something on.
Pro Tip: Get one of their frequent buyer cards to get discounts on your next visit.
Balch Springs Thrift.
3527 Shepherd Lane.
This place is always promising for old softball tees, in particular. They also have a cool little side room full of furniture. And their clothing is sorted by size, which makes for easy shopping if it's your last stop.
Pro Tip: A few doors down, there's a store called Saleplace that's also worth your while. It's the coolest, oldest hobby store in Dallas. They always have the cheapest party supplies.