Ever Wondered How Globe Life Park Comes Up With its Crazy Food Options? Well, We Found Out.
With the World Cup nearing completion and the NFL's first kickoff still almost two months off, our nation's collective sports focus has once again returned to the national pastime.
Unfortunately, 'round these parts, that means watching the Texas Rangers slip farther and farther out of the pennant race in a season that's all but ended even before next week's All-Star break.
But there's more to baseball games than just the product on the field. To be sure, there are plenty of reasons to keep heading out to the ballpark this summer.
We're talking here, of course, about the food.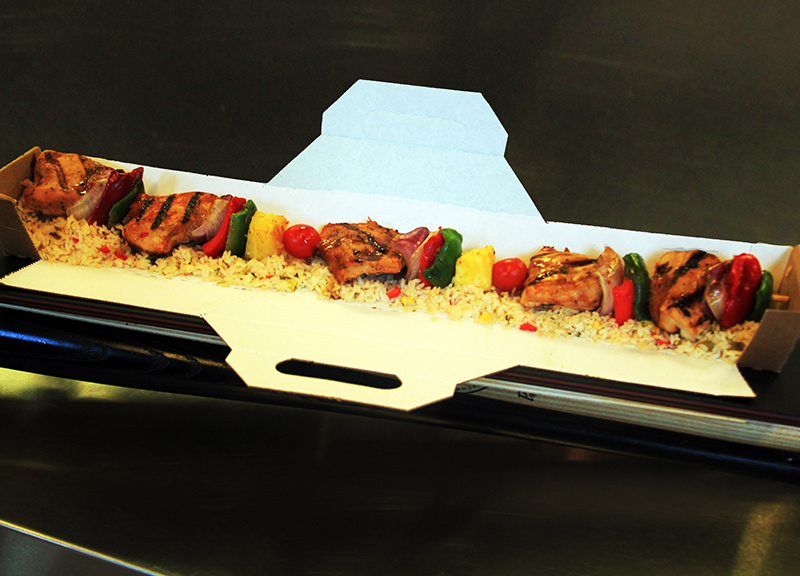 And, fortunately for us, that's one thing that the vendors at Globe Life Park seem to know better than the workers at most any other park in the country. In addition to ballgame staples such as hot dogs and nachos, the park boasts more than a hundred fixed and portable concession stands that have been nationally recognized for their unique and delicious food offerings.
There, you can find things such as a chocolate bacon waffle on a stick, Poutine nachos, frozen beer and abnormal-sized meaty offerings, all of which are readily available for satisfying game day cravings.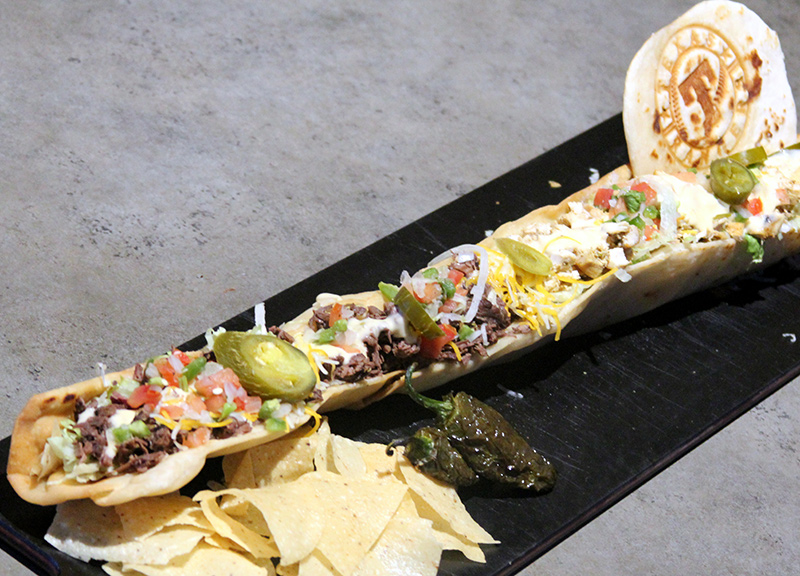 Granted, the food options at Globe Life Park haven't always been this outlandish. In fact, it's a relatively new occurrence, one that dates back to the 2011 World Series, when a half-pound, foot-long hot dog was first introduced. From there, The Boomstick — a two-pound Nolan Ryan-branded, all-beef hot dog topped with chili, nacho cheese and grilled onions — was added to the vending lineup, thus sparking a full-on renaissance in concessions at the Temple and shaping it into the foodie-driven entity it is today.
"We had great concessions prior to the 2011 season but added a larger number of specialty items and locations throughout the ballpark," says George Raub, concessions manager for Delaware North Companies Sportservice, the company that provides the food, beverage and retail vending at Globe Life Park. "The food offerings we have here at Globe Life Park are very unique and help set the ballpark apart as not only a destination for baseball, but for a total experience."
But the innovative food offerings at Globe Life Park don't just appear out of thin air like blessings from the ballpark gods. Credit is due to the food professionals at Delaware North.
"It is a total team effort, including myself as the concessions manager, our operations manager Casey Rapp, executive chef Cris Vasquez and general manager Shawn Mattox," says Raub of the team behind the park's menu. "However, we [do] take ideas and suggestions from all our staff and managers."
There's a marketing method behind the menu madness: Each season, the Delaware North team starts planning the following year's menu before the previous season ends. This ensures optimal time to work with suppliers and the culinary team to get ahead of emerging food trends. The majority of menu additions are centered around Opening Day and are committed to some 60 days prior, affording concessionaires the time to have menus printed and signage in place. New products are then staggered for roll-outs throughout the season in advance of the All-Star break (hence the newest dining options) and, in better years, post-season games.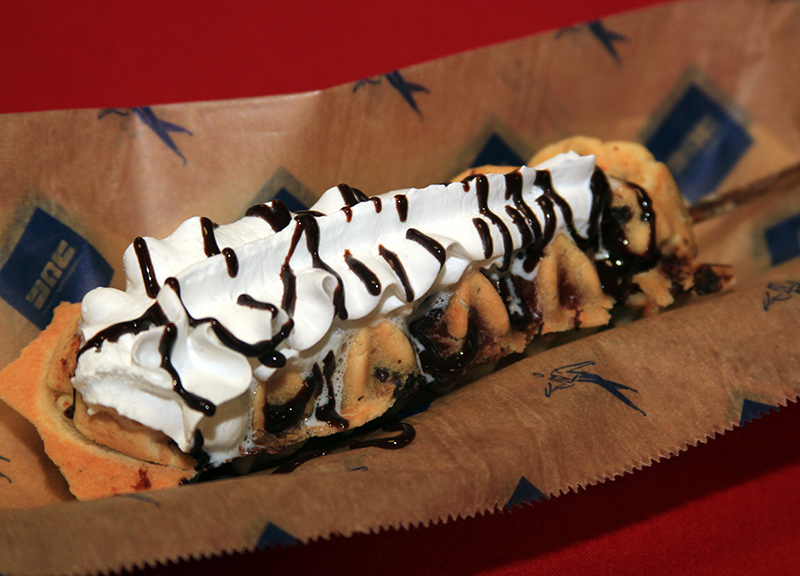 As for the brainstorming process: Raub says everything about his team's cultivation of ideas is free-form, with no dedicated test kitchen or time limits in place. Several different kitchen spaces are used throughout the ballpark to test ideas based on the equipment needed to complete a dish. And ideas can float around for a while before they actually stick. That's what happened with Tanaco — an all-beef hot dog fused with a beef taco, served on a hoagie and topped with pico de gallo. The time it takes for a dish to go from idea to offered menu item can take as little as a month to as long as a year, from start to finish.
Inspiration for dishes also comes from the players — like The Choomongus, which was named after outfielder Shin-Soo Choo. It's a 24-inch Teriyaki beef sandwich served with spicy coleslaw and a creamy Sriracha sauce. Items like this one pose a bit of a challenge for the team, though: 24-inch buns aren't just something you can pick up from your neighborhood grocery store.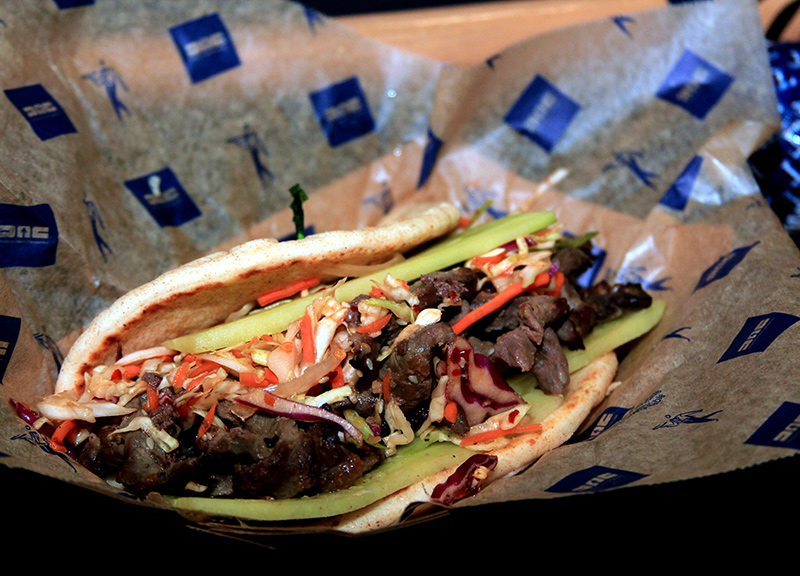 "By far, the most challenging items have been our larger line of 24-inch products," Raub says. "It's not something that a supplier would generally make. When we started the development process for The Boomstick, we had an end-goal of a 24-inch hot dog in mind, but had to work backwards to find a supplier that could produce a 24-inch hot dog and a 24-inch bun."
As you might guess, these larger items have become among the stadium's most popular concessions, gaining traction with social media and in the inevitable Man Vs. Food-esque challenges that eaters undertake in attempt to finish them.
Other popular newer items include the Sausage Sundae and the Totally ROSSome Nachos.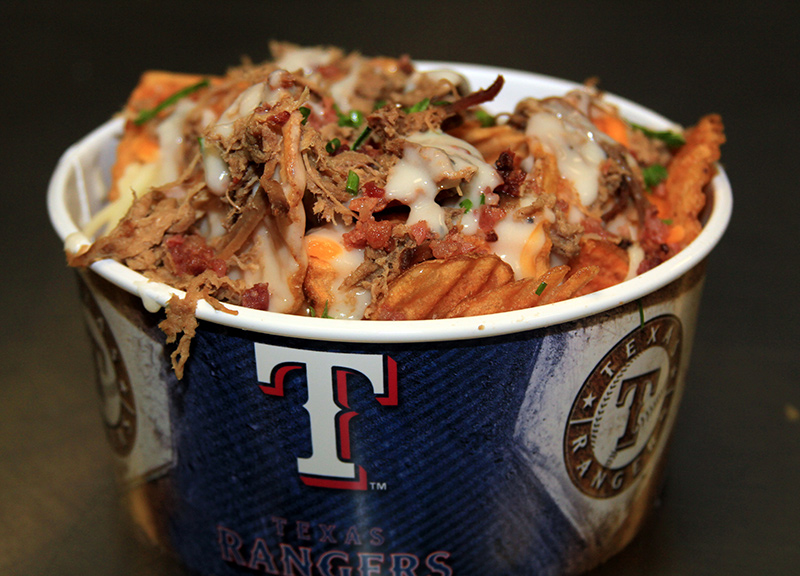 Even so, Raub says, it's still the simpler concession items that do best, sales-wise. Still, there's no doubting the fact that the other, more over-the-top options are certainly fun.
"We have seen a movement across ballparks to more of the specialty, local or destination items," he says. "And we are very happy to be trendsetter in the field."
Photos courtesy Delaware North Companies Sportservice.