After Dallas Music Producer Picnictyme Tweeted That Women Should Out Their Assailants, Former Girlfriends Alleged That He Physically And Emotionally Abused Them.
Two former girlfriends of prominent Dallas musician Picnictyme have come forward to allege that the singer and producer born Richard Escobedo acted emotionally abusive — and in at least one instance, physically abusive — toward them throughout the course of, and in the wake of, their relationships.
These women came forward on Sunday after Escobedo, a member of Erykah Badu's The Cannabinoids backing band and a founding member of the influential Dallas rap trio PPT, tweeted support from his then-public Twitter account for the women who were also outing their alleged abusers within the Dallas music scene that afternoon.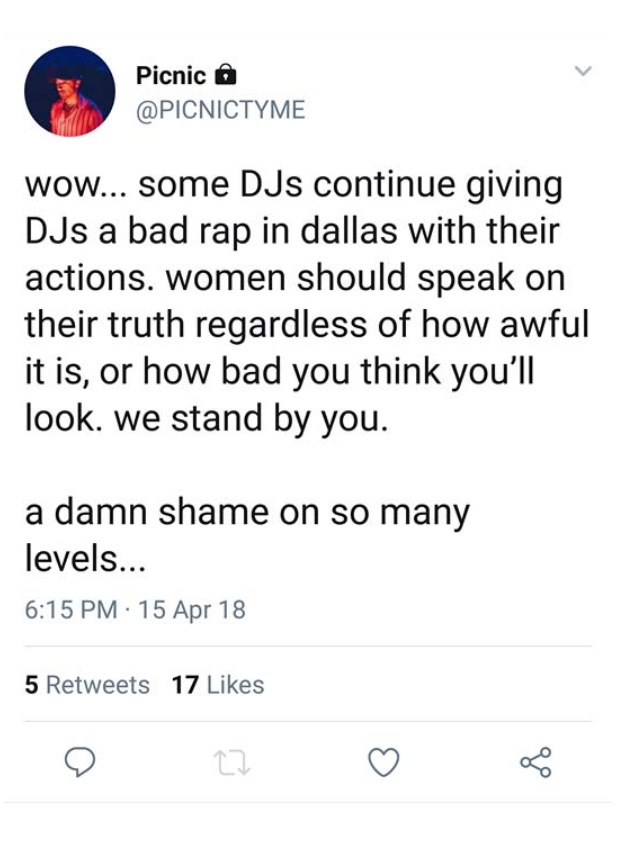 Felicia "Librada" Cruz says she was already following along with the day's other alleged abuser revelations on social media when she saw that tweet from her ex-boyfriend Escobedo.
"It burned me up inside more than I can describe in words," Cruz says. "I felt this huge, off-putting sense of disgust, and I was just extremely uncomfortable. I knew right then that I needed to say something, because he's perpetuating this persona, and he's being hypocritical."
An hour and a half after Escobedo's post, Cruz replied to his comment with one of her own in which she shared an image showing deep bruising all along her back — injuries that she says she suffered after Escobedo kicked her off of the bed and into a dresser during a heated exchange that occurred while the two were still dating and living together.
In a later post, Cruz also shared an alleged screenshot of a text message conversation the two shared after having broken up in late 2015/early 2016, in which Escobedo mentions being disappointed by an encounter with Cruz out in public. Over the course of that exchange, Escobedo allegedly threatened that he "will not stand for [whatever happened the night before]," that he will "see [Cruz] around" and that Cruz should "be careful" given how his "word resonates out here."
In his replies to those and other tweets from Cruz, Escobedo denied any wrongdoing, while at the same time acknowledging that Cruz "deserved better in those days" and saying that he "regrets a lot to this day" about their relationship.
Speaking by phone from her current residence in California, Cruz says that it wasn't "common" for Escobedo to get physical with her. But at the same time time, she says "he would do things where he either wouldn't let me leave [a room] and block doors, or push me so I couldn't get out, or push me up against the wall — things like that." But, she says, "he wasn't always swinging punches at me by any means, or throwing things at me."
More common throughout their relationship, Cruz says, were screaming fits and verbal threats. Then, after their breakup, Cruz says Escobedo focused more on concerted attempts at making her feel uncomfortable, either in her home or out in public. Multiple sources contacted for this story say they spotted Escobedo following Cruz around in his car, or remember him showing up unannounced at events Cruz posted about attending on social media. Multiple sources recall Cruz leaving Beauty Bar one night upon Escobedo's arrival, followed by his subsequent running out of the back door after her. After a separate heated exchange, Cruz says she called Dallas Police to report that Escobedo had stolen her laptop.
Other prominent figures in the Dallas music scene, including videographer Jeremy Biggers and rapper Donovan Payne (stage name 88 Killa), have posted tweets of their own that seem to corroborate Cruz's statements about Escobedo's alleged behavior. Payne further detailed his experiences with Cruz and Escobedo in a report written by D Magazine online arts editor Lyndsay Knecht earlier this week.
Another former girlfriend of Escobedo's, who asked that she remain anonymous, described similar experiences with Escobedo in the wake of their break-up. While she says he never physically assaulted her, she refers to Escobedo as a "crazy sociopath" who spread false rumors about her, "put [her] in some dangerous situations and was a complete narcissist, who was incredibly manipulative and mentally abusive." She believes Escobedo once entered her apartment after their break-up to search through her computer and her emails. In another alleged incident, she says Escobedo once scaled the exterior of her apartment building in order to climb onto her second-floor balcony and spy on her.
In messages sent to Central Track earlier this week, Escobedo describes Cruz's stories as "clear and utter defamation." He says that Cruz "has tried to ruin me for years" but also that the two shared "a very great relationship after [they] broke it off."
Since Cruz has publicly come forward with her statement, various entities once associated with the musician have cut ties with him. WFAA, which employed Escobedo as a contractor for his videography work, has said that he "is no longer affiliated with the station." The Deep Ellum venues Club Dada, Off The Record and Independent Bar + Kitchen, where Escobedo had hosted various residencies up until this weekend, have each canceled all scheduled events with which he was associated. DJ Sober, who had previously collaborated with Picnictyme on their joint venture known as Booty Fade, shared an update to his social channels in which he called Escobedo's actions "unacceptable" and announced that he was dissolving the Booty Fade brand.
Escobedo had also been slated to perform a DJ set under his Picnictyme moniker during Central Track's scheduled six-year anniversary party at the Granada Theater on Saturday, May 5. He has been removed from that bill. (Update at 7 p.m. on April 20, 2018: Central Track is no longer presenting the Granada Theater show that will continue to take place on May 5. New plans for an event celebrating Central Track's sixth anniversary will be announced soon.)
(Full disclosure: Central Track and this writer have maintained professional relationships with Escobedo throughout the years, often writing gushingly about his talents and even going so far as to host performances from him at past Central Track-presented events, including our four-year anniversary party. Until this past weekend, we were never previously aware of any allegations made against him.)
Central Track has reached out to Escobedo for further comments on these allegations. He has not yet provided any.
Update at 9:30 p.m. on April 20, 2018: Escobedo released a statement on his social channels this evening. It reads as follows:
"While Dallas' hip-hop circle is small, John Stewart and Tony Curtis have never been a part of mine.
Like others, I read the story about Stewart and Curtis' sexual assault allegations with disgust. In fact, I posted a comment supporting the courageous women who speak out against sexual assault. My comment drew an online response from an ex-girlfriend with whom I was involved three years ago. It seems to have triggered feelings about the relationship we had back then. I have been deeply affected by the social media comments and surprised to learn this was the interpretation of our past. We worked hard to preserve the relationship. I initiated and completed counseling with hopes to improve both myself and the relationship. Despite our effort, our romantic involvement came to an end. Nevertheless, Felicia is someone for whom I still have great respect and admiration. As recently as 11 months ago, she reached out to me to finalize a song we had begun years earlier. We met to discuss the project and the resulting song is something for which we both expressed pride. I had no idea at that time she felt the way that has been attributed to her on social media. I am totally overwhelmed by all of this. I wouldn't want someone I cared about to carry any pain. <3"
Cover photo of Picnictyme by Jonathan Stafford.