The Bar, New To Dallas After Successful Openings In Austin And Houston, Looks Great For Instagram. But Is It Up To Dallas' Same Old, Gross 'Upscale' Tricks?
77 Degrees' road to Dallas has been… controversial.
While the rooftop bar concept has already proven popular in its previous incarnations in Austin and Houston, the just-opened new location along Henderson Avenue has come with an immediate backlash on social media.
For one thing, in the months leading up to its opening, residents of the Knox-Henderson neighborhood have been reeling over the fact that the spot promises DJs blaring their music into the open air at all hours of the night, right near their apartments.
And then there's the fact that, in just its first week of business in Dallas, some customers who tried to check out the spot have taken to social media to complain about being turned away, alleging that — like Kung Fu Saloon before it — 77 Degrees is only applying its "upscale" dress code rules to patrons with certain skin tones.
A tweet sent out earlier this week from the @DDDNights account shows a screenshot of a social media post in which someone describes their friend's visit to 77 Degrees: "Not only were they simply trying to celebrate their masters [sic] and brought 13 people with them," the post reads, "but ONE [sic] of the people had sneakers on and they were told 'this establishment doesn't allow sneakers.'"
We were warned about new bar 77 Degrees that they were discriminatory in Austin but wanted to wait to see for ourselves. @77DegreesAtx this is unacceptable in Dallas and something needs to be done about how you treat your patrons. I need y'all to RT please until they respond. https://t.co/K7WOinlfJ2 pic.twitter.com/MxjYLPinxa

— Dallas NightLife (@DDDNights) September 4, 2019
The post continues with the user noting that the friend, and group with that person, was mostly black — and that upon being turned away for wearing sneakers, they noticed white guests wearing sneakers were being allowed in.
Hmm.
In a response to the @DDDNights tweet, a bartender who works at 77 Degrees said that guests should "[d]ress to impress always when you're out, and [they will] be able to get in." Further research found that the bartender used a racial slur in tweets just six weeks earlier.
This is a bartender at @77DegreesAtx in Dallas. You can use the "N word" but oh no don't let a minority come in with Jordans they won't be "dressed to impress". pic.twitter.com/d1MQBxwxGG

— Dallas NightLife (@DDDNights) September 4, 2019
While neither 77 Degrees nor the aforementioned bartender has come forward to make any additional statements about these instances, it's worth noting that both the 77 Degrees Dallas Instagram page and the Twitter account belonging to the bartender have since been set to private. The bar's Facebook, Yelp and Google pages, meanwhile, have been flooded with negative reviews for all three of 77 Degrees' locations in the days following the controversy taking off.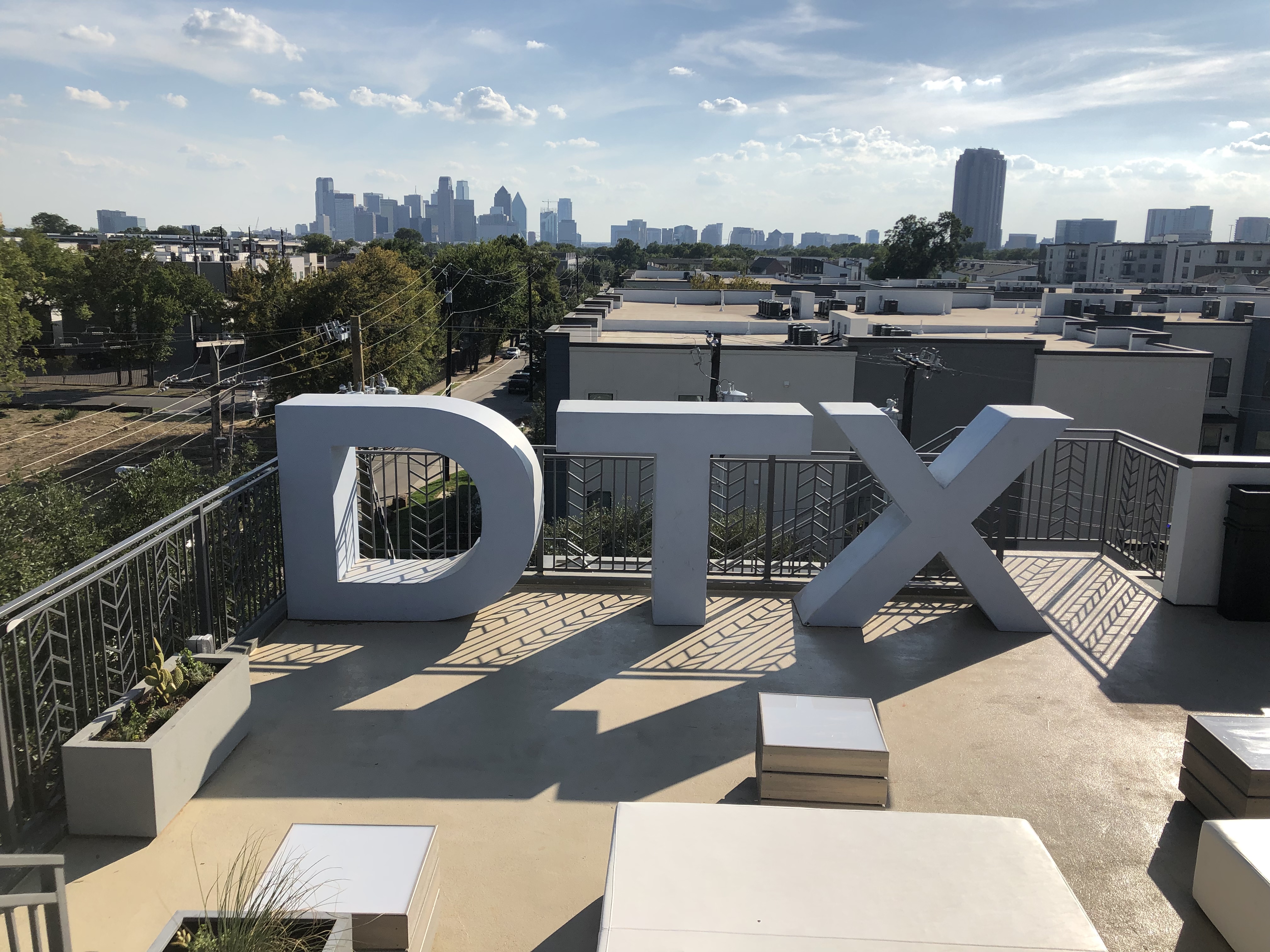 What really sucks about all of this is that 77 Degrees seems like it could be an otherwise interesting draw along the Henderson strip. Its boasts unique drink offerings (including the Violet Sky that's made with Bombay Sapphire gin, muddled watermelon, thyme syrup, lime juice and sweet vermouth) and intriguing food selections (such as corn flake chicken tacos, which contain mango slaw, mango pico de gallo and cornflake-breaded chicken). Of course, none of these features really outweigh the negatives of discriminatory business practices.
From the side of the rooftop bar that isn't overlooking the still-ongoing construction of the downstairs portion of the bar — that spot will be called Jack and Ginger when open — one gets a spectacular view of the Dallas skyline, as well as a cool Instagram photo-op with some giant letters that spell out DTX.
While our own visits to the spot during media tours went without issue — as can be expected, frankly, of any time in which staff is alerted in advance to be on their best behavior — it's clear early on in 77 Degrees' glitzy Dallas run that its practices in general need tweaking.
Regardless of the fact that sneakers are no longer drawbacks to impressive outfits and, in many instance, now full-on high-fashion accessories, any dress code that the spot hopes to enforce should be noted on its website and enforced upon all guests — not just people of color. Beyond that, we can't help but feel as if 77 Degrees would be best served doing what it can to improve upon criticisms of their business, rather than running from negative feedback and hoping it boils over.
In other words: If 77 Degrees has any hopes of succeeding in this town, it needs to learn how to chill a bit.
Photos by Alex Gonzalez.