Dallas Made Some Waves At The Oscars, Post Malone Made Some History, Cuban Doll Has Some Serious Hype And We've Got Some Festival News. Plus So Much More!
Given that this is a North Texas music-focused new and notes column, you might not think there'd be much mention of the 90th Academy Awards in this space. But our two lead items in this week's White Noise are here to prove you wrong.
For starters, Just before the ceremony took place on Sunday evening, Ava DuVernay, the director of Disney's hotly anticipated A Wrinkle In Time, announced on Twitter that University of North Texas film student and music video director Ciara Boniface was selected as the winner of the film's Visionary Filmmaker Contest from Disney and Nissan. Per DuVernay's tweet, Boniface — who has crafted videos for the likes of Devy Stonez, Curtis Mayz, Terrance Spectacle, Lu Sloan and Danny Cainco, just to name a very few — will receive $100,000 to be put toward her next film, as well as a brand-new Nissan Leaf.
On Oscar Day, thrilled to share that a talented young woman by the name of @CiaraBoniface was selected as the winner of our @WrinkleInTime Visionary Filmmaker Contest from @Disney and @Nissan! She gets $100k for her film and a 2018 Nissan Leaf! Go, Ciara! And stay shooting, sis! pic.twitter.com/XXA10P1vXB

— Ava DuVernay (@ava) March 4, 2018
That's a pretty incredible feat for the young filmmaker — and it's no surprise, of course, to see UNT brass congratulating Boniface and recognizing their own efforts in her growth.
Which brings us to the second Oscars-related bit of area music news this week: On Sunday's award show, Sufjan Stevens performed his "Mystery of Love" song that was nominated for Best Original Song, and was joined in doing so by numerous folks with whom he's collaborated with over the years, including Annie Clark, who was in Stevens' band before she started performing as St. Vincent. You can check out their superb performance below.
Of course, St. Vincent wasn't the only area act to make an indirect appearance on prime time TV last week. As noted in last week's column, noted Tay-K fan Donald Glover came through on his promise to include the Arlingotn rapper's platinum hit "The Race" in the second season premiere of his show Atlanta. The song kicked off the show's "Robbin' Season" theme as it played from a passing vehicle.
It's crazy how virality can lift an act up. It's what set "The Race" apart from so many other tracks last year, and it's what got Post Malone to where he is today, too. And that's somewhere indeed: With his latest single "Psycho" debuting at No. 2 this week on the Billboard Hot 100, Post joins an elite group of acts to have had multiple songs debut at either No. 1 or No. 2 on the charts. The only other acts to do so? Eminem, Justin Bieber, Mariah Carey, Katy Perry, Britney Spears, Taylor Swift and Boyz II Men. That's impressive company, for sure. And, speaking of good company, you can catch Post along some good company at the Pavilion at Toyota Music Factory in Irving when he performs with openers 21 Savage and SOBxRBE on Thursday, June 14. Get your tickets for that high-profile affair here.
Someone else who knows a thing or two about going viral — and turning that into legitimate success — is Bhad Bhabie. Even better? When she announced her cross-country tour yesterday, she announced that she will be bringing Dallas artist Asian Doll with her as her opening act. After appearing together on the "Hi Bich" remix, it seems the two have developed a kinship of sorts from the looks of this video. Their "Bhanned in the USA" tour kicks off in April with a Dallas date set for Saturday, April 28 at Trees. Tickets go on sale tomorrow here.
The way it's gone this year, it seems that when Asian Doll has some news, Cuban Doll has news of her own too. And that stays true this week, as Billboard predicts big success for the artist based on the Pandora Prediction Chart. That tool uses social growth to forecast the rising artists who are most likely to make their debut on the Billboard 200 albums chart and the Trendsetters chart, which is itself a list of the highest-charting up-and-coming artists based on their rate of weekly station adds on Pandora. And according to all that, Cuban Doll is next to blow up, having recently added more than 270,000 followers on Instagram, seeded over 370,000 spins on Pandora and getting 1,200 artist station adds per week on the platform. One of the songs that's generating all that buzz is "Bankrupt," which the artist further broke down lyrically for Genius this week. Watch the clip below.
It's important to know lyrics if you want to be a winner of the new locally developed tabletop game, Got Bars?, which is a card-based hip-hop trivia game that was conceived by Fort Worth rapper Tawaine Hall after rounds and rounds of endless debates like Who's better, Tupac or Biggie?" with his friends turned into reciting lyrics to prove who has the better bars. We'll have more on this new project in the coming weeks. For now, just know that pre-orders are now available here, with the game shipping out in May and getting a public release set in June.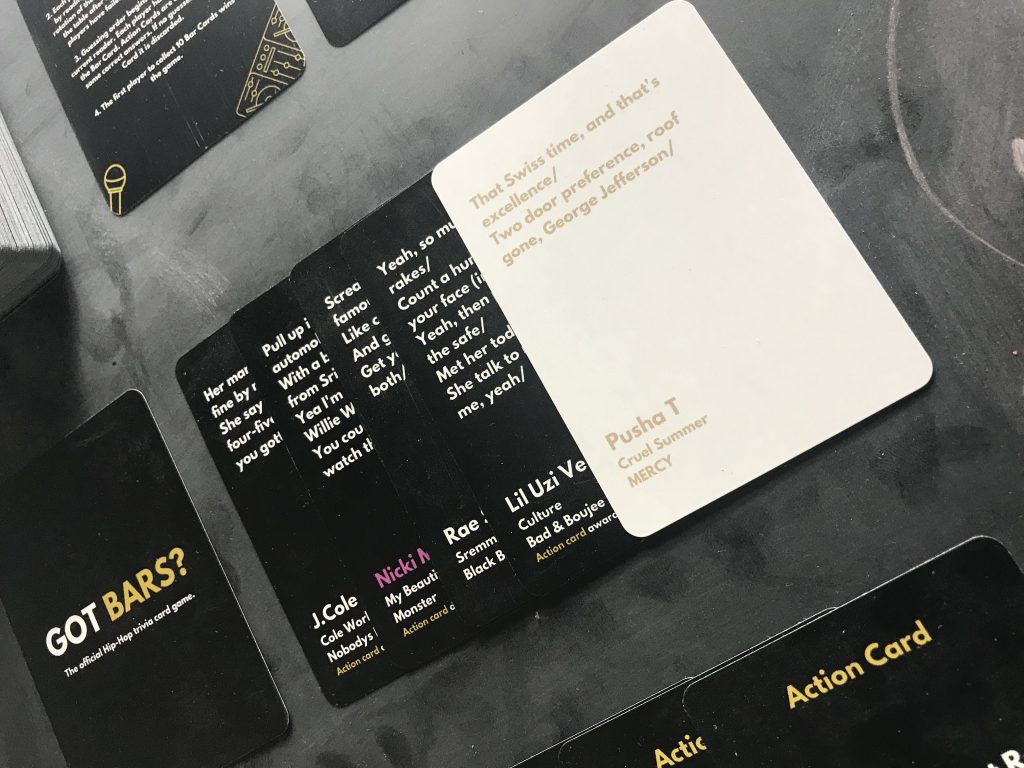 Also approaching as spring nears is North Texas' festival season, which naturally means more announcements came in these last few days. Here's what you need to know on the festival front:
Vans Warped Tour announced the official lineup for its last-ever tour across the country this summer. And, right as rain, North Texas stalwarts Bowling For Soup were announced as being present for numerous dates, including the July 6 date at Fair Park. Also of note: Third String Records, which was founded in and operates out of Dallas, saw its band, the California-based Assuming We Survive, booked for the entirety of the final tour. Get more info here.
After last week's teases, we now know that, when Breakaway Festival returns to town after its five-year hiatus from the market, it will do so at the Toyota Music Factory on Saturday, April 7, with a lineup of hip-hop and EDM artists including Lil Dicky, Rich The Kid, Whethen, YFN Lucci, Justin Caruso, Niko x Swae, The Lost Boys and more. Get more info here.
Toyota Music Factory, meanwhile, is also throwing its own bash called the House Party, which it promises will be an annual affair. The deal goes down Saturday, March 17, and it will be headlined by Lil Uzi Vert, with more names coming soon. Still tickets can already get bought here.
The Elm Street Music & Tattoo Festival announced the music portion of its affair, which is happening May 18 through 20. Among the names confirmed? Ben Nichols & Friends, Riverboat Gamblers, Low Class Brats, Days N Daze, The Old Firm Casuals and more. Tickets are on sale now here.
On the lighter side of things, KXT released the performers for its annual Sun Sets concert series, which will this year kick off April 17 and run through June 19 at the Dallas Arboretum & Botanical Garden. Performers include Matt Costa, Patty Griffin, Laura Veirs, GIVERS, Lissie and a whole lot more. For more information regarding dates, times and season passes to the event visit the radio station's website.
And, just today, the Dallas Symphony Orchestra's art and music affair known as Soluna announced a sort of sub-festival for its May 6 through 28 offering: A special event called Array will go down on Saturday, May 12, at Canton Hall and The Bomb Factory. The former will feature immersive art installations from Tramaine Townsend, Eric Trich, Jordan Castilleja, Carmen Menza, Mattheiu Brooks, Sheryl Anaya, Alejandra Camargo, Jeremy McKane, Darcy Neal and James Talambas. The latter, meanwhile, will feature unique music performances: Legendary rapper Nas with members of the DSO, British-Nigerian soul singer Jacob Banks with Dallas Neo-Classical Ballet, Icelandic blues/rock band Kaleo with the Booker T. Washington High School for the Visual and Performing Arts Gospel Choir and Colorado electronic duo Big Gigantic with the Dallas Mavericks Drumline. Tickets to this unique affair are on sale starting on March 9 right here.
Wow. All that news and we've barely gotten to new releases!
First, up, Demi Lovato and Luis Fonsi have reunited after their Spanish collaboration for "Echame La Culpa" to release an English version of the track titled "Not On You."
The Colleyville native's also got a new one on the soundtrack for the aforementioned A Wrinkle In Time, this one sampling Lauryn Hill and featuring DJ Khaled that can be heard in part — but not in full — here. And that's all good timing, too, considering Lovato and Khaled are in town on Wednesday night for a gig at the American Airlines Center.
Meanwhile, it seems Leon Bridges has some new music of his own on the way. The Fort Worth crooner recently decided to wipe the slate clean on his Instagram account last week and tease what one can only assume is his highly-anticipated sophomore release. Check out the snippet below.
Those are all well-established names, of course. Meanwhile, a new band has caught our attention — and, frankly, no introduction could do them better justice than the one they sent us: "I am The Colonel Tom Tortilla and I am writing you on the behalf of the hippest cats this side of The Atlantic… The Tortillas! In my travels, I have searched far and wide to fulfill a legend once told to me deep in the Aztec jungle and I will reveal to you its contents: 'It was once foretold and etched on a single clay tablet that in the year of our Lord 2018 a band will be formed from a single lump of masa. A band that will galvanize the DDFW freak scene with their sunny brand of lo-fi pop rock. As they draw upon Dr. Robert's special cup they will embark upon a soul-bending voyage that reflects the full range of the audible experience — from singalong anthems and blissful, blasted pop to brain-twisting baroque. It was written and so it shall be.'" Well, then! Here are The Tortillas:
More established is Lil Ronny MothaF, who has a new video for "Get At You," which shows off a more serious side of the rapper than we typically see.
And, just six weeks after the release of "Bankroll," which recently earned a feature on Apple Music's Beats1 Radio, Curtis Mayz is back with "Geronimo":
The recently relocated Alex Harris is continuing his impressive output of tracks with "Stoplight"
Then there's Junk Food, who has earned some pretty swell placements of late, and released a new Junk Food Flip of Botnek's "Don't Need U."
And finally this week, a couple weeks after this tandem was featured in Songs of the Week for its "Gothwhore" release, Pyrex Pirates and the buzzing EMOtional Xan released an EP together called Tales from the Pyrex that's worth your time, for sure.
 Got a tip for White Noise? Email us!