Enter To Win Our 2019 Fortress Festival Baller Pack And Not Only Will You Get VIP Treatment At The Fest, But You'll Also Get To Meet Leon Bridges. And More!
Live from The Funk, Fort Worth's Fortress Festival third annual offering looks hotter than Texas.
Headlined by hometown-kid-done-good Leon Bridges, the April 27 and 28 event hosted on the gorgeous stretch of land between the Will Rogers Memorial Center and The Modern Art Museum of Fort Worth boasts a stacked lineup of buzzing acts whose genres run the gamut from indie-pop and hip-hop to indie-pop and psych rock and country.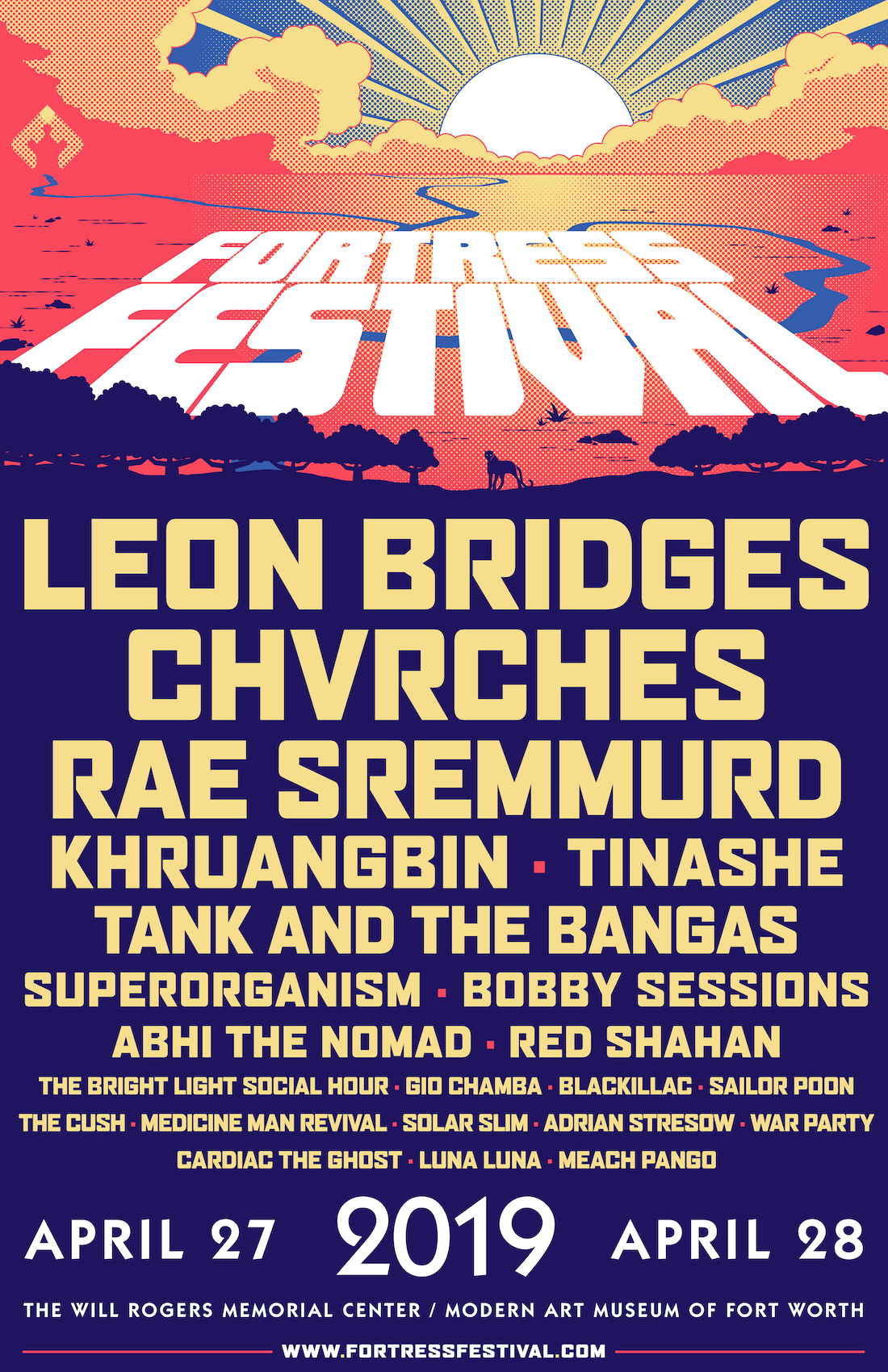 If there's been a more impressive and varied lineup announced for festival season here in North Texas, well, we haven't seen it.
Consider just the biggest names booked to this deal alone.
Saturday, April 27, will find the fest's opening day capped with sets from the Scottish synth-pop heroes in Chvrches, the rousing hip-hop duo Rae Sremmurd, the rhythmic pop sensation Tinashe and the Def Jam-signed Dallas rap provocateur Bobby Sessions.
Meanwhile, on Sunday, April 28, the fest will up the ante with a fest-closing offering from the aforementioned Bridges, plus sets from the Houston psych-funkers in Khruangbin, New Orleans funk stylists Tank & The Bangas and the eight-piece British indie-pop act Superorganism.
And that's before we mention the impressive locals booked to this thing — including a number acts we've raved about previously on this site, such as the genre-bending Medicine Man Revival, the up-and-coming rapper Adrian Stresow and the party-in-a-band pop-rockin' Meach Pango.
It's a hell of an offering is all we're saying — and with tickets starting at $79 a pop for general admission day passes and $119 for two-day GA access, it's a pretty damn solid return on your investment, too.
Seriously, if Fortress Fest '19 is anything like what it was in '18, you're gonna wanna go ahead and buy your tickets ASAP.
Or, if you're more a roll-the-dice kinda person, you can just take your chance by entering for a chance to win our special Fortress Festival '19 edition of our dormant-but-not-yet-dead Central Track Baller Pack giveaway series.
It's a pretty sweet package that our friends at Fortress Festival have passed along for this year's giveaway, too. Here's what's up for grabs:
Four VIP tickets to the 2019 Fortress Festival. In addition to access to the festival for you and three of your closest friends, these passes — a more than $1,000 value — will get you into the VIP section of the festival grounds, where you'll find dedicated bars, elevated bathrooms, lounging areas and shortcuts from one stage to the next — among other perks.
A meet-and-greet with either Leon Bridges or Tank & The Bangas, brought to you by Dickies. Would you rather get some face time with the hometown hero or with a collective of soulful New Orleans badasses? The choice is yours!
A Red Shahan merchandise package. The Fort Worth country crooner's got some sweet apparel, and you're gonna walk with a bag filled with his swag.
Sounds pretty great, right? We think so.
But, you might be asking yourself, what if you win and you had already bought tickets to the event? Ah, see, that's no sweat at all, pal! Just give those tickets to some other friends of yours, and let them experience how awesome Fortress Fest can really be. It's what we call a win-win, folks.
So, onto the important stuff: How can you go about winning? Well, get this: Entering our contest is free. It's also super easy. All you have to do is fill out the form below and by 11:59 p.m. on Monday, April 22, which is our deadline for entering the contest. At that point, we'll pick a winner from the entrants pool at random.
Want to increase your odds? Do the additional tasks mentioned in the form below. Simple, right? Good luck!
Fortress Festival 2019 Baller Pack

*Anyone associated with any of the businesses offering these prizes is not eligible to win. Must be at least 21 years old to win. Winner must be able to accept the prize within 24 hours of being notified of winning or another entrant will be selected. Prize is non-transferable and may only be claimed and used by the winner selected. BUY FORTRESS FEST TIX NOW!
Cover photo courtesy of Fortress Festival.