This Week, Tripping Daisy Hit Like The Atom Bomb.
Each week, we take a survey of the local music scene and try to determine which acts in town are really putting in work and seeing it pay off. Which bands have the most intriguing shows coming up? Which bands are getting the most press around town? Which bands have accomplished the most notable feats of late? Based off these criteria, our music writers submit a list to be weighted and compiled into a master list revealed each week in this here space. We like to think it's fairly revealing. Check out our previous Buzz Rankings here.
For the second time this year – and only the second time ever — Tripping Daisy tops our weekly, local music power rankings.
That's a sentence that makes so much sense given that the band's playing its first shows in 17 years this week, headlining this weekend's Homegrown Fest and playing a warmup show at Dada tonight. But it's also a sentence that would have been pretty unfathomable when we started this column more than five years ago — or, hell, even six months ago.
And yet here we are, under their umbrella, gearing up for what's shaping up to be one of the big local music stories of 2017.
Also earning some shine for opening up the Daisy's triumphant return to the festival stage are tons of locals — including Lower Dens, Motorcade, RC & The Gritz, Cure For Paranoia, Lizzie Boredom, Greg Schroeder and El Gato. Not to be forgotten, the Pearl Earl-ians are opening up Tripping Daisy's Dada show.
Speaking of fests, Miranda Lambert headlined last weekend's Off the Rails Country Music Festival in Frisco, and Snow tha Product took part in JMBLYA, which is perhaps the reigning king of DFW fests.
Other big shows this week include Casey Donahew's headlining turn at Billy Bob's, Jimmy Wallace's multiple performances at his own International Guitar Festival and Reverend Horton Heat's further breaking in of the new Lava Cantina stage up in The Colony.
Elsewhere on the list: Leon Bridges turned heads at one of the biggest fashion events in the world; CoLab and Friday's Foolery celebrated the second anniversary of their Tuesday night weekly at Three Links; T.Y.E. earned some national press; and kirstin™ hinted at a split from her Pentatonix bandmates.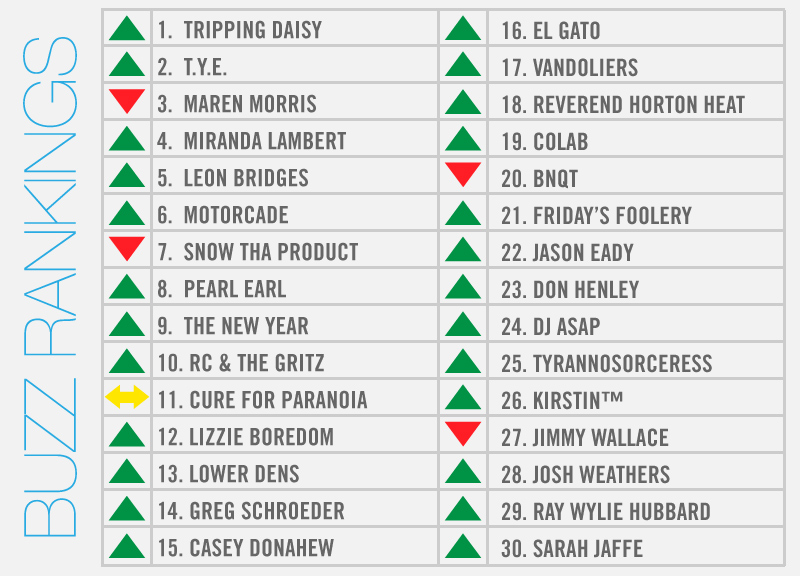 (Also receiving votes: Prophets & Outlaws, jACQ, Casey James, Old 97's, Parker Twomey, Dalton Domino, Sealion, Demi Lovato, Kacey Musgraves, Omicron J Trauma, Charley Crockett, Talkie Walkie, Mark Lettieri, Cheridan, Emily Elbert, Red Shahan, Doug Burr, Jazzmeia Horn, All/Everything, Ronnie Heart, Astronautalis, Larce Blake, Arradon, Plain Jane Francis, Spike Chester, Peeps Nation, Curtis Mayz, Sam Lao, Northern National, DJ Sober, Vegan Shark.)