This Week, The Texas Gentlemen Backed That Thing Up.
There are many big shows in town this weekend, and many bands getting high-profile mentions in national publications, so the act that tops our weekly, local music power rankings this week may come as a slight shock to some of you out there.
Unless, that is, you've been paying attention.
Last week, the Texas Gentlemen played approximately one million sets at SXSW, backing various singers as they did. Their two most high-profile gigs, though, were their showing at Willie Nelson's annual Luck Reunion, where they backed Rays Benson and Wylie Hubbard, and Paul Cauthen. Then, the next day, they took over Arlyn Studios for a party where they played with various acts all day long — including behind Cauthen once again, and a set of originals all by their lonesome. They'll once again back Cauthen at this weekend's Toyota Texas Music Revolution in Plano, too.
So, yeah, their second-ever time topping the rankings was hard-earned and much-deserved, indeed.
Joining the Gents at TTMR are a ton of other locals, including Kacey Musgraves, Zane Williams, Eleven Hundred Springs, The O's, Red Shahan, Buffalo Ruckus, Max Stalling, Castro and (full disclosure, my own band) the Vandoliers.
Other big shows this week include Demi Lovato's American Heart Association fundraiser at AT&T Stadium, -topic's "last-ever" show as a Dallasite, the Forever the Sickest Kids reunion at Prophet Bar as part of the So What?! Music Fest, the Power Trip album release at that same fest and Maren Morris' headlining turn at House of Blues tonight.
In other news of the week, Don Henley announced a 70th birthday party in Dallas, and the Old 97's played Conan without their drummer, who was in a freak accident.
Elsewhere: BNQT made its live debut at SXSW and released a new recorded song; Charley Pride is doing the Wait Wait… Don't Tell Me thing tonight; and Jesus Chris + The Beetles got some NPR love.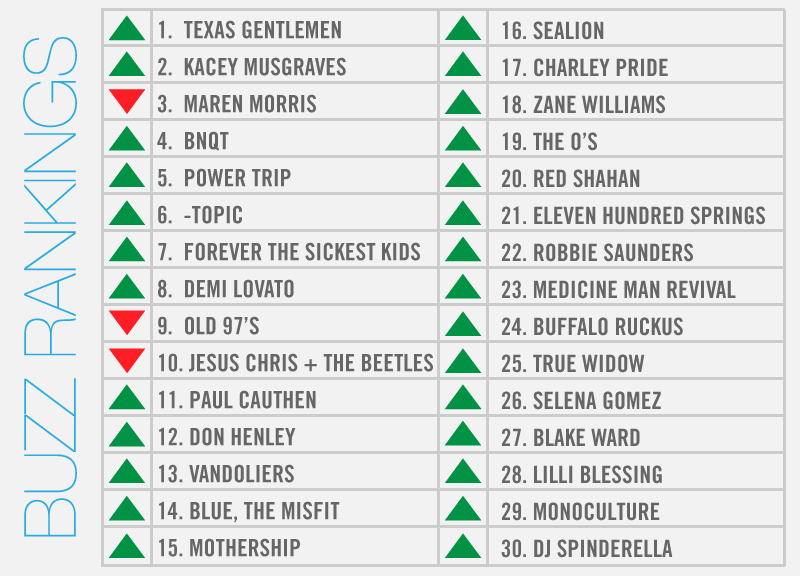 (Also receiving votes: Randy Travis, Castro, Pinkish Black, The Bird Dogs, Pueblo, The Whistles and the Bells, Max Stalling, Trai Bo, Dead Flowers, Sarah Hickman, Left/Right, JD Beck, Fogg, Dalton Domino, Jesse Etc., Willie Trimmer, Charley Crockett, Duell, OK Sweetheart, Whiskey Folk Ramblers, Son of Stan, Sarah Sellers, Oil Boom, Wesley Jensen, Jayson Lyric, Birds of Night, Pool Lights, Faded Deejays, Jessie Frye, Trillwave, Rakim Al-Jabbar, Picnictyme, Lady Parts, Sandovall and Drawer Devils.)