This Week, Power Trip Got In The Pit And Tried To Love Someone.
Each week, we take a survey of the local music scene and try to determine which acts in town are really putting in work and seeing it pay off. Which bands have the most intriguing shows coming up? Which bands are getting the most press around town? Which bands have accomplished the most notable feats of late? Based off these criteria, our music writers submit a list to be weighted and compiled into a master list revealed each week in this here space. We like to think it's fairly revealing. Check out our previous Buzz Rankings here.
It's been officially out for a minute now, but Power Trip finally had a Dallas release show for its long-awaited sophomore LP over the weekend as part of the 10th annual So What?! Music Festival.
It was just the best.
But it was just the start of a big weekend for the hardcore boys. They played another So What?! set on Sunday at AirHogs Stadium, where something pretty cool happened: A couple got engaged in the pit during their set.
The band kept the momentum rolling through the beginning of the week, too, releasing a new locally-shot music video. That's pretty jam-packed stretch, and it earned them lots of good vibes, not to mention their fifth trip to the top of our weekly, local music power rankings.
Just behind the hardcore heroes, M83's Kaela Sinclair comes in at No. 2 after premiering her first new solo single since joining that outfit via Gorilla vs Bear. A few others from this week's list released also new songs and/or albums this week, including Atlantis Aquarius, BNQT, Terrence Spectacle, Astronautalis and High Art.
Further down the list, -topic played some final shows before leaving town for the moment. And Mad Flava earned its spot by returning from a long hiatus to perform at Three Links this weekend.
Elsewhere: Faded Deejays presided over another Selena party; Symbolyc One produced a song for Drake; Toadies and The Nixons are playing EdgeFest 25 this weekend; and Old 97's hit No. 1 on the Americana Radio chart.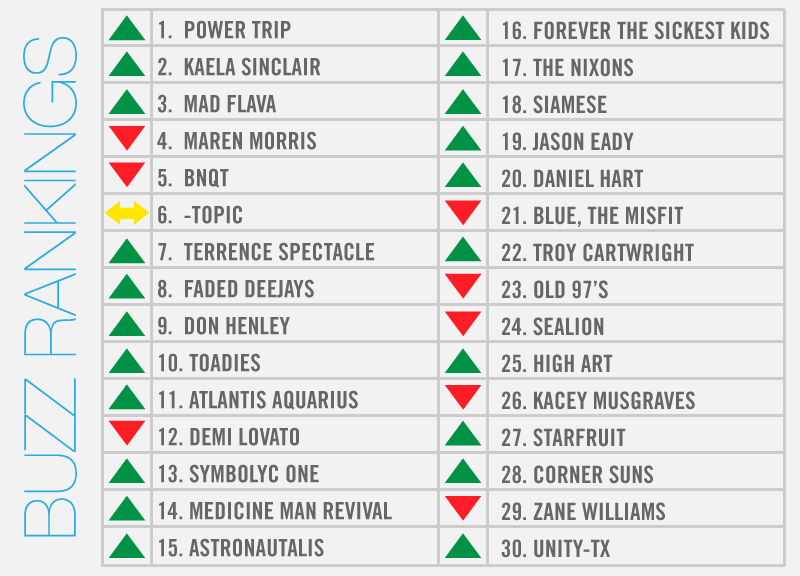 (Also receiving votes: Bobby Sessions, Mike Ryan, 88 Killa, Paul Cauthen, Koolquise, Trai Bo, The Unlikely Candidates, Charley Crockett, Andrew Combs, Pueblo, Recent Rumors, Daniel Markham, Ishi, Will Johnson, Red Shahan, AFK, Castro, Jenna Clark, Buffalo Ruckus, Left/Right, Little Beards, Vegan Shark, Acid Carousel, Def Rain, Animal Spirit, Pool Lights, Brave Combo, Epic Death, Pearl Earl, Asukubus, The Warden, B. Anderson, The Brehms.)
Power Trip cover photo by Karlo X. Ramos.