This Week, Maren Morris Took Home The Gold.
Each week, we take a survey of the local music scene and try to determine which acts in town are really putting in work and seeing it pay off. Which bands have the most intriguing shows coming up? Which bands are getting the most press around town? Which bands have accomplished the most notable feats of late? Based off these criteria, our music writers submit a list to be weighted and compiled into a master list revealed each week in this here space. We like to think it's fairly revealing. Check out our previous Buzz Rankings here.
Of the many times a year that the music industry comes together to pat itself on the back, Grammy night is perhaps the biggest of them all. And, once again, North Texans made a good showing at the event — none more so than Maren Morris.
Not only did she take home her first Grammy in the Best Country Solo Performance category thanks to her "My Church" single, but she also performed a duet with Alicia Keys at the ceremony.
That action was enough to send her to the top of our weekly, local music power rankings for the lucky 13th time.
Meanwhile, others earned their spots in the ranks thanks to Grammy wins, too, as Snarky Puppy, Pentatonix, Tamela Mann and Kirk Franklin all earned trophies, too.
Of course, the week's other big area music news was the 2018 Homegrown Festival lineup announce, which included the bookings of such area fan favorites as Tripping Daisy, Lower Dens, Motorcade, El Gato, RC & the Gritz, Cure for Paranoia, Lizzie Boredom and Greg Schroeder.
In other show news from the week: Norah Jones, Jonathan Tyler and many others are playing the big Neil Young tribute concert at Granada on Sunday; Granger Smith's headlining Billy Bob's this weekend; Jack Ingram's playing House of Blues; Charley Crockett sold out the Granada last weekend; Casey Donahew headlines the Mardi Gras Texas event this weekend; and Eisley is playing an album release show at the Cambridge room.
Elsewhere: DJ Sober threw his annual Satin Sheets party; St. Vincent was named Record Store Day's first female ambassador; and Power Trip's shooting a video this weekend.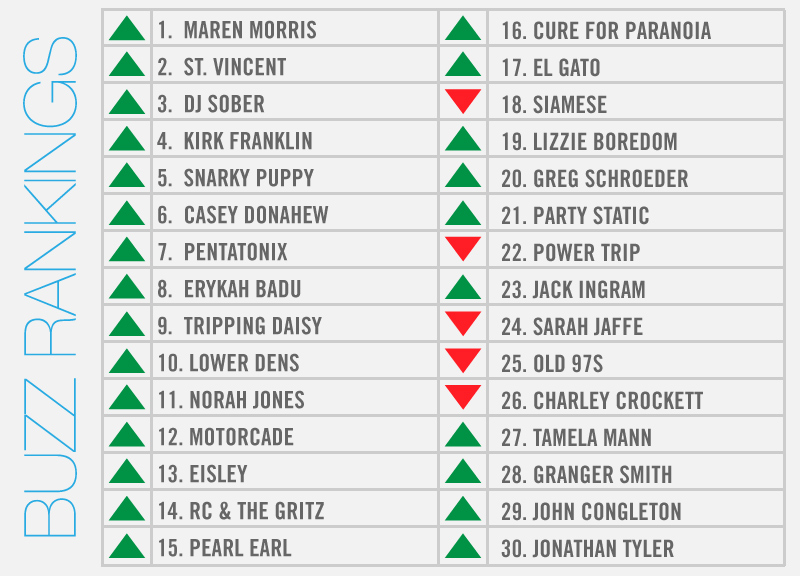 (Also receiving votes: Paul Cauthen, Sealion, Spinderella, Ty Richards, Mike Ryan, Troy Cartwright, Bobby Sessions, Sam Lao, Tum Tum, Mothership, Medicine Man, Acid Carousel, Carlyle, Selena Gomez, Alejandro Escovedo, Demi Lovato, Dailey, Miranda Lambert, Kacey Musgraves, Animal Spirit, Christy Ray, Pyrex Pirates, My Brightest Diamond, The Angelus, Krum, Sub-Sahara, Cygnus, The New Year, Jacob Metcalf, -topic.)
Cover photo via Maren Morris' Twitter feed.