It's High Time Kacey Musgraves Wound Up On Top.
Each week, we take a survey of the local music scene and try to determine which acts in town are really putting in work and seeing it pay off. Which bands have the most intriguing shows coming up? Which bands are getting the most press around town? Which bands have accomplished the most notable feats of late? Based off these criteria, our music writers submit a list to be weighted and compiled into a master list revealed each week in this here space. We like to think it's fairly revealing. Check out our previous Buzz Rankings here.
When she's not recording star-studded Christmas albums or song-swapping with the likes of James Taylor, Chris Stapleton, Joe Walsh and Vince Gill, Kacey Musgraves likes to remember her roots. And, like every good North Texan, that means getting stoked for the opening of the State Fair of Texas.
Musgraves isn't just going out there to chow down on cookie fries, though. She's performing a free concert tomorrow on the fair's opening night. Talk about the perfect date opportunity.
Even more interesting? The fact that the multiple Grammy winner has somehow never topped our weekly, local music power rankings. Well, that changes today, as she now adds the extremely prestigious honor to her list of accomplishments.
Just behind her this week is her fellow Grammy winner Norah Jones, who not only came home for a headlining set at last weekend's Oaktopia fest, but added UNT's highest medal to her own list of accomplishments.
Speaking of accomplishments: Selena Gomez became the first Instagram user to reach 100 million followers; Pentatonix's "Jolene" video passed 10 million views and counting; and Dana Harper, Josh Halverson, Austin Allsup and Simone Gundy were seen by millions as they were each selected to join Season 11 of The Voice.
As far as live shows go, Madison King and The Roomsounds played last weekend's Smoked Festival, although the Toadies' headlining set was cancelled due to rain.
Elsewhere; Blue, the Misfit is holding some listening parties for his new record this week; Curtis Mayz and StarMusic214 opened for YG; Prophets & Outlaws took home a Texas Regional Radio Award; and Quaker City Night Hawks is playing Austin City Limits.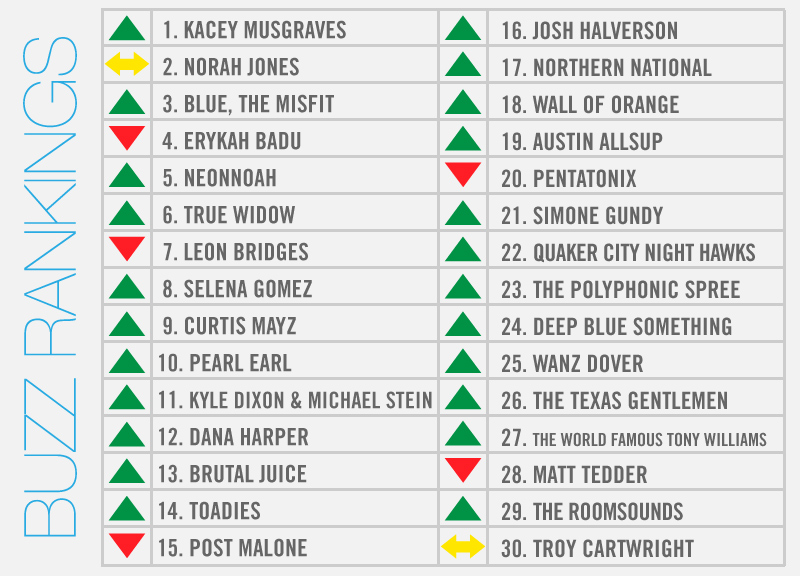 (Also receiving votes: Prophets & Outlaws, The Heavy Hands, Moon Waves, The John Stewart, Party Static, Madison King, Jessie Frye, 88 Killa, Charley Crockett, Jonathan Tyler, Whiskey Folk Ramblers, Da Dreak, Buffalo Black, Caterpillars, Lizzie Boredom, SuperSonic Lips, StarMusic214, Raised Right Men, Sub-Sahara, Lily Taylor, Acid Carousel, Nervous Curtains, Vegan Shark, Dezi 5, Loafers, Vanilla Ice, Spencer Kenney, Programme, Phantom Sensation, RTB2, Masa Lopez, Animal Spirit, New Science Projects, FELT & FUR.)