This Week, The Toadies Got Low.
Each week, we take a survey of the local music scene and try to determine which acts in town are really putting in work and seeing it pay off. Which bands have the most intriguing shows coming up? Which bands are getting the most press around town? Which bands have accomplished the most notable feats of late? Based off these criteria, our music writers submit a list to be weighted and compiled into a master list revealed each week in this here space. We like to think it's fairly revealing. Check out our previous Buzz Rankings here.
It's been a big week for the North Texas rock heroes in the Toadies.
Last Friday, the band released a new album called The Lower Side of Uptown. This week, they landed on the cover of the Fort Worth Weekly. And this weekend, they'll be hosting their 10th annual namesake music festival Dia De Los Toadies, out at Possum Kingdom Lake.
Disregarding even the fact that we're talking about a band held in such high esteem locally as the Toadies are, that's a three-fer of accomplishments that would be tough for any act to top on any given week of the year. And, for that reason, the Toadies find themselves in the top spot this week — topping some other big names with some accomplishments of note all their own.
St. Vincent comes in second place in this week's Dallas-area music power rankings as her profile continues to increase in the ramp-up for her own October-due album. Leon Bridges, meanwhile, takes third place with his placement in D Magazine's list of the most stylish Dallasites of 2017, his new song with Odesza and the fact that he'll be joining Willie Nelson in a Hurricane Harvey benefit concert in Austin next week. And the guys in S U R V I V E? Well, they just got themselves and Emmy, which puts them at No. 4. And The Texas Gentlemen, they've got their debut LP, TX Jelly, due out tomorrow.
Elsewhere: The Outfit, TX are still riding high on the release of their new Fuel City LP; Post Malone just keeps staying in the news; the Old 97's and Edie Brickell are playing the Bomb Factory on Saturday night; Bowling For Soup was announced as the headliner of a new local fest called Skate or Die; Dark Rooms and Dezi 5 both returned to town for homecoming shows; and Lizzie Boredom and Loafers are still out on the road, touring the country.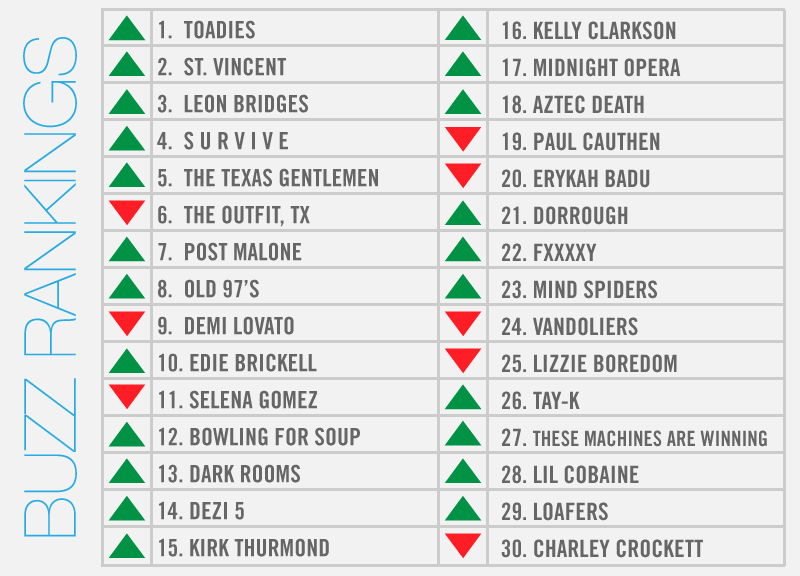 (Also receiving votes: T.Y.E, Maren Morris, Sealion, Acid Carousel, Monoculture, Native Fox, Bummer Vacation, Sub-Sahara, Curtis Mayz, Dave Morgan, Chillamundo, Rami, Sad Cops and Zach Witness.)