This Week, Vaden Todd Lewis Came To Play.
Each week, we take a survey of the local music scene and try to determine which acts in town are really putting in work and seeing it pay off. Which bands have the most intriguing shows coming up? Which bands are getting the most press around town? Which bands have accomplished the most notable feats of late? Based off these criteria, our music writers submit a list to be weighted and compiled into a master list revealed each week in this here space. We like to think it's fairly revealing. Check out our previous Buzz Rankings here.
You know what's super? The Super Bowl. Come on, it's right there in the name. Arguably just as super are the commercials that run during the sports game. This year, advertisers spent more than $5 million to run 30-second spots during the contest. Crazy.
Your Texas Rangers got in on that action, too. Granted, it was a local ad, so the team probably didn't spend the equivalent of a year's salary for Jonathan Lucroy to run a commercial of their own that featured Toadies frontman Vaden Todd Lewis singing about how football season is over, but baseball season is just around the corner. But it's still crazy cool that they did anything even close to that.
Anyway, that buy helped Lewis reach the apex of our weekly, local music power rankings for the first time on his own — although, to be fair, his band has managed the feat a few times as a unit.
A handful of other acts — like Sam Lao, Sarah Jaffe and Leon Bridges — also earned their spots this week thanks to the Super Bowl. That trio, you should know, performed at official Super Bowl-related events in Houston in the build-up to the big game.
Meanwhile, just behind Lewis were some acts that haven't taken the stage in a very long time. MC 900 Ft. Jesus headlined a sold-out Kessler this past weekend during his first live performance in years. Likewise, The Gorehounds headlined a sold-out Three Links in its first show in a year-and-a-half since its frontman was battling cancer.
Sticking on the live front: Charley Crockett is headlining the Granada this weekend, Dezi 5 is performing Beyonce's Lemonade at the Double Wide, Ty Richards is celebrating the release of his killer new LP at Three Links, The Unlikely Candidates were added to the St. Patrick's Day parade lineup and Bobby Sessions released a wonderful sophomore album last weekend. And that was enough to get each of those acts into the rankings, too.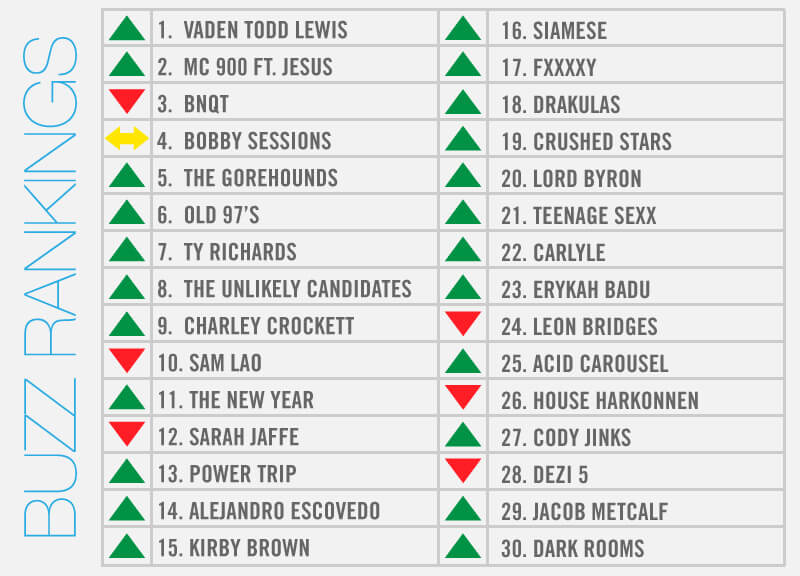 (Also receiving votes: Luke Wade, Pool Lights, Maren Morris, Blue, The Misfit, Pearl Earl, EATQS, Brutal Juice, Pyrex Pirates, Garrett Owen, Medicine Man, Natural Anthem, Danny Diamonds, Star Music, David Morgan, Whiskey Folk Ramblers, Sealion, New Fumes, Claire Morales, Daniel Markham, Pleasure Crisis, Wesley Jenson, iill, Fishboy, Stone Machine Electric, Bargoyles, T-Ryde, Psychic Killers, Scott Copeland.)