This Week, Maren Morris Had Her Eyes On The Prize.
Each week, we take a survey of the local music scene and try to determine which acts in town are really putting in work and seeing it pay off. Which bands have the most intriguing shows coming up? Which bands are getting the most press around town? Which bands have accomplished the most notable feats of late? Based off these criteria, our music writers submit a list to be weighted and compiled into a master list revealed each week in this here space. We like to think it's fairly revealing. Check out our previous Buzz Rankings here.
There was little question who would wind up atop our weekly, local music power rankings this week. It was pretty much determined at the start of the week that it would be Maren Morris.
The rising country star kicked her week off by collecting four Grammy nominations — she's up for "Best New Artist," "Best Country Solo Performance" and "Best Country Song," both for "My Church" and "Best Country Album" for Hero. And, honestly, it only gets better from there, as she'll end the week as the musical guest on this weekend's episode of Saturday Night Live.
Yup, she's not just on top of our little music community, at the moment. She's on top of the rest of the world, too. The win makes her 11th overall Buzz No. 1.
Joining Maren with Grammy nods of their own this week were Kirk Franklin, Miranda Lambert, Demi Lovato, Snarky Pupppy, Kelly Clarkson, Pentatonix, Kyle Dixon & Michael Stein, Andrew Savage (of Parquet Courts) and Leon Bridges. You can find out what they're each up for here.
Closer to home, a whole bunch of acts making the list this week won Dallas Observer Music Awards, although none won more than Sam Lao, who took home five whiskey-filled trophies on Tuesday, sweeping every category she was up for.
Along with Lambert and a few other locals, Denton's Cody Jinks also earned a spot on Rolling Stone's list of the year's best country albums. We should also point out that Morris also topped that list.
Moving on to the weekend's biggest shows: The Polyphonic Spree's annual Holiday Extravaganza will run amok at The Majestic on Saturday, The Raven Charter will play its farewell show at Trees on Friday, and The Outfit, TX's Players Ball is at Dada on Saturday.
Elsewhere: Post Malone's long anticipated solo LP finally drops tomorrow; St. Vincent's horror movie snagged a release date; and Power Trip is raising money for charity.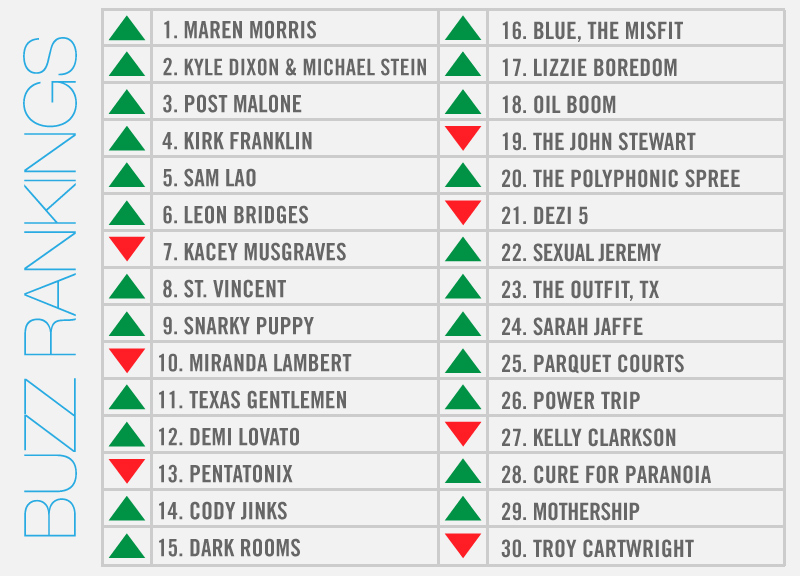 (Also receiving votes: Different Strokes, Son of Stan, Loafers, Paul Slavens, Charley Crockett, Austin Allsup, Madison King, Ishi, Sealion, Granger Smith, Def Rain, 88 Killa, Whiskey Folk Ramblers, Jessie Frye, The Raven Charter, Bravo, Max!, Dead Flowers, Supersonic Lips, Steve Gnash, Sikwitit, The Birds of Night, Quaker City Night Hawks, Party Static, Buffalo Black, Medicine Man, Teenage Sexx, Old 97's, Sarah Sellers, Complete, Trai Bo and Billie Band$.)