This Week, Erykah Badu Had Soul Power.
Each week, we take a survey of the local music scene and try to determine which acts in town are really putting in work and seeing it pay off. Which bands have the most intriguing shows coming up? Which bands are getting the most press around town? Which bands have accomplished the most notable feats of late? Based off these criteria, our music writers submit a list to be weighted and compiled into a master list revealed each week in this here space. We like to think it's fairly revealing. Check out our previous Buzz Rankings here.
Another week in Dallas, another week of Erykah Badu dominating the news cycle. That's something we're pretty used to by now, given that she's now topped our weekly, local music power rankings 21 times.
For those keeping track of that sort of thing, that puts her just one No. 1 behind Leon Bridges 22 for the all-time lead.
But, hey, there's no denying that Ms. Badu earned her buzz this week. Playing host and performing at last weekend's Soul Train Awards and getting a New York Times fashion write-up are pretty, pretty, pretty big.
Also on TV this week were multiple-time Buzz champs Kacey Musgraves and Kelly Clarkson (the former of which was also joined by The Quebe Sisters) for performances at the CMA Country Christmas, which aired on ABC.
A few notches down on the dial, Pentatonix performed alongside Miley and Dolly on The Voice this week. And they weren't the only locals on the show. Spoiler alert: In this week's live battles, Fort Worth's Austin Allsup ended his run in the contest.
Also this week, Medicine Man made its debut and let us premiere their first-ever single.
Elsewhere: Troy Cartwright headlined Billy Bob's; Dezi 5, Sam Lao, Sealion, Loafers and Charley Crockett were featured in a recent Dallas Observer cover story; and The Raven Charter called it a day.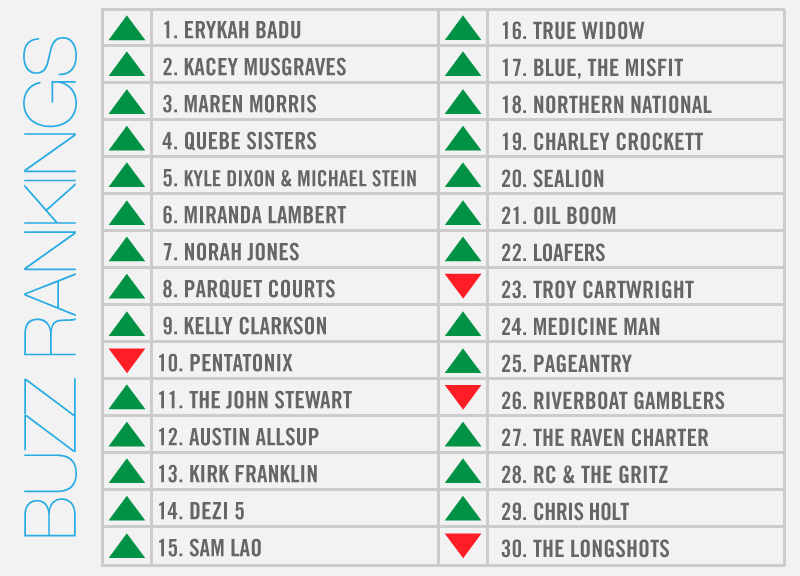 (Also receiving votes: Street Hymns, The Outfit, TX, Sarah Jaffe, Steve Gnash, Post Malone, Bravo, Max!, Party Static, Sean Russell, Convextion, Sexual Jeremy, Lizzie Boredom, Dead Flowers, DJ Sober, 88 Killa, Complete, Bummer Vacation, Son of Stan, The Birds of Night, Goodnight Ned, War Party, Seres, The Angelus, Creepeth, Heater, Trai Bo, Sarah Sellers, The Sex Rynos.)
Cover photo by Kathy Tran.