Seven Refreshing Ways To Really Set Your Summer Off.
A mixed drink before noon may cause some heads to turn. But a frozen cocktail on a stick? That's a perfectly acceptable summertime treat, day or night.
These "boozy pops" are inspired by your favorite alcoholic beverages — except they're even more refreshing. So when the Texas heat really begins to bite, grab a boozy pop and bite back! Here are seven recipes to get you started.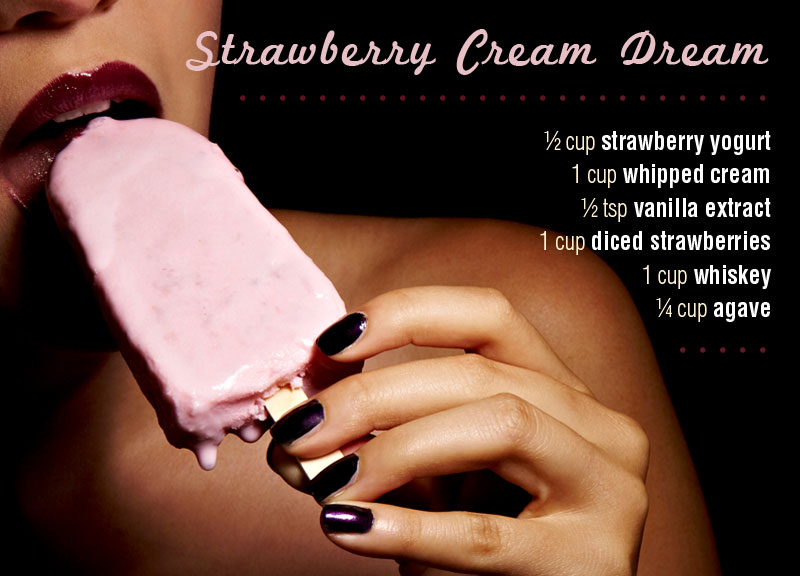 Strawberry Cream Dream
Ingredients: 1/2 cup of strawberry yogurt, 1 cup of whipped cream, 1/2 tsp of vanilla extract, 1 cup of diced strawberries, 1 cup of whiskey, 1/4 of cup agave.
Directions: Combine strawberries and half of your whiskey. Add agave and remaining whiskey slowly. In a large bowl, combine yogurt, whipped cream and vanilla extract. Fold in strawberries. Pour into Dixie cups with sticks or popsicle molds. Freeze for five to six hours.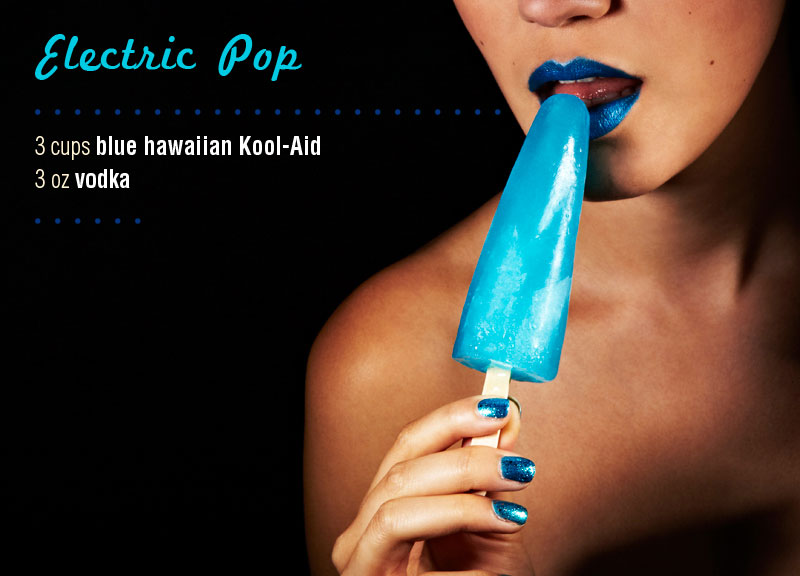 Electric Pop
Ingredients: 3 cups of blue Hawaiian Kool-Aid, 3 oz. of vodka.
Directions: Mix Kool-Aid and vodka. Pour into popsicle molds. Freeze for 6 to 8 hours.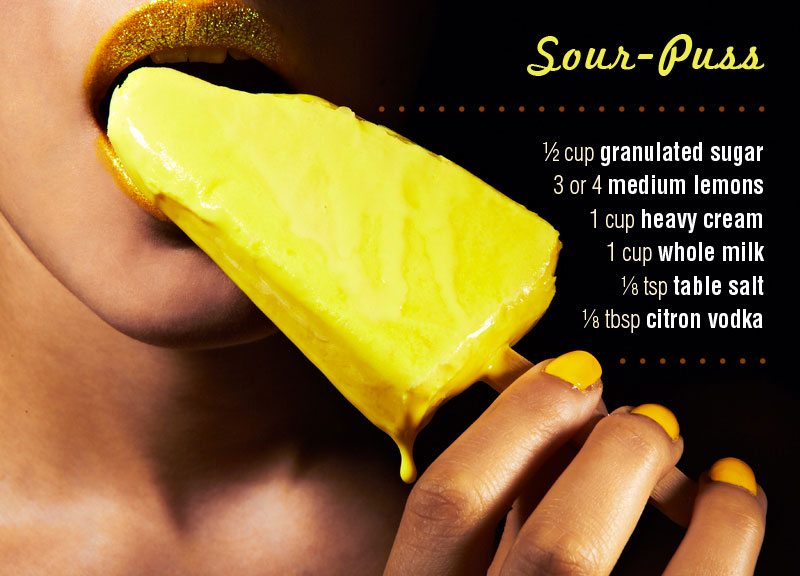 Sour-Puss
Ingredients: 3 or 4 medium-sized lemons, 1 cup of heavy cream, 1 cup of whole milk, 1/2 cup of granulated sugar, 1/8 tsp of table salt, 2 tbsp of citron vodka.
Directions: Remove zest from 3 lemons in 3- to 4-inch-long strips. Combine zest, cream, milk, sugar and salt in a large saucepan. Bring to simmer over medium heat, stirring occasionally to dissolve the sugar. Remove from heat. Let steep at room temperature, stirring occasionally, for 20 minutes. Squeeze 2/3 cup of juice from lemons. Stirring constantly, pour the lemon juice into the cream mixture in a slow stream. Stir in the vodka. Pour into molds. Freeze for 5 to 6 hours. Insert craft sticks and freeze for 2 hour more.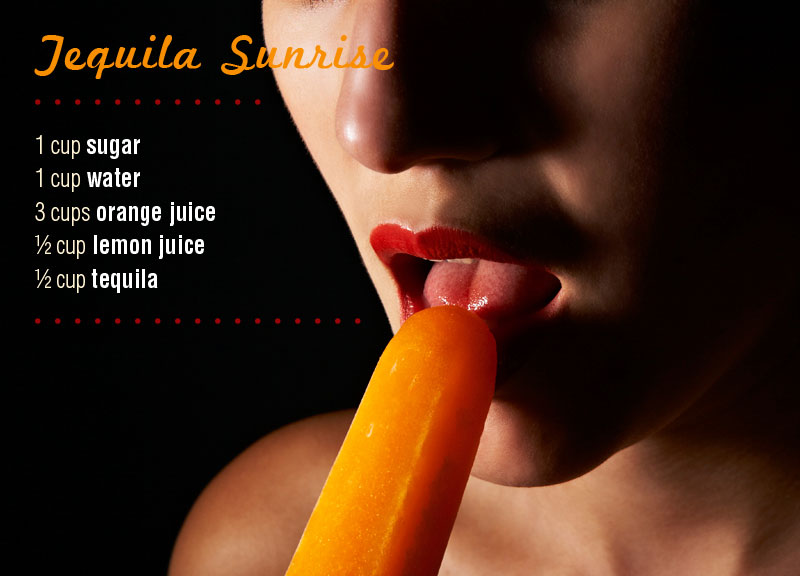 Tequila Sunrise
Ingredients: 1 cup of sugar, 
1 cup of water, 
3 cups of orange juice, 
1/2 of a lemon (juiced
) and 1/2 cup tequila.
Directions: Mix water and sugar in a small pan over a low heat, and bring to boil for four minutes. Remove from heat and cool. Combine citrus juice and tequila. Add 1 cup of cooled syrup. Pour into molds. Freeze for 8 hours.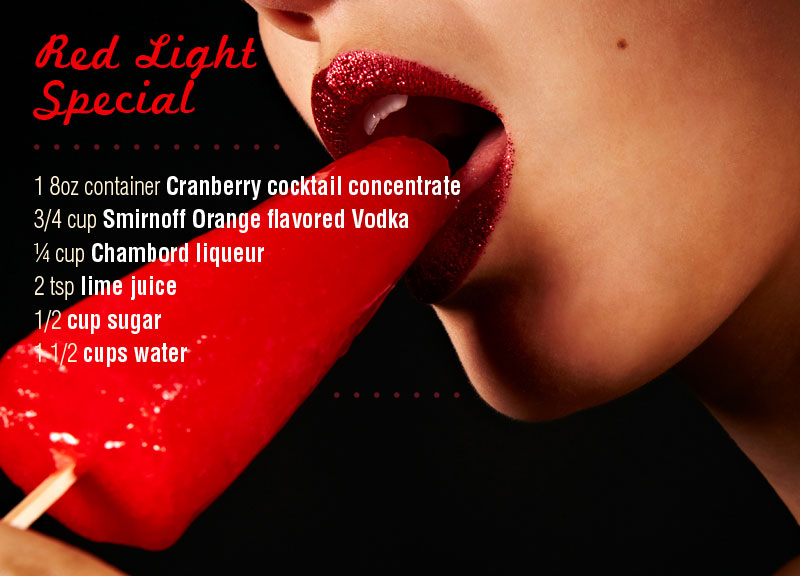 Red Light Special
Ingredients: An 8 oz. container of frozen cranberry cocktail concentrate, 3/4 cup of Smirnoff Orange vodka, 1/4 cup of Chambord liqueur, 2 tsp of lime juice, 1/2 cup of sugar, 1 and 1/2 cups of water. (If you want just the liqueur, add only a 1/2 cup of water. The extra cup of water is so the Popsicle will harden.)
Directions: Combine all ingredients, adjust to taste and pour into molds. Freeze for 6 to 8 hours.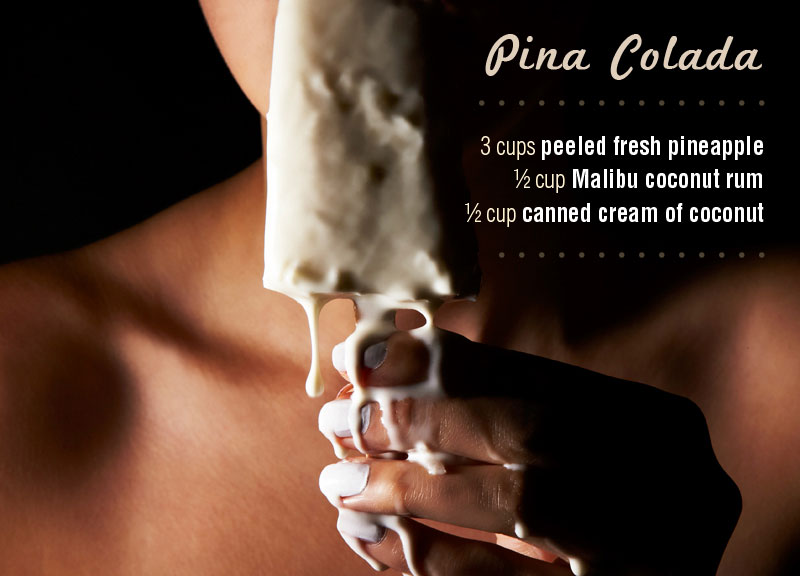 Pina Colada
Ingredients: 3 cups of peeled fresh pineapple cut into cubes, 1/2 cup of Malibu coconut rum, 1.2 cup of canned cream of coconut.
Directions: Blend all ingredients in a blender until smooth. Pour into molds and add sticks. Freeze for at least 12 hours.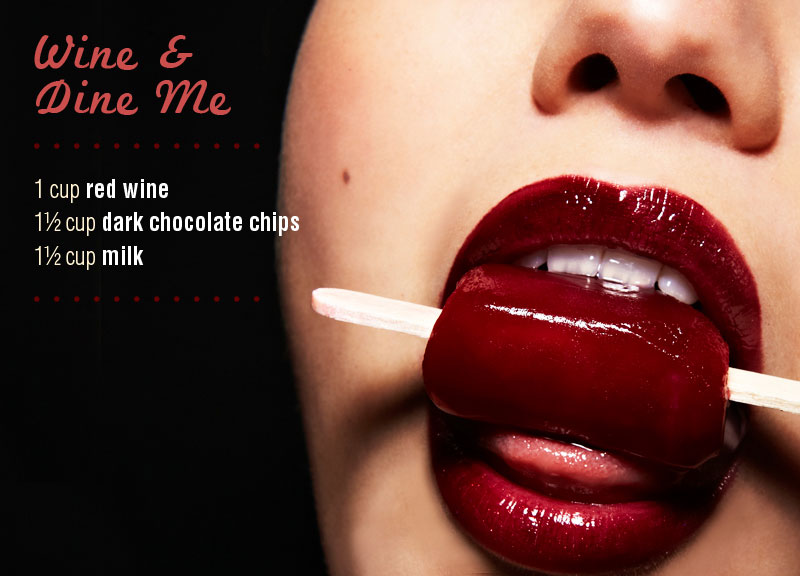 Wine & Dine Me
Ingredients: 1 cup of red wine, 1 and 1/2 cups of dark chocolate chips and 1 and 1/2 cups of milk.
Directions: In a small pot, simmer the wine over low/medium heat for 12 to 18 minutes, allowing it to reduce. Remove from heat and whisk in the chocolate until the chips are completely melted. Stir in the milk. Pour into your popsicle tray and freeze overnight.
Photographer: Steve Visneau.
Art Director/Producer: Brittany Winter.
Makeup Artist: Shane Monden.
Model: Marisol Alfaro.
Recipes: Melissa Mack.
Graphic Design: Lenzi Jo Gall.
Assistant: Olivia June Preuss.