Some Seven Years After The Idea First Began Percolating, Local Denton Radio Station KUZU Is Now Broadcasting Across The City's Airwaves.
Saturday nights at the Harvest House usually feature crowds of Dentonites gathering to socialize with one another as live music is performed on the venue's stage. To that end, this past Saturday night at the outdoor Denton venue looked just like any other.
But this past Saturday night was indeed different, and seasoned with a more congratulatory flavor: On this night, the droves of people filling up Harvest House's confines were showing up not to simply celebrate music that was being performed live on the Harvest House stage necessarily; more so, they were honoring the fact that, starting on this day and moving forward, Dentonites would be able to celebrate their town's musical heritage whenever they so chose via the radio airwaves thanks to the launch of the city's new local radio station, KUZU 92.9 FM.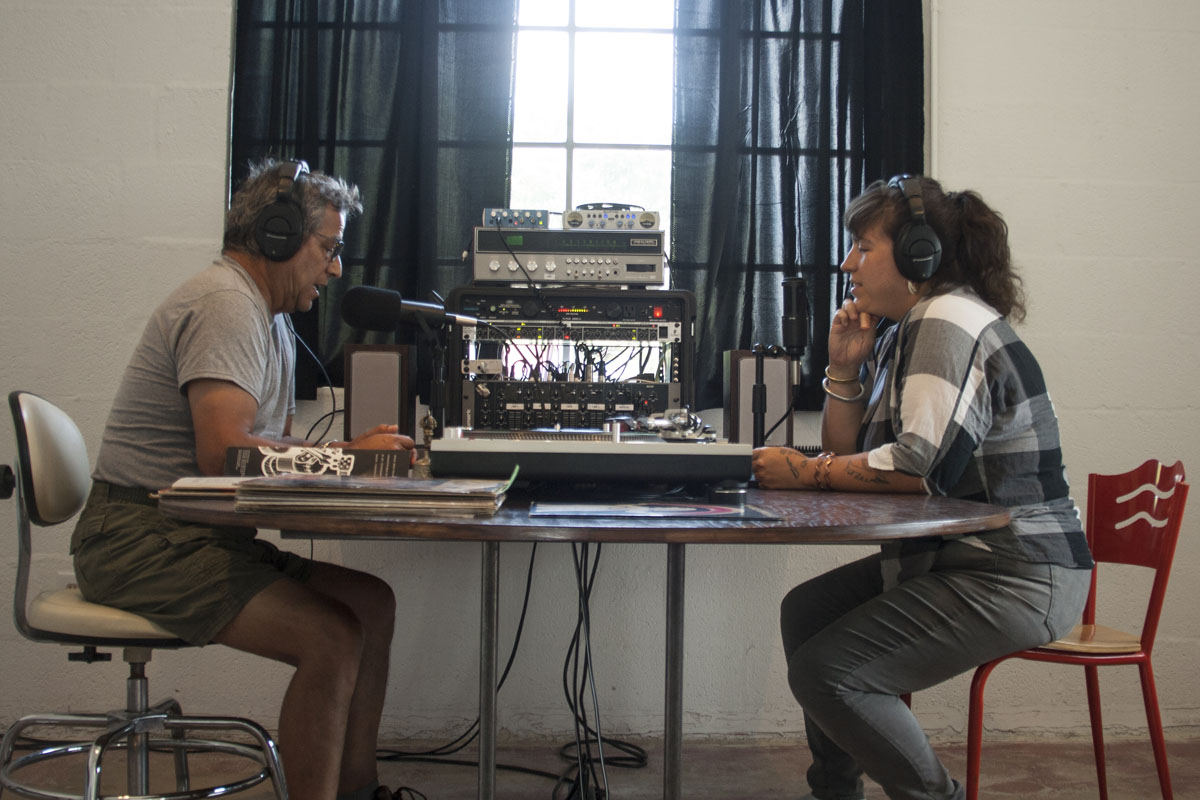 The mantra for KUZU, a 24/7 nonprofit, non-commercial radio station, is fairly simple: For the community, by the community.
"The idea is kind of cliche-ish: Giving the voice back to the people," said Peter Salisbury, the chair of the board of directors for KUZU. "Giving a voice to communities that are in a saturated radio market to talk about local issues and play local bands."
Of course, KUZU didn't just fall from the sky, and the station and its antenna and DJs didn't just instantly will themselves into existence. This story actually begins in the home of longtime Denton residents and two of the station's founders, Salisbury and Erin Findley.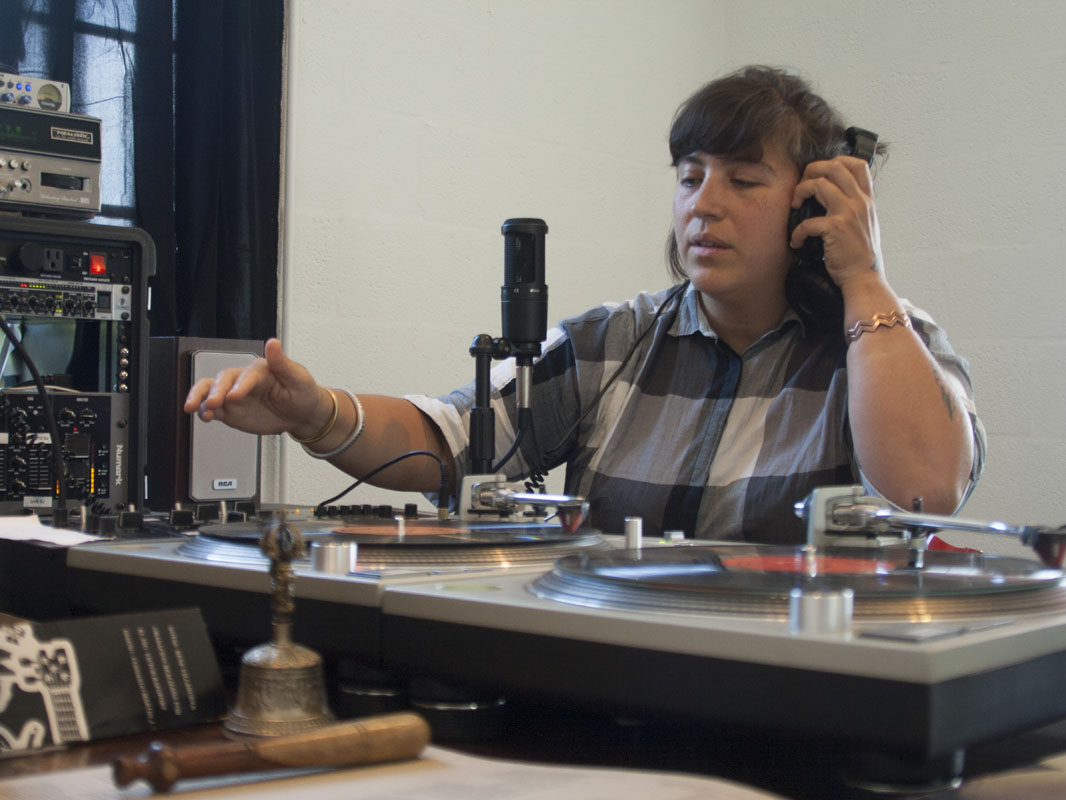 Let's wind the clock back for a moment to 2010. It was around this time that Salisbury and Findley first began dabbling in the world of low power radio. The two had begun their own Part 15 AM station, located on at the 1670 AM frequency in a very small radius around their home. Part 15 is the FCC classification for low wattage unlicensed broadcasting — systems typically used in very small areas for things like drive-in movie theaters. To put things in perspective, this license generally allows a station .1 watts of broadcasting power, while a large DFW radio station usually has a wattage around 100,000. But Salisbury and Findley were passionate about their effort, running their station 24/7 and often bringing in friends to do their own shows on the station.
"For years, living in Denton and hanging out with our friends, we weren't too enthused about what was on the radio and we weren't totally stoked about the representation locally in Denton," Salisbury says. "So that kind of desire to have that representation of talent is what it stemmed from early on."
Salisbury and Findley have had their roots planted in the Denton community for years now. Take one look at Salisbury's shaggy hair and whatever flannel shirt he's wearing that day, and you catch on pretty quick this guy is involved with music. And, to be sure, he's been a part of some of Denton's most well-known bands, such as Mind Spiders, Baptist Generals and Stumptone. Findley, meanwhile, has been an elementary school teacher in Denton for the past decade.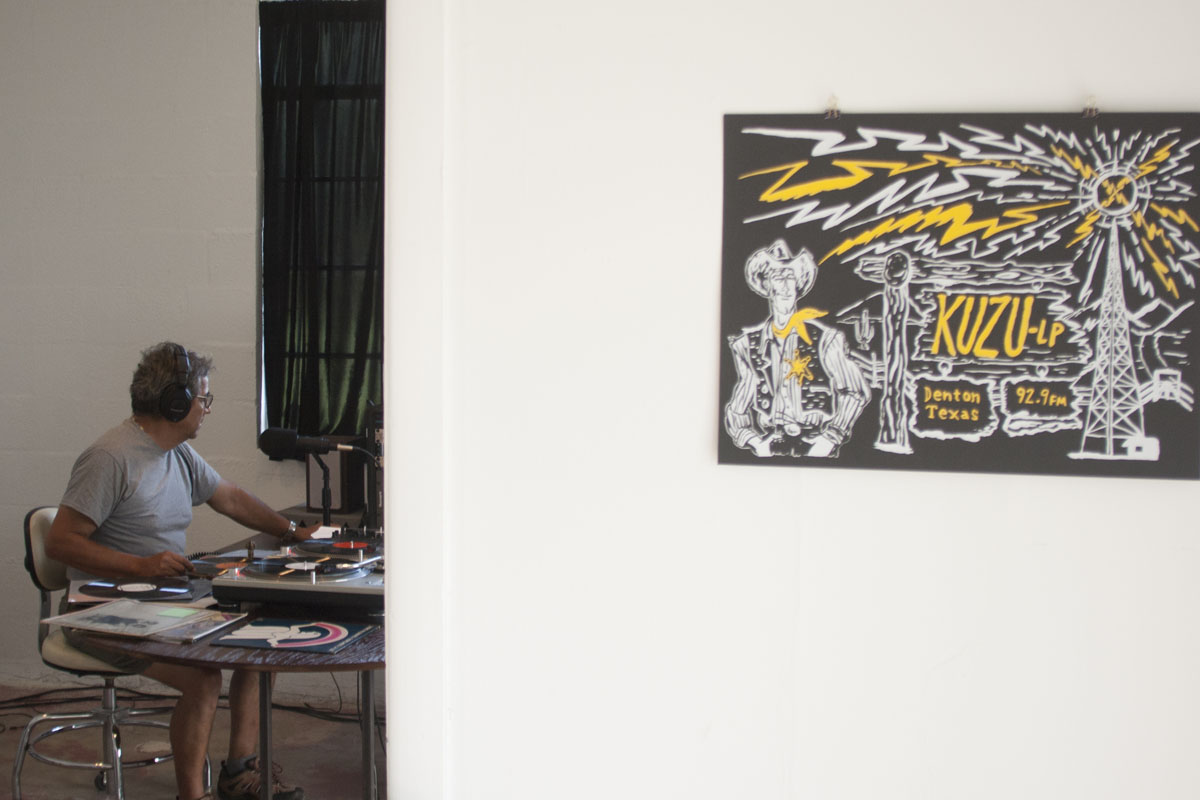 After a few years of running their own, oftentimes literally under-the-radar station, Salisbury was then approached by a grassroots organization called Common Frequency, a nonprofit group advocating for local radio stations — or, more specifically, Low Power FM stations. LPFMs were created through the Community Radio Act of 2010, which provided a new classification of radio broadcasting licenses to be taken. When these station licenses were being given out around 2013, Salisbury reached out to his friend Kelley Pound, who, at the time, was chair of the Denton Holiday Lighting Association — a very specific organization looking to spread its wings a little further. The two spoke with several others involved in the 1670 AM station about the possibility of applying for an LPFM license.
Getting an LPFM license meant dealing with the failings of bureaucracy, and the application process took about two years. But finally, in 2015, the Denton Holiday Lighting Association was granted a construction permit by the FCC for a radio tower. Once they could begin broadcasting, they would be given their LPFM broadcasting license.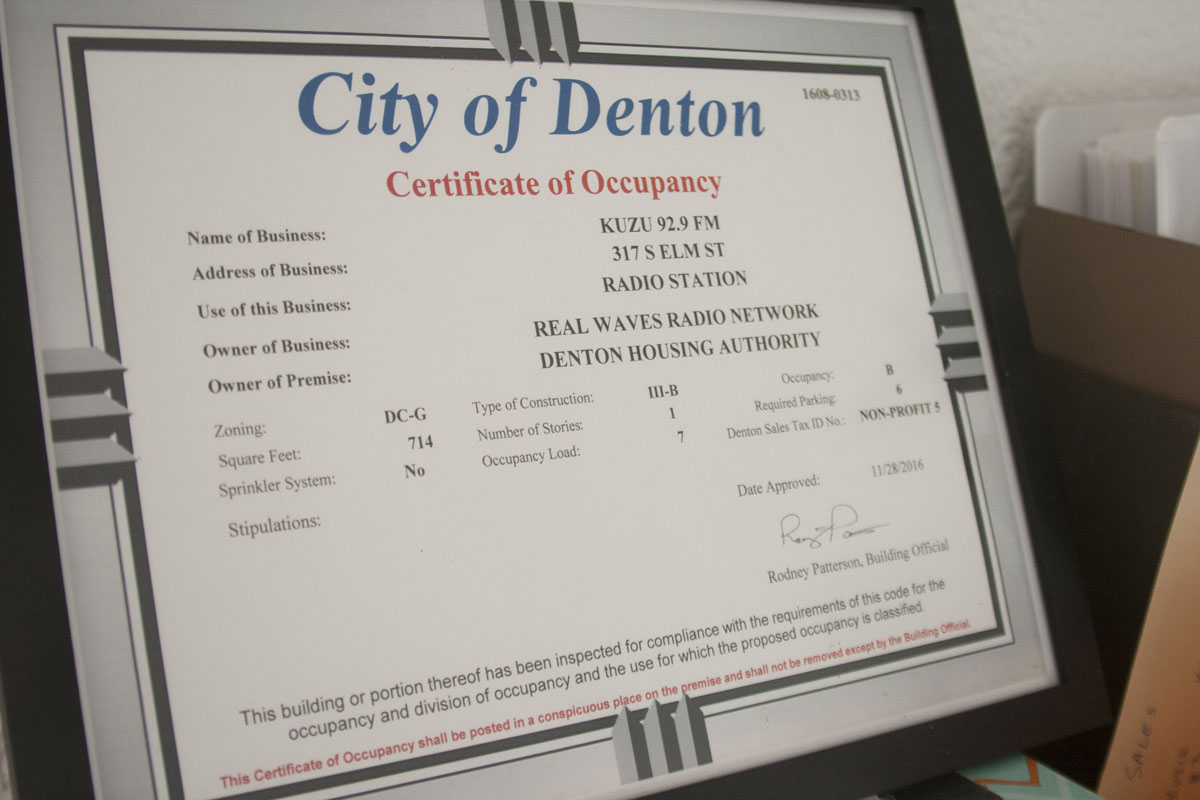 During this time, the nonprofit Real Waves Radio Network was founded, with Salisbury as the chair of the board of directors and Sashenka Lopez as its vice-chair. Lopez had been part of 1670 on the show "Fake Parts" with her co-host and fellow chair member, Julie McKendrick.
"This idea of being on the radio, I never thought it was a possibility," Lopez says. "And when I was invited to sit in on this local radio station, and I saw my friends actively participating in it, I thought this could be a reality for me."
With the nonprofit formed, and the construction permit granted for the broadcast tower, it seemed like there would be only one more thing to take care of — paying for the damn thing. In order to run as a fully functioning radio station, KUZU would need tens of thousands of dollars for equipment — items such as a $5,000 LPFM transmitter, an antenna, audio equipment, cabling and much more. Due to the station being nonprofit and community-driven, Real Waves Radio Network set up a Kickstarter, asking for $25,000 in donations. Dentonites managed to show their support and interest, giving a total of $26,790 to the KUZU Kickstarter.
But even with that money in hand, there was more to be done. And earning permits to acquire a building, installing a tower, erecting an antenna, training DJs and develop programming took longer than anticipated.
"It took many months trying to find the right spot," Findley says. "We thought we'd be on the air a year ago — almost to the day. It's been a lot of hoops to jump through."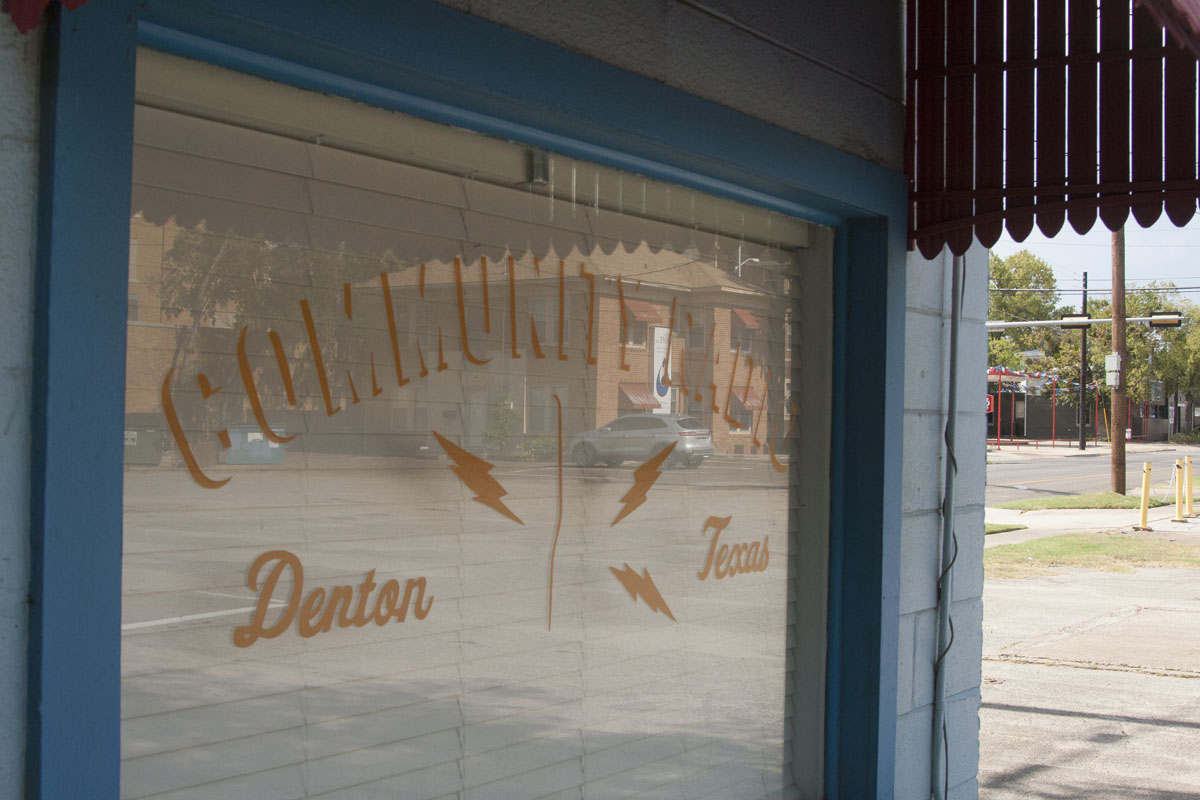 The group was faced with the slog of both getting the radio tower and antennae built and installed, as well as actually acquiring their station's eventual home, which KUZU is leasing from the Denton Housing Authority. Located on Elm Street just a quick stroll from Denton's square, KUZU's home is a small, brightly pastel-colored box of a building that's been around since the '50s and boasts a history of housing several small businesses, including a candle store, and most recently, a secondhand pet store and knife-sharpening business. The candle store's sign is even still up outside the building, stating "Light the Wick" in big, bold lettering.
Once that space was acquired, work began to get it shipshape for KUZU's launch. Appropriately enough for a radio station determined to serve the community, members of the community came out to help put together the station; Sound engineer and musician Justin "JC" Collins helped to put together the console for the station; David Morales, one of the founding donors, constructed the DJs table that's now attached to the wall; and the logo for the station is still currently being painted as well by local artist Sean Starr. Other piece of equipment, including KUZU's sound mixer, were acquired from KNTU, the University of North Texas' radio station's surplus.
Because of the station's focus on community programming, station organizers saw fit that the community contribute ideas to the programming and that it actually take part in hosting the shows. They allowed anyone to fill out an application for show ideas, and accepted pretty much anyone with a solid idea and plan for a radio program.
"If they had a title and knew what they wanted to do with their show, we gave them a shot," Lopez says. "If they were like 'I really want to do it, and I could do A, B, C, or D,' they'll be in our next round of producers, because they'll need a little more help focusing their idea."
In turn, the station's opening lineup was determined to feature a wide variety of programs — more than 30, in fact — covering multiple genres of music and not just limiting itself to local music, although there will be plenty of that. Everything from electronic to Tejano music will be represented, along with talk shows like "Meriwether Hour," where host Mateo Granados will interview local musicians and talk about the Denton music scene.
The antenna and tower were finally completed on June 29, just a little less than a month out from Saturday's launch date. That completion was an event in itself, as people came out to tailgate in the parking lot, and a drone flew by, capturing footage of the tower installation against the backdrop of Denton's square. Coming to a height of 230 feet, with the antenna placed 115 feet upde, the signal shoots out in a cardioid pattern, going strong to Sanger in the north, dying out in Ponder to the west and going as far south as Lake Dallas.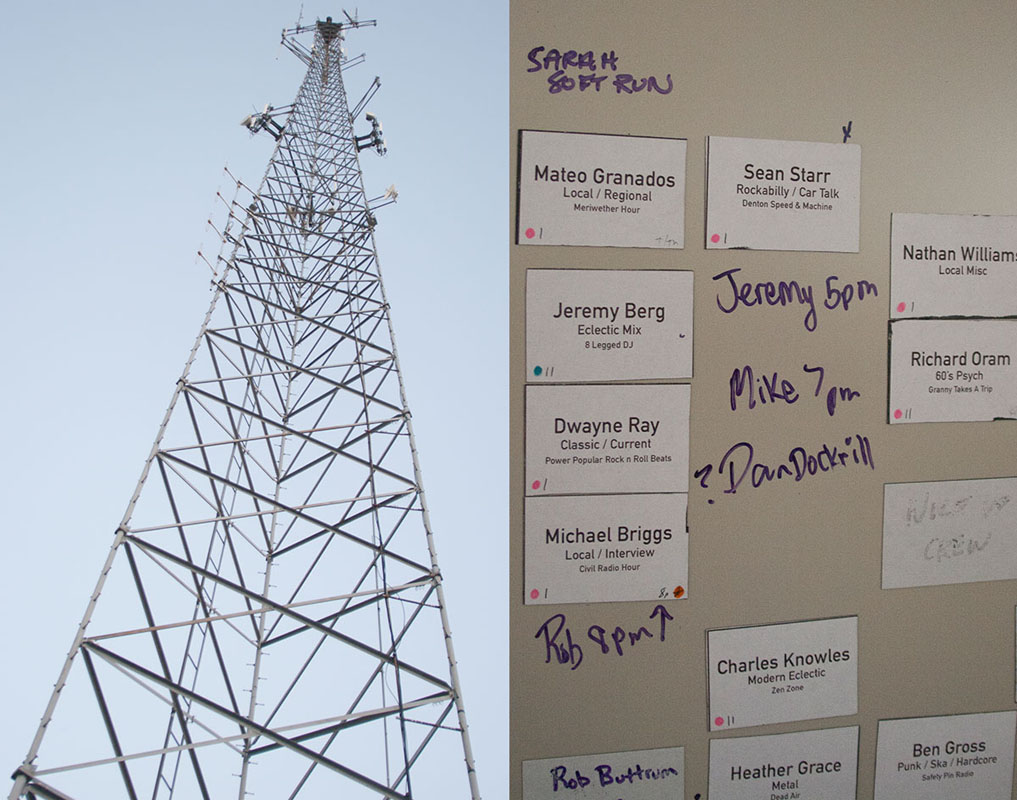 After installation, and several weeks of training and test runs, KUZU formally launched at noon on July 22, and things have been running without a proverbial hitch ever since, between the multiple programs they have on the station and the automated programming they have set up for its unscheduled hours. Its opening hours were dedicated to the local music of the town which supports it — featuring audio from the song "Denton, USA" from the movie Shock Treatment, old audio from '50s radio jingles about Denton, and local musicians singing about the city's "hipster girls" and "guys in plaid," neither of which weren't few and far between at the KUZU blast-off party at Harvest House.
After years of working to make this station a reality, Salisbury says that the final product of what he envisioned KUZU becoming turned out to be even better than he had expected. And with an impressive turnout at its launch party — and with many more planned parties still to come — RWRN will be tuning in to its own listeners to find out where the station will move forward from here.
To that end, he encourages audiences to turn to 92.9 on their FM dials (presuming, they're within broadcast range) or to listen to the station's online stream with a careful ear.
KUZU is clearly built on embracing the community. The next step is ensuring that the community reciprocates that same embrace.