This Week, The Dixie Chicks Mattered.
Each week, we take a survey of the local music scene and try to determine which acts in town are really putting in work and seeing it pay off. Which bands have the most intriguing shows coming up? Which bands are getting the most press around town? Which bands have accomplished the most notable feats of late? Based off these criteria, our music writers submit a list to be weighted and compiled into a master list revealed each week in this here space. We like to think it's fairly revealing. Check out our previous Buzz Rankings here.
It's been a pretty polarizing week, eh?
Aside from all that election business, the country was also divided during the CMA Awards, where fellow Texans the Dixie Chicks and Beyonce teamed up for a performance of the latter's "Daddy Lessons." And by "country" we mean "country music fans." And by divided, we mean they acted like racist fools.
Good or bad, it's helped the girls' names stay in the news a whole 'nother week, finally netting them their first-ever trip to the top of our weekly, local music power rankings. What's more, their fellow performers at those awards –Maren Morris, Kacey Musgraves, Miranda Lambert, Pentatonix and Mickey Raphael — also earned spots this week.
Also on TV, another country performer from around this way, one Austin Allsup, continued his run on The Voice. And Erykah Badu taped her second straight hosting gig at The Soul Train Awards, which will air on November 27.
Elsewhere: Ray Wylie Hubbard's in town celebrating his 70th birthday; RC & the Gritz dropped its new album; the SuperSonic Lips were crowned the champs of Ninkasi Brewing's summer-long battle of the bands; Snow tha Product headlines Trees; and Buffalo Black helped us throw an election party.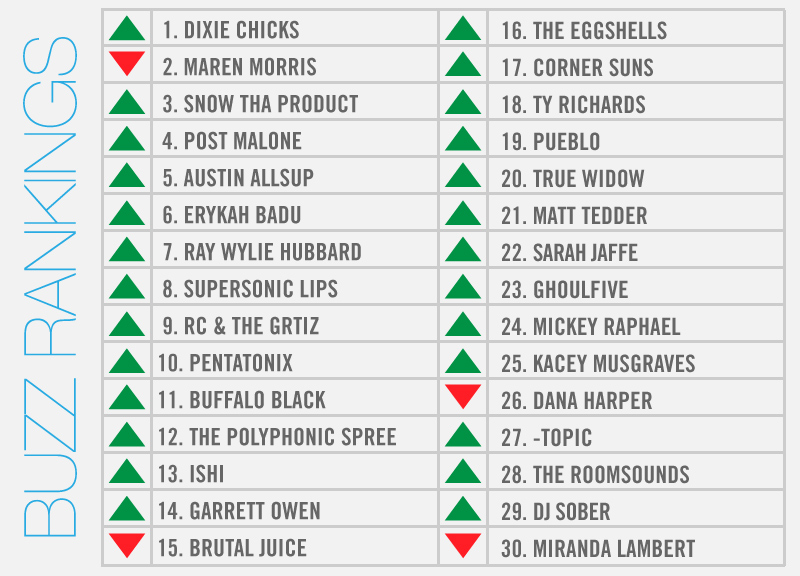 (Also receiving votes: Shotgun Friday, Sudie, Repel The Robot, Blue, the Misfit, Dorrough, Pearl Earl, Teen Slut, Markham & Morales, Thin Skin, Paul Cauthen, Kirby Brown, Ursa Minor, Vandoliers, Andrew Tinker, Troy Cartwright, Will Johnson, Wayne Hancock, Honor System, Ronnie Heart, Zane Williams, Christy Ray, Kirk Franklin, Raw Elementz, Midlake, Pinkish Black, Nervous Curtains, Siamese, St. Vincent, Sealion, Kelly Clarkson, Demi Lovato, Rhymin' N Stealin', Party Static, Ella Minnow, Black Taffy and Lily Taylor.)