Could Blue, The Misfit's Debut LP Possibly Live Up To Its Own Hype? Yes, Actually.
To say that Child In The Wild, the first full-length album from Dallas rapper, producer and Brain Gang leader Blue, The Misfit is a highly anticipated release? Well, that's something of an understatement.
It's been two years now since the man born Brandon Blue first offered area listeners a taste of his solo prowess with the release of his Numb EP, an effort that teased his potential and showed off his innovative and progressive tendencies as both a producer and a rapper worth watching.
But — and this is easy to forget — it was hardly his introduction to the hip-hop scene.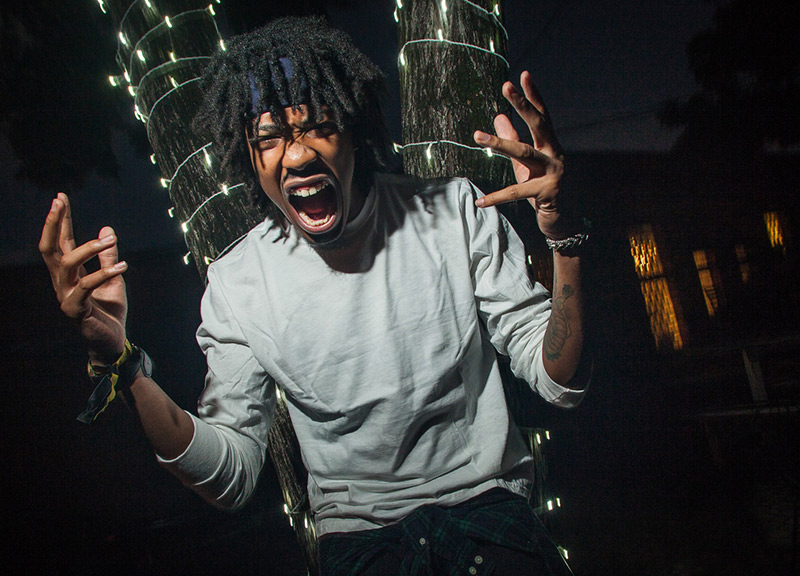 It was earlier, as one half of the Sore Losers duo, which burst onto the local and national scenes alike in 2009, when Blue really started to make a name for himself, eventually landing in Los Angeles for a brief stint, where he befriended another up-and-comer by the name of Kendrick Lamar. Those two would go on to collaborate more than a handful of times, with Blue producing a handful of tracks ("P&P" and "Faith") for the now-superstar performer and Lamar dropping a few verses for Sore Losers' own well-received 2009 mixtape, Free Loaders: The Soundtrack.
So perhaps it was fitting that, in March, as part of the build-up to Child In The Wild's release, that collaboration returned in the form of a track called "Drugs on the Schoolyard" — the release of which brought anticipation for Child In The Wild to its peak.
Rather conspicuously, though, that track's premiere on The Fader would soon be removed. And, in an even odder turn of events, so too would its inclusion on the final cut of the Child In The Wild album, which just moments ago earned its formal release as a free stream and download via Red Bull.
Bizarre stuff.
But while the future of that particular track is unknown, its absence could arguably be for the best. On Child In The Wild, which features cameos from various Dallas rap luminaries, Blue is the unquestioned star.
Unsurprisingly and par for the course with Blue, the production on the album is wholly enticing, with a largely moody tone that lends itself well to the outsider status that the performer himself so clearly seeks — hence, of course, his name. But the production remains a progression all the same: Numb lent itself to the party crowd with tracks such as "Party On" and "More Fiends and Friends," and though Child In The Wild touches on similar themes, it rather quickly takes on a more haunting vibe, as evidenced with the disc's second and third tracks, "Forever" and "No Care In The World."
These tracks serve as a decent warm up for the feel of latter half of the album, too. But they're largely underwhelming as an introduction. Really, Child In The Wild doesn't pay dividends until 12 minutes in, as the trickling rhythm of its fifth cut, "Man and the Myth," begin. Here, the listener knows that Blue is serious about carving out a place for himself on the national scene — thanks in no small part to Blue's rather direct mentions of the time he's spent preparing the album (two-plus years) and his expectations for it (which are high). With a strong hook provided by Fort Worth-dwelling noted Kanye West relative The World Famous Tony Williams, the track is a radio ready-release. Better yet, the song kicks off a stellar run of tracks that each stand on their own as a potential single.
And none more so than "All Systems Go," which very well could be one of the single strongest Dallas hip-hop tracks ever released. With its pulsing opening bass line and "Woos!" from A.Dd+'s Slim Gravy, the song is the album's most clear-cut certified banger. It boasts a rhythm that's hard not to bounce to and, much to his credit, Slim dances all over the beat with his kickoff verse. From there, the song goes through several progressions and transitions before offering up a sultry verse from Sam Lao and, eventually, returning to the bass-heavy end, which is where Blue finally shows up. It's here, on both the production and rapping fronts, where Blue shows off why he's one of Dallas' most touted hip-hop talents — and why Child In The Wild has been worth the wait.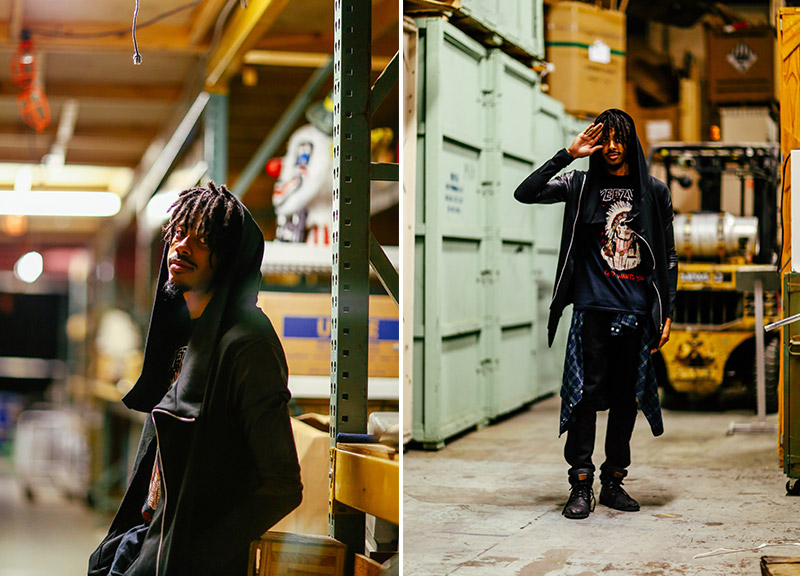 Continuing the run of radio-ready singles, Blue calls upon Snow Tha Product for "Love," which, of all the features on the album, may be its most fitting. If there's a rapper in North Texas who, like Blue, has been similarly long-bubbling and under-respected, it's Snow. On "Love," the two each make their case for more attention — and successfully at that. Same goes for Blue's fellow Brain Gang affiliate, JT, who Blue has called upon for a number of features in the past. On "That Shit," though, the assistance provided is quite stellar: JT raps on the track with a confidence that's unmatched on the album, and, for two whole minutes, he even manages to steal the light from his collaborator.
Ultimately, though, it's Blue's own development that shines brightest — and especially as a rapper. Throughout the album, he offers up numerous vocal stylings, rhythms and tones, each meant to match the variety of his beats.
Sure, his writing could stand to grow some — his themes too quickly become a tired narrative of drug use and demanded respect/success. And perhaps too often there are references to Lamar's TDE crew, be it through a "yak yak yak!" chant here, a "ya bish" shout-out there or an outright Schoolboy Q lyric lift. But there's a difference: Whereas those performers' debuts felt like personal reflections with relatable tones, <em really doesn't –not until the final two tracks, at least.
On those album-ending cuts, Blues makes up for earlier misgivings. On "Another Day" in particular, he finally offers a glimpse into his own personal life and, for the first time, the album feels as intimate as it perhaps should. Meanwhile, A.Dd+'s Paris Pershun, guesting on the track, perfectly matches Blue's sentiments and emotional expression, only adding to the song's appeal and cementing the album's impressive breadth.
That, in the end, is the big takeaway. There's no denying Blue's resume: From his earliest days in Sore Losers to his production work for national artists and, more recently, his cultivation of an impressive hip-hop collective to call his own, the guy's accomplished plenty.
Child In the Wild, however, is his greatest accomplishment to date.
Is it perfect? No, not quite.
But it is fantastic. And, perhaps even more remarkably, it manages to live up to its hype. And that's no small feat.
Cover image by Kathy Tran.