A New Crop Of Stupid Fancy Hotels Are Sprouting Up In Dallas All Of A Sudden, It Seems. Let's Check Them Out. (Or Should We Say Check In?)
The average American is just a surgery away from financial wreckage due to the rising costs of healthcare and despite millennial student loan debt sitting at a colossal total of $497.6 billion, but good news: A big slate of new luxury hotels are coming to Dallas soon!
Conveniently, a couple of them are opening just in time for the start of 2020, meaning you can maybe go in on a room with a dozen of your friends who are looking to get sloshed on New Year's Eve so you can all collectively just delay for a few days the inevitable regret of spending your utilities money on the cost of a hotel room.
Let's take a look at some of the lustrous new hot spots popping up — kind of like your heating bill in December! — from around town, from the Design District to Downtown Dallas.
The Virgin Hotel

The Design District is making a slow, albeit considerable evolution toward becoming a budding nightlife destination, and The Virgin Hotel — set to be the first hotel in the neighborhood — is about to bolster that reputation. This Dallas location of the Richard Branson-owned Virgin brand marks just the third Virgin Hotel in the States. Bill Hutchinson, who owns the Dallas-based real estate company Dunhill Partners (and is now a reality TV personality), is the developer of the project, which is set to open in December. Hutchinson told NBC5 of the project: "They thought that the cool [factor] of the Design District mixed perfectly with the edginess of the Virgin brand." The hotel boats more than 200 rooms (or "chambers" as the brand calls them), plus a restaurant and bar called the Commons Club, a fourth-floor rooftop pool and, yes, even a coffee shop. (Hutchinson is apparently going all in on the hotel business: He also recently purchased The W in Victory Park, and is promising some $21 million in upgrades to its offerings within the next few years.)
The Mandarin Oriental Hotel
The Mandarin Oriental hotel looks to be grand — but we won't know just how grand for another few years. The just-announced Turtle Creek development, which plans to include a mix of 176 rooms and 100 separate residences and four restaurants, is set to open sometime toward the end of 2022. This new luxury spot will be the first within its chain to called Texas home, and will be just the fifth in the United States upon its opening. No word on how much a night spent will run you, but rooms at its New York and Miami locations hit upwards of a steep $1,000 a night.
The Dallas Hall Arts Hotel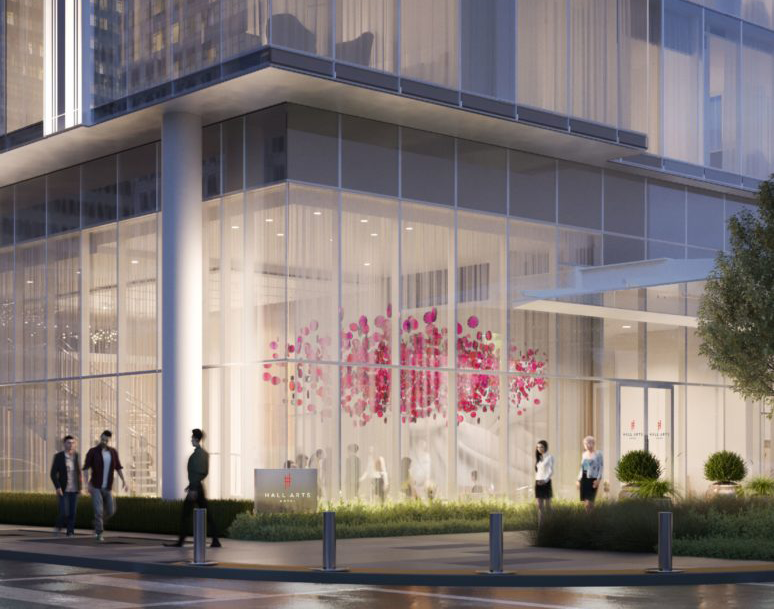 Coming soon to the Dallas Arts District is this 28-story, $250 million luxury hotel from the Dallas-based real estate developer Hall Group that has been aptly named Dallas Hall Arts Hotel. Beginning December 3, you can book a room in the new luxury lodging at the corner of Ross Avenue and Leonard Street, which includes a restaurant and lounge. Rooms will cost you about $238 per night, but you'll also be surrounded by art described as "a singular collection of pieces by diverse artists — both emerging and established — from a few blocks away to across the globe." Craig Hall, founder of the Hall Group, said in a statement about the project: "I strongly believe that art, in all its forms, nourishes the human spirit." Surely, you will need sustenance.