The Full Story Behind The Most Interesting Attendee of 35 Denton 2013.
Turns out, you can attend the 35 Denton music festival without purchasing a wristband. One condition: You have to be a cat.
Yeah, things got a little weird on Friday night as Houston rapper Fat Tony performed at Hailey's Club in Denton as part of the city's four-day, walkable music festival: Mid-set, a cat appeared in the audience. Then? It crowdsurfed.
Unreal as this whole scenario may sound, hold your suspicion. Aside from a whole venue full of eyewitnesses, two Central Track staffers happened to be on hand when it all went down. They, along with everyone else, confirm it: The photos are not doctored; the cat was a real live, breathing thing, not some sort of ultra-realisitic stuffed animal.
You can hold your protests, too: For one thing, the cat was not physically harmed during this stunt; for another, this story has a happy ending, as you'll soon see.
Here's what went down, far as we've been able to piece together.
• At about 9:30 on Friday night, Final Club frontman Brendon Avalos is walking near the Square, heading to The Labb to catch that later-cut-short Wiccans set when he sees something strange. "I saw an orange tabby walking around over there," he says of the spotting. "I didn't think much more of it." Still, it's odd enough of a sight for Avalos to at least make a mental note of it. Stray cats in Denton tend to not to venture near the Sqaure, instead content to remain in the more comfortable confines of the mostly residential areas nearby.
• Near the start of Fat Tony's set, an as-yet-unidentified male sees a cat fitting the above description a few blocks away, right outside of Hailey's Club. He picks the cat up and somehow proceeds to smuggle the cat into the venue. How he pulls this off, we're not sure. But it's clearly an impressive feat. More than likely, he would have been stopped at the door of the space — if not because he was carrying a cat into a venue, then because, per festival protocol, someone from 35 Denton is supposed to make sure that anyone entering any of its participating venues is wearing an official, festival-supplied wristband.
• The cat — either accompanied by the male he scooped him up and brought him into the space or not, we're not yet 100 percent sure — makes its way to the performance room at Hailey's, right near the stage. A young male — whether it's the same guy that picked it up in the first place, we don't know for sure — brandishes the cat and hoists it into the air for all to see. The cat is calm. (Photo by Heather Abbott.)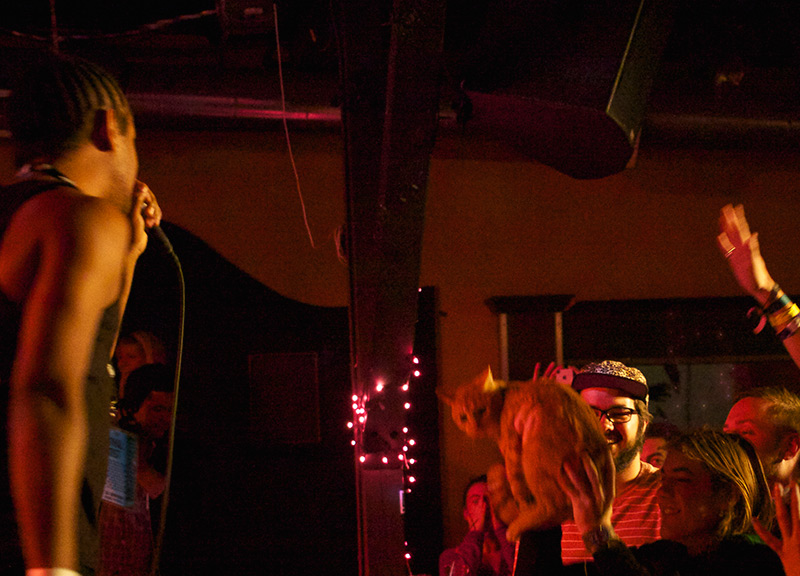 • The cat is starting to look a little less calm, but poses for some cell phone pictures nonetheless. (Photo by Heather Abbott.)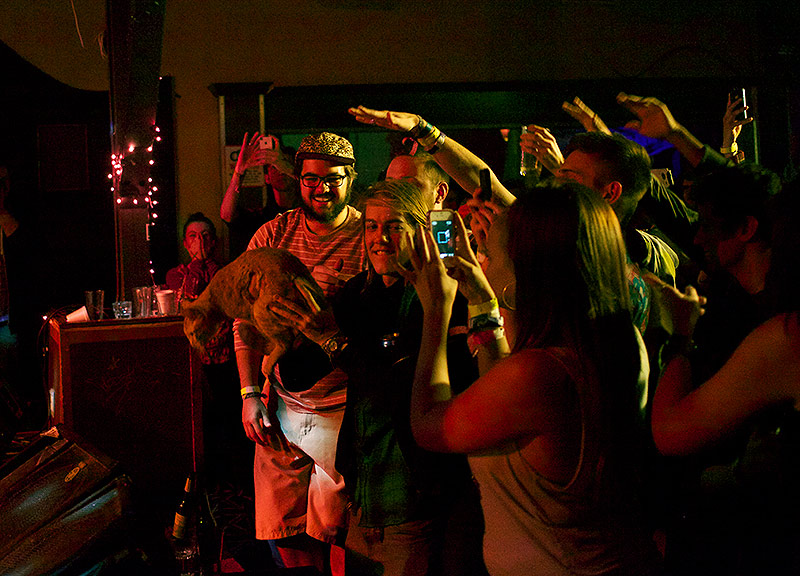 • The cat, now fully integrated as a member of the crowd, is hoisted into the air. (Photo via Bryan A. Greene's Instagram feed.)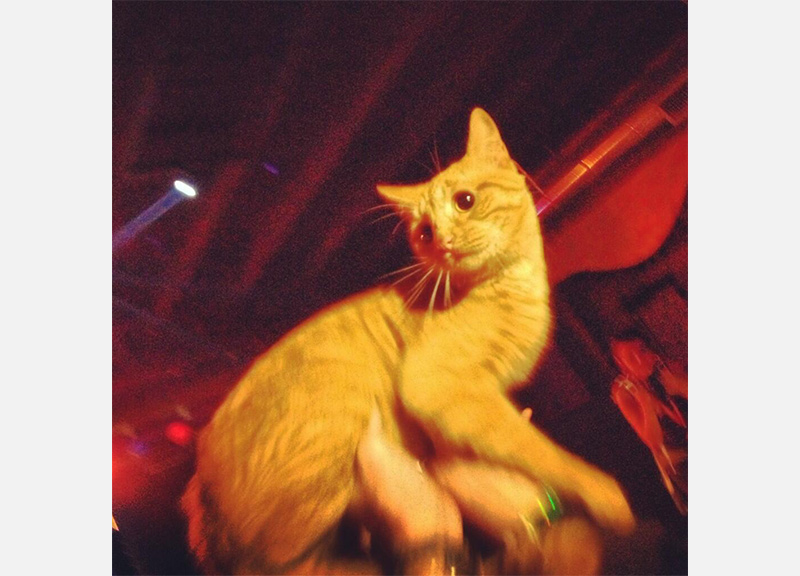 • It crowdsurfs above the rest of the audience. (Photo by Mikel Galicia.)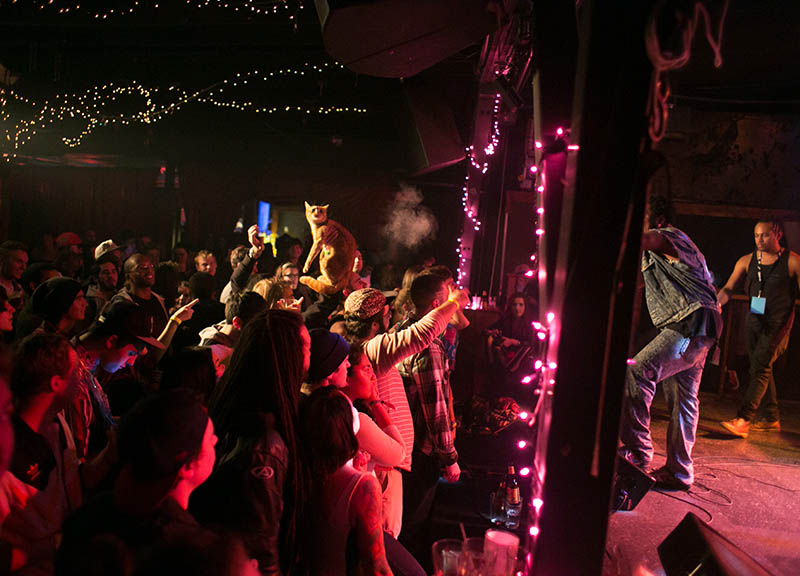 • Fat Tony and his DJ, Tom Cruz, take notice of the cat. They then pause their set so Cruz can pet the animal. The cat abides. (Photo by Heather Abbott.)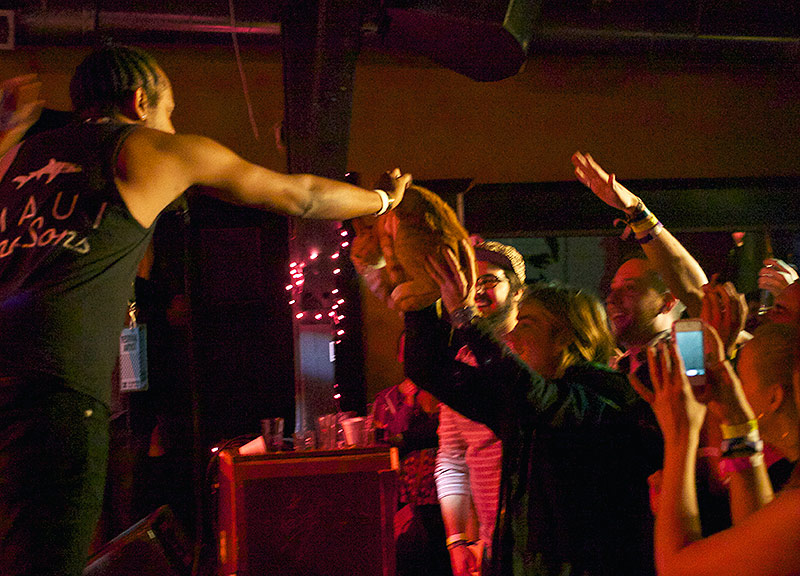 • A female attendee, infuriated with this treatment of the cat, screams at the man holding it. (Photo by Heather Abbott.)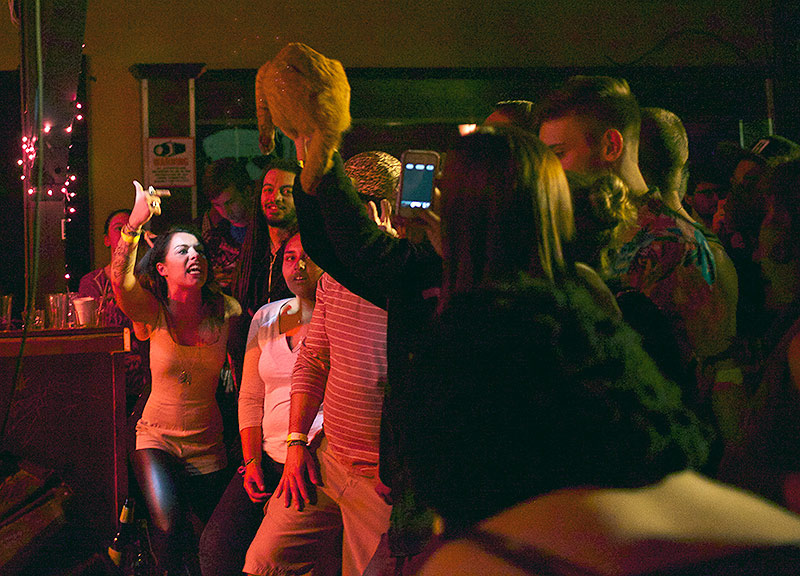 • The woman snatches the cat from the man's grasp, and runs out of the venue to "set it free." The cat disappears into the night once more.
• Throughout Saturday, word of the Crowdsurfing Cat's appearance at Hailey's spreads across the festival. Responses range from laughter to outrage. People claim to see the cat at various spots around the festival. Mostly, the cat appears to stay near the downtown's Square.
• On Sunday afternoon, a man named Antonio Nogueras (see comments below) spots a cat near the Square, this time by Recycled Books. Familiar with the legend of Crowdsurfing Cat, he notices that this cat too is an orange tabby without a collar. He suspects that it's the same cat.
• Nogueras approaches Crowdsurfing Cat. They embrace. They hang out for a bit behind the Opera House building that houses Recycled Books. Haylee Howard, a member of the 35 Denton social media team is called to the scene. Howard is asked to take care of Crowdsurfing Cat. "I'm actually not really a cat person," Howard says. "But the cat was just so sweet. I couldn't leave him in the cold."
• They immediately bond. Howard decides to adopts the animal, noting the serendipity surrounding this new relationship: Crowdsurfing Cat rose to fame in a venue called Hailey's; Haylee is Howard's first name. "It must be fate," she says. They take some Instagrams together to celebrate their new relationship. (Photo via 35 Denton's Instagram account.)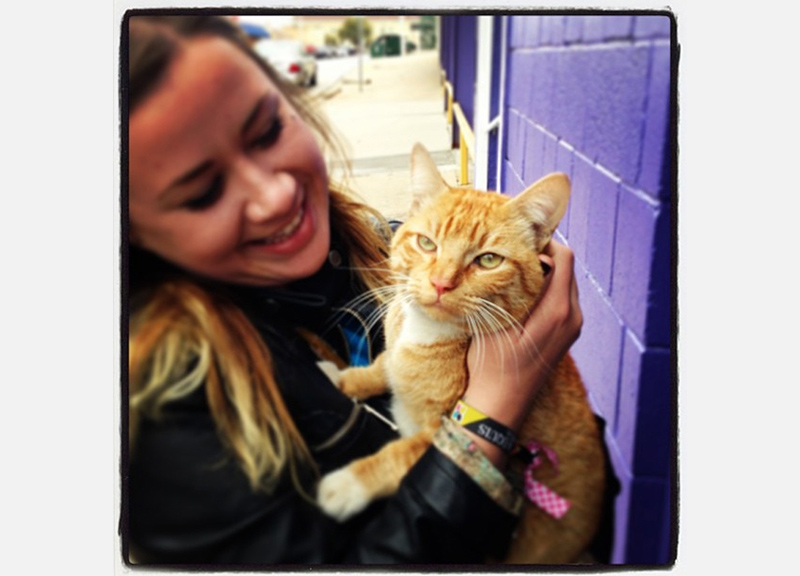 • Howard tells her 35 Denton coworkers about her decision. The team decides that Crowdsurfing Cat's new name should be "Waffles." Their reasoning? "Waffles is the one name that you can name any animal," Howard says. "And it rules."
• Howard takes Waffles home. They live happily ever after.
(Actually, we can't confirm that last bit. They just started living together a couple of hours ago. But, hey, at least it's a happy ending to this otherwise completely factual tail tale.)
Update at 11:45 p.m. We can now confirm the identity of the man holding the cat in the above pictures as Dylan Gale. Gale, the younger brother of Power Trip frontman Riley Gale, is also the man responsible for sneaking the cat into the venue — a task he accomplished through the venue's back door. Gale is no stranger to pulling off some crazy antics at shows, either. Back in August, you may recall, it was the younger Gale who caused his older brother's bands's first, and most likely last, ever Good Records performance to get cut short when store employees protested to his having jumped down onto the crowd below from the store's second-floor balcony area.