This Week, Leon Bridges Kept Things Fair.
Each week, we take a survey of the local music scene and try to determine which acts in town are really putting in work and seeing it pay off. Which bands have the most intriguing shows coming up? Which bands are getting the most press around town? Which bands have accomplished the most notable feats of late? Based off these criteria, our music writers submit a list to be weighted and compiled into a master list revealed each week in this here space. We like to think it's fairly revealing. Check out our previous Buzz Rankings here.
You know that thing when Steve Martin hosts Saturday Night Live, tying him with Alec Baldwin for the most ever, and so Baldwin just comes on a few weeks later to take back sole position of first?
Welp, after Ms. Erkykah Badu took the top spot in last week's rankings for the 19th time, edging ever closer to that coveted top overall spot in total No. 1 wins, the all-time champ came back this week to further separate himself from the pack. That's to say, Leon Bridges added to his cushion this week, taking the top spot in our weekly, local music power rankings for the 23rd time after coming home to headline the Music Hall at Fair Park.
Speaking of big headlining gigs: Norah Jones is one of the headliners at this weekend's Oaktopia festival in Denton, where Erykah Badu will also perform a DJ set on one of the main stages. And the Toadies are headlining this weekend's Smoked BBQ & Music Festival at Main Street Garden Park. Also, Post Malone headlined the House of Blues as part of Monster Energy Drink's latest promotional tour, and Vanilla Ice headlined a '90s themed party at The Bomb Factory.
Meanwhile, going massively viral this week was the Arlington-sprung Pentatonix, which performed an acapella cover of "Jolene" with Dolly Parton herself. Also performing with Dolly — and 27 other country megastars — were Kacey Musgraves and Miranda Lambert, who appeared on that CMA-promoting "Country Roads"/"On the Road Again"/"I Will Always Love You" mashup.
Moving on, CoLab and Whiskey Folk Ramblers marked 10-year anniversaries this week. And the Old 97's marked a couple of their birthdays with a surprise performance at Twilite.
Elsewhere: Charley Crockett landed the Observer cover; Sam Lao's latest LP was named the best album in that same publication's current "Best Of" issue; Ishi, Troy Cartwright, Matt Tedder, NEONNOAH, Rodney Parker, Rigor Mortis, True Widow and Bullet Machine all put out new albums; and The Outfit TX, Astronautalis and Riverboat Gamblers all put out new videos.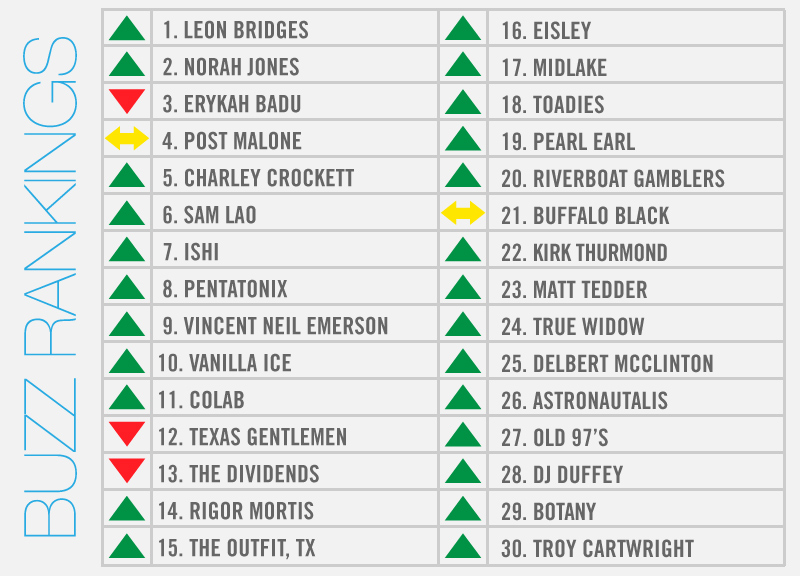 (Also receiving votes: RL Griffin, Curtis Mayz, Dark Rooms, Blue, the Misfit, NEONNOAH, AV The Great, Loafers, Convextion, Cantina, Blixaboy, Whiskey Folk Ramblers, Rikki Blu, Conner Youngblood, JT Donaldson, Animal Spirit, Rodney Parker & 50 Peso Reward, Christy Ray, Miranda Lambert, Jacob Furr, Mother Tongues, Kacey Musgraves, Buffalo Ruckus, Lady Parts, Baptist Generals, Sudie, Tyler Sloan, Da Dreak, Luke Wade, Biographies, Leoncarlo, Nervous Curtains, Siamese, CLIFFFS, Party Static, Bullet Machine, Ethereal & The Queer Show.)
Cover photo by Kathy Tran.