This Week, Sarah Jaffe Broke Bad.
Each week, we take a survey of the local music scene and try to determine which acts in town are really putting in work and seeing it pay off. Which bands have the most intriguing shows coming up? Which bands are getting the most press around town? Which bands have accomplished the most notable feats of late? Based off these criteria, our music writers submit a list to be weighted and compiled into a master list revealed each week in this here space. We like to think it's fairly revealing. Check out our previous Buzz Rankings here.
This was a big week for Dallas musicians getting national attention: The Vandoliers got some love when Rolling Stone premiered their new video; Post Malone performed the BET Awards; and the Texas Gentlemen just today saw the first single from their debut LP premiered over on Paste.
But, while each of those acts rightly carries some heft around these parts, none of them have been doing things as big or for as long around here as Sarah Jaffe has. So, with NPR dropping and exclusive first listen of her new Bad Baby LP today, she gets to top this week's power ranking of Dallas music — if not by default, then through tenure.
Also buzzing this week due to longevity are the Toadies, who announced a new album, a new tour and their 10th annual Dia De Los Toadies fest for later this summer. St. Vincent, meanwhile, earned some buzz for announcing a new tour of her own — even if it's skipping Dallas.
Lower down on the list, Lizzie Boredom and Pool Lights earned points for rocking the Double Wide's Planned Parenthood and TEA Fund benefit, Buffalo Black and Lord Byron score for their double-headlining show tonight at Trees and Sam Lao gets some love for playing main support at tonight's sold-out Lizzo show at Dada.
Elsewhere: Boy Epic was finally recognized by some media in Dallas beyond us, Loafers got hand-selected to open the next local Tripping Daisy show and a whole bunch of other acts got named to a local list of the best Dallas albums released this year (so far).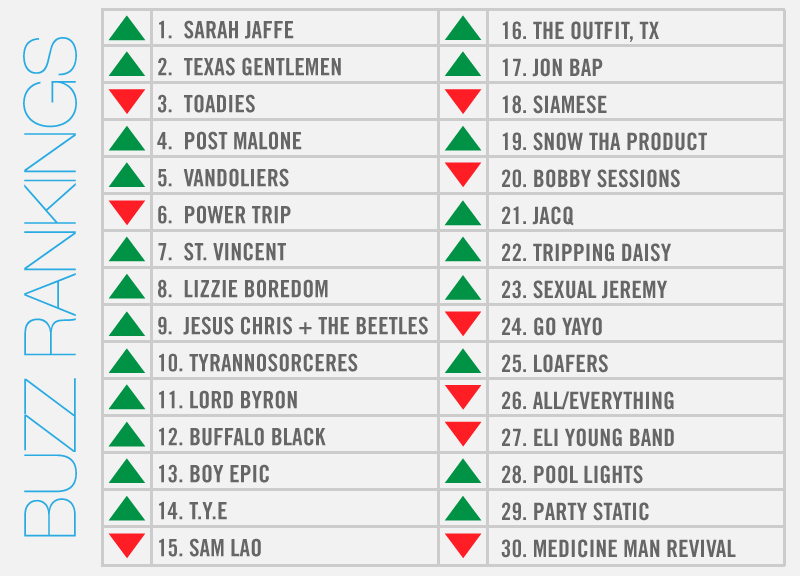 (Also receiving votes: Eisley, FXXXXY, Black Dotz, Maleveller, Kelly Clarkson, Jonathan Tylerm Ellen Once Again, Particular People, New Science Projects, Two Knights, JVN, So Sique, Chris J. Norwood, G.U.N., Mystery Skulls, manintheraw, Dead Mockingbirds, Ray Wylie Hubbard, Tree, RC & The Gritz and War Party.)