This Week Wasn't Too Bad For Sarah Jaffe.
Each week, we take a survey of the local music scene and try to determine which acts in town are really putting in work and seeing it pay off. Which bands have the most intriguing shows coming up? Which bands are getting the most press around town? Which bands have accomplished the most notable feats of late? Based off these criteria, our music writers submit a list to be weighted and compiled into a master list revealed each week in this here space. We like to think it's fairly revealing. Check out our previous Buzz Rankings here.
Earlier this week, with some help from NPR, Sarah Jaffe unveiled her new look/sound/video, along with some details about her new album, Bad Baby. I suspect that means you'll be hearing a lot more Jaffe buzz in the next few months — and seeing her top this list several more times too, I'd imagine.
To wit, Sarah Jaffe tops our weekly, local music power rankings for her 13th time, but the first time since February 2015. That's a lot!
But it's not as much as some other artists in town, actually. When she notched her 12th win, that was a record-high in our Buzz Rankings history. But, since then, Leon Bridges and Erykah Badu have enjoyed unprecedented Buzz successes of their own, with Badu now sitting in sole possession of all-time Buzz glory with 23 No. 1s.
That's so many! Could the new album help Jaffe play catch-up? We'll see.
In the meantime, Jaffe this week held off another multi-Buzz champ in Post Malone, who came in No. 2 this week after he announced a sophomore album at just about the same time his debut album was certified platinum. Then he spent $10,000 on biscuits for his fans. That's so much money!
Farther down the list this week, The Texas Gentlemen, Astronautalis, BNQT and Old 97's earn their spots because they'll be releasing special, limited-run vinyls this Saturday as part of Record Store Day. Meanwhile, upstart acts Acid Carousel, Rania Khoury and Dalton Domino also have new albums out.
Elsewhere: Bobby Sessions released a new video; Daniel Hart scored the ever popular S-Town podcast; Troy Cartwright headlined Billy Bob's again; the New Bos sold out three straight nights at the Kessler last weekend; DJ Sober is playing all the Record Store Days; Oil Boom is playing Index Fest; and Mothership blew up all our feeds with its tour-with-Metallica contest.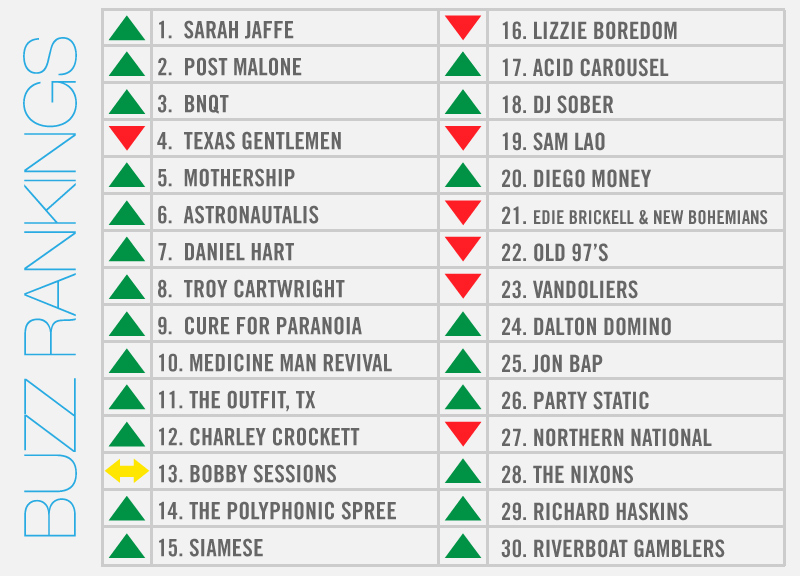 (Also receiving votes: DJ Ivy Awino, Ishi, Sealion, Francine Thirteen, Rania Khoury, Atlantis Aquarius, Shaun Martin, MC 900 Foot Jesus, War Party, Oil Boom, Jackopierce, Liz Rose, Go Yayo, Wall of Orange, Vegan Shark, 88 Killa, Asukubus, Felt & Fur, Messer, Maren Morris, Motorcade, Field Guide, Kody West, Stumptone, The Bird Dogs, Steve Gnash, Jason Eady, Curtis Mayz, Vincent Neil Emerson, Paul Cauthen, Sub-Sahara, About You, Leoncarlo, Immortal Soldierz, Kim Nall & the Fringe and Drawer Devils.)