This Week, Maren Morris Was An Urban Cowgirl.
Each week, we take a survey of the local music scene and try to determine which acts in town are really putting in work and seeing it pay off. Which bands have the most intriguing shows coming up? Which bands are getting the most press around town? Which bands have accomplished the most notable feats of late? Based off these criteria, our music writers submit a list to be weighted and compiled into a master list revealed each week in this here space. We like to think it's fairly revealing. Check out our previous Buzz Rankings here.
For the second week in a row — and the ninth time overall — Maren Morris finds herself atop our weekly, local music power rankings.
She returns to the top this time around thanks, in part, to her opening turn at Keith Urban's American Airlines Center show this weekend. That room is, like, pretty big. Per the Dallas Morning News' most recent story on Morris this week, though, she's big enough to handle it.
She is, as they put it, the current next big thing. Tremendous. Huge.
A similarly larger-than-life local lady was just behind Morris in the No. 2 spot this week. Erykah Badu performed alongside Nas on Jimmy Kimmel's late-night talk show and was announced to be returning as the host of this year's Soul Train Awards.
Those two ladies aside, the next biggest story in town this week was the continuing saga of -topic and his stolen sophomore album. They'll be throwing a big benefit show at Trees this weekend to help him raise the funds to buy his future back.
Playing even bigger shows this weekend are the Texas Gentlemen, who are serving as Kris Kristofferson's live backing band twice. Legendary!
Meanwhile, one of the Gents' newest running buddies — one Alejandro Escovedo — was the subject of a pair of similar articles in the Morning News and Dallas Observer blowing up his Belmont Hotel living spot.
Welp, in case you haven't heard, he lives here now. News!
Elsewhere: DJ Sober, Ronnie Heart and Herrick & Hooley are playing our big re-launching party at RBC this weekend; Drakulas are dropping a new LP; Jack Ingram played a pair of Kessler shows last weekend; and members of The Spree recently opened up a new restaurant and a Good Records offshoot in East Dallas.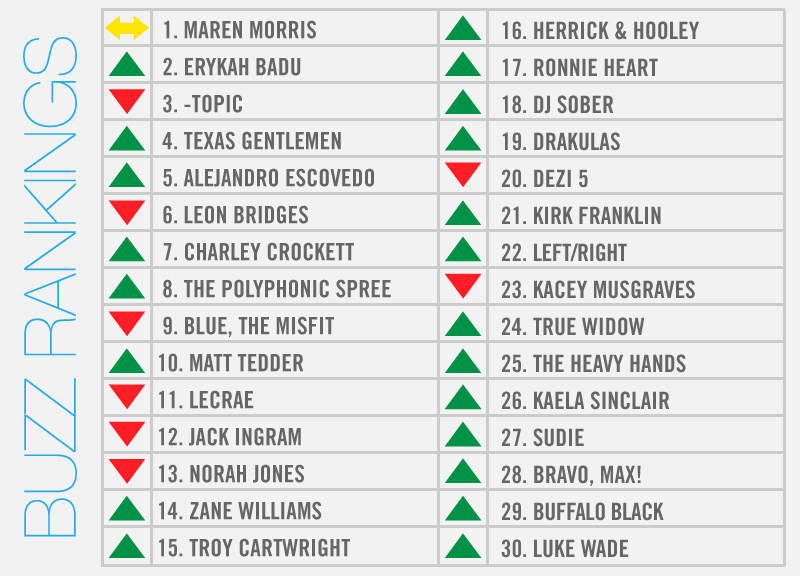 (Also receiving votes: Bobby Sessions, Daniel Hart, Quaker City Night Hawks, Tony Q & Plain Jane Francis, Telegraph Canyon, Leoncarlo, Fooly Faime, Dead Singers Party, Andrew Tinker, Party Static, Birds of Night, Lizzie Boredom, The Hourly Radio, Sealion, Dana Harper, Loafers, Caterpillars, Duell, Brutal Juice, Claire Morales, Ether Villain, Oil Boom, Mink Coats, The Cush, Daniel Markham, The Phantom Sensation, Tornup, Zest of Yore, Ashleigh Smith, The BoomBachs, Serrandon, Danny Cainco and Blixaboy.)