Scenes From Friday Night's Nickelback Show At Gexa Energy Pavilion.
There are two types of bands: There's the oft-underappreciated, forward-thinking minority that makes challenging, progressive music; then there's the lot responsible for filling the radio waves with an endless stream of maddeningly catchy, but perhaps too-homogenous pop tunes.
Nickelback is a band that falls squarely into the latter.
That's no knock on the band. That much just kind of comes with the territory in which one appeals to a low enough common denominator to fill 20,000 capacity venues. Still, in spite of selling over 50 million records worldwide, the perpetually maligned Canadian post-grunge outfit is widely regarded the worst band on the planet.
At this point it's just something most people accept. Nobody even questions it any more. Though the band has racked up 19 Billboard Hot 100 singles since 2001, the word "Nickelback" is at this point more punchline than band name, the aural equivalent of a meme. And that's kind of a shame, as there exist about a million far more offensive acts currently touring the country ridicule-free.
Here's the truth about Nickelback haters: Almost none of these people have ever seen Nickelback perform live. So instead of sitting idly by, too self-conscious about what our friends might think to find out that we're going to give the band a god's honest chance, we opted to head over to Gexa Energy Pavilion to see the band perform firsthand on Friday night, and to figure out how a band so terrible is able to sell out 10,000-plus-capacity stadiums year after year.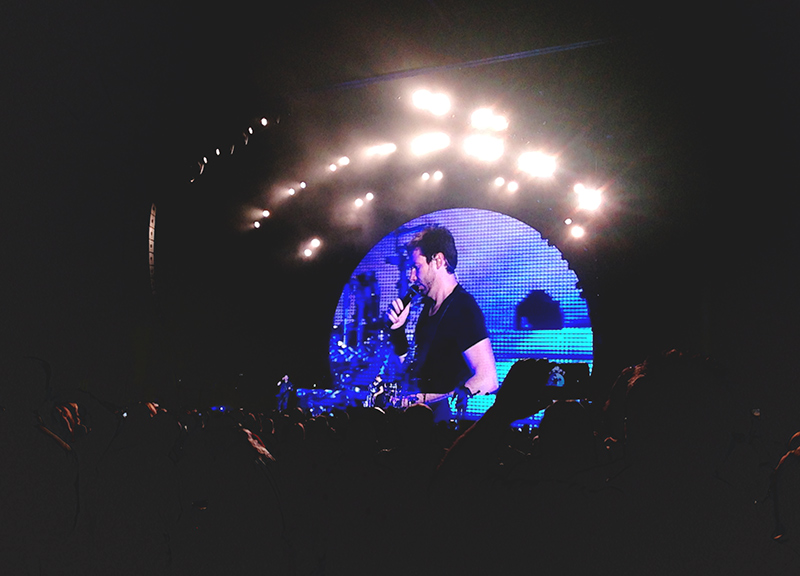 It wasn't more than a handful of songs into the night that the latter point became painfully obvious. Yeah, there's a lot to dislike about Nickelback's roster of hits — "Something in Your Mouth" is one of the more deplorable songs we've sat through in years, lyrics don't get much more cornball than the ones in "Rockstar" and "Photograph" is maybe best described as the Hallmark Channel of rock 'n' roll — but there's somewhat shockingly a hell of a lot to love about a band like Nickelback.
For one thing, the band's catalog is impressively wide-reaching. For every, acoustic-based, mom-friendly tune like "Photograph," there's another tastily crunchy hard-rocker like "Animals." As far as heavy, arena-ready rockers, it honestly doesn't get too much better than that latter track. And were you to replace Chad Kroeger's gruff pipes with Adam Levine's silkier set, the watered-down funk of "She Keeps Me Up" easily becomes one of the better songs in Maroon 5's catalog.
No matter what style Nickelback tackled on Friday night, though, the sound was tight and dialed in, expertly arranged to accommodate the sound limitations of Gexa's big, outdoor sound system, and rounded out by a third touring guitarist. Argue the merits of the songs themselves all you want; the fact remains that, what the band does, it does very well.
Perhaps that's no shocker: At this point Kroeger and Co. are well-honed entertainers, taking every opportunity to bust each other's balls or to do bits on the mic. At one point, Kroeger did a well-received stand-up bit about how big beers are in Texas. At another, one of the guitarists seemed to toss a jab Kroeger's way about how similar the opening riff of "Far Away" sounds to Bon Jovi's "Dead or Alive." Of course, the persistently good-natured frontman took it all in stride, steering into the spin and busting out the first verse and chorus of that song unplanned. That brief, unrehearsed moment, was just one glimpse into what kind of good-natured dudes these guys must be like offstage, too. To some degree, one would kind of have to be to constantly shake off all the Nickelbashers and keep going for two decades. These are guys you'd 100 percent invite to a barbecue, even while fully acknowledging that, at some point, Kroeger would probably whip out an acoustic guitar and do an unsolicited, solo version of "Far Away."
That song, by the way, is a song that Kroeger says he wrote in the Gexa parking lot — or Smirnoff Music Centre, as it was known back then — during a swing through town roughly a decade ago.
In a live setting, though, even the band's weaker material shines pretty bright. And as far as the excess of big rock 'n' roll stadium shows go, Nickelback's was just the right amount of cheesy. Yeah, there was the requisite drum solo during the band's "Moby Dick" cover, in which everyone left the stage. And, during a medley of "Master of Puppets" and Pantera's "Walk," the band threw a few dozen red Solo cups of beer onto audience members — a bit Kroeger said afterwards that he copped from Pantera. But never did the band enter the drumkit roller coaster territory of Motley Crue, David Lee Roth's kendo stick twirling or Gene Simmons' blood-spitting. In the end, Nickelback didn't need many gimmicks to please the several thousands of folks that showed up to Gexa to watch them perform.
Just watching four dudes up there, letting down their guard and having the time of their lives was plenty for most. Really, the only thing close to a lull in the band's set came during another, unplanned chunk of the set when the band would goof around, playing snippets of whatever popular classic rock songs they felt like at the moment. Even then, damn near everybody in the place was holding up their beers and joyfully shouting along to the first verse and chorus of "Hotel California."
Was it an easy-to-please crowd? Maybe. But it was an audience that Nickelback expertly slayed all the same.
No, maybe the band didn't break any boundaries with its music on Friday night. But the band's show was still a hell of a lot of fun to watch just the same.
Set List:
Million Miles an Hour
Something in Your Mouth
Photograph
Hero
Gotta Be Somebody
Far Away
Edge of a Revolution
Master of Puppets (Metallica cover)
Walk (Pantera cover)
Too Bad
Someday
Animals
Moby Dick (Led Zeppelin cover)
She Keeps Me Up
Take It Easy (Eagles cover)
Hotel California (Eagles cover)
Summer of '69 (Bryan Adams cover)
Rockstar
When We Stand Together
Figured You Out
How You Remind Me
Encore:
Everlong (Foo Fighters cover)
Burn It to the Ground